UPDATE - 9/1@10:45AM: You can access a list of Ontario stores selling the beer via the Liquor Control Board of Ontario's website here (thanks Troy C).
UPDATE - 8/31@9:27AM: The Rush store is now open online here. Although they cannot ship alcohol across the border, they do have some water-filled cans for sale that they can ship. They also have other Rush products, like tumblers, coasters, t-shirts and more. You can check out their entire Rush product line here.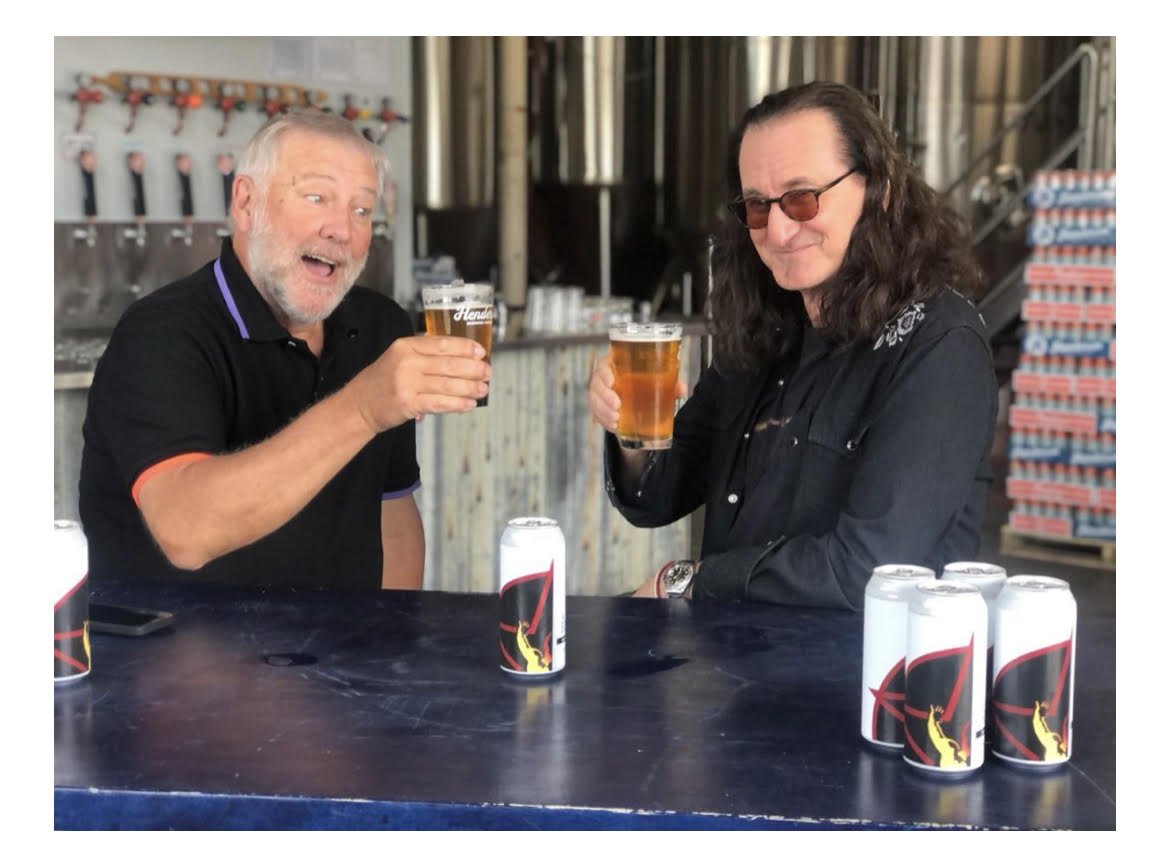 Rush in partnership with Toronto's Henderson Brewing Company will be releasing the world's first Rush-branded beer this coming Monday, August 30th. Rush Canadian Golden Ale comes in a beautiful golden can featuring the Rush Starman logo as seen here, and will be available across Canada on Monday, with distribution primarily in Ontario to start. The Brewery also produced a very limited number of white cans of Rush Canadian Golden Ale as seen in this image and shown at the end of the two videos of Alex and Geddy sampling the beer at the Brewery (What's Vat? and HOPS!). The first 100 (approximately) fans to buy a case of Rush Canadian Golden Ale at the Henderson Brewing Company location in Toronto (128A Sterling Road, Toronto, ON M6R 2B7) on Monday morning will receive one of these special, limited-edition white cans. These white cans will ONLY be available at Henderson Brewing Company and only while supplies last - one can per customer.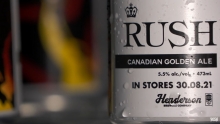 Rush first made the announcement about the beer last week, and as part of the launch, produced a couple of hilarious videos of Beer Scientist Alex Lifeson and Beer Drinker Geddy Lee sampling the product on location at the brewery, as seen below. The Rush Backstage Club is also producing this Rush Golden Ale t-shirt to commemorate the release. From the announcement:
... In the summer of 2020 Rush and Henderson began taste testing many prototype brews and early in 2021 the band and the brewery both felt they had come up with a brew they could stand behind. Subtlety complex, refreshing and satisfying and uniquely Canadian, as the beer gets its taste from Canadian ingredients, including Rye. "Rush Canadian Golden Ale is golden in colour with a dense ivory head. It has an earthy aroma with hints of orange-peel, pine and spicy rye. While the emphasis is on refreshment, there are elements of pine, rye spice and a citric hop flavour that add to the subtle complexity of the beer," remarked Alex Lifeson, the band-proclaimed Beer Scientist.