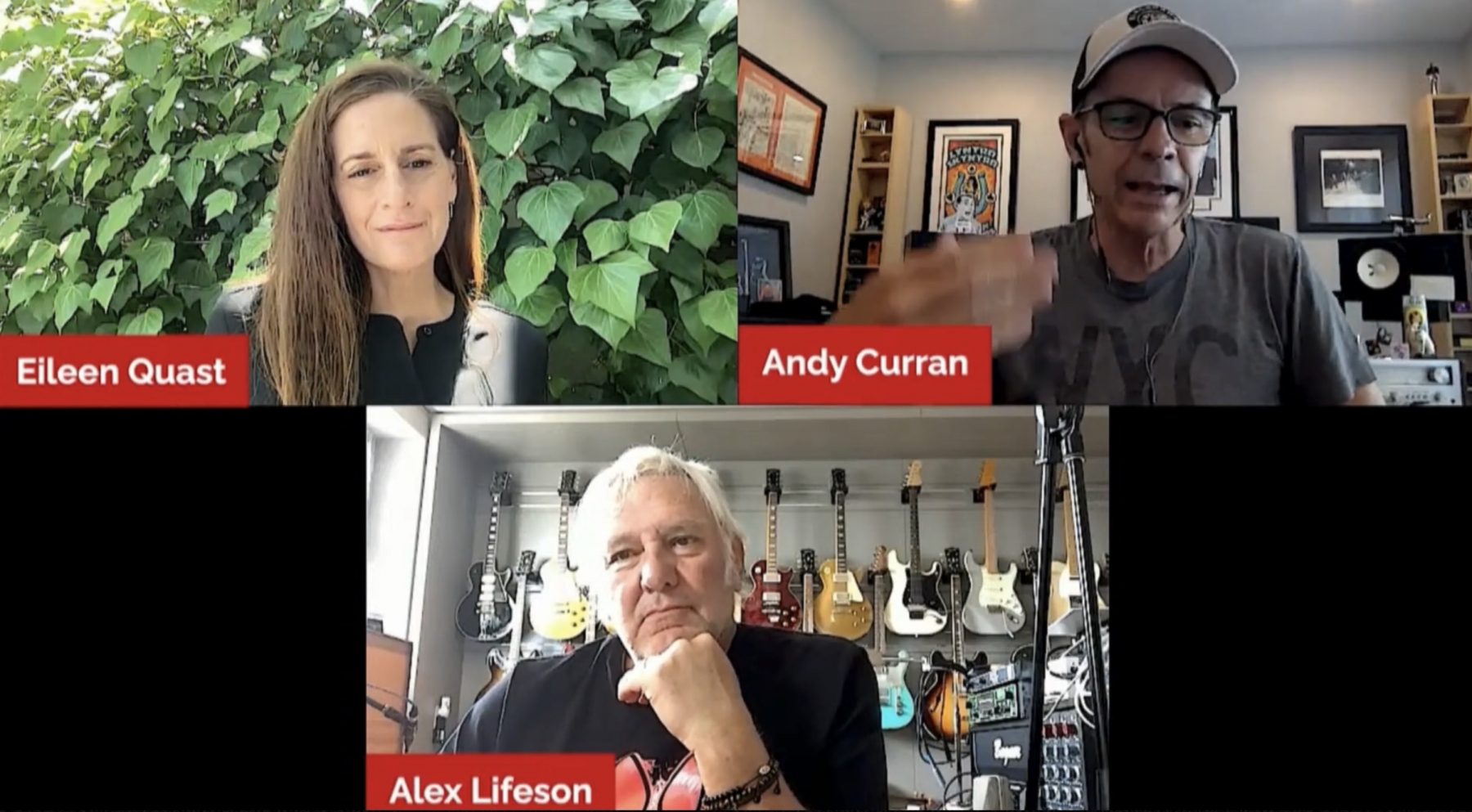 A few more Alex Lifeson interviews surfaced this past week as part of his recent media blitz to promote his new signature guitar and multiple music side projects. A couple of weeks ago Lifeson and Andy Curran were interviewed by Eileen Quast as part of the Monaco Streaming Film Festival to talk about their Envy of None project, mentoring younger musicians, writing music for film and tv, and more. You can listen to the 20 minute interview below or on YouTube at this location starting at the 5:45:00 mark. Last month Lifeson surprised fans by releasing two new instrumental tracks via his new website at AlexLifeson.com, coinciding with the release of his Epiphone Les Paul Standard Axcess signature guitar. The two tracks - Kabul Blues and Spy House - were the first glimpses of the above-mentioned Envy of None collaboration with Curran, guitarist Alfio Annibalini and vocalist Maiah Wynne, which has a total of 10 songs recorded as part of a planned future release. Speaking of his new signature guitar, Ultimate Classic Rock posted more of their recent interview with Alex Lifeson this past Tuesday, with this installment focusing on his new Epiphone Les Paul Standard Axcess signature guitar, and long history with Gibson. Andy Curran was also recently interviewed for Let's Rock and spoke a bit about Envy of None (thanks RushFanForever):
While I was working at SRO Anthem, I obviously became close friends with many of the artists on the label and management roster. Alex was no exception and the friendship started with tennis and golf games spilling in to getting invited as the opening act for some Canadian "Roll the Bones" tour dates. He and I always spoke about music we loved and listened to and then one day out of the blue the line was crossed and Alex asked if I would play bass on a few songs he had written and wasn't happy with his bass parts. My reply was ...."don't you know any other bassists..like a guy whose initials are "GL"..Anyway we both laughed and I was incredibly honoured at the request. I'm still pinching myself that it actually happened. So that led to me telling him about Maiah Wynne, a young female singer songwriter that my friend Alf Annibalini and I were collaborating with. I played him a few songs and he really loved her voice so I asked if he had any guitar ideas if he would think about being part of this. One song turned into two and today we have 10 songs pretty much completed. It's a side project for him but he has been a driving force behind finishing this and getting it released so people can hear it. I'm very proud of what we've all done. It's very trippy, dark, heavy and pop / industrial vibes all smashed into a blender!! We're having a lot of fun and the cherry on top is seeing Alex get creative after a very dark chapter for him after the loss of his friend Neil ...
Alex Lifeson has also been having fun with his new Instagram account @TheRealLerxst over the last month. His account was recently verified so he posted a distorted photo of himself with the caption, "Great news! I'm very fried!!". He soon followed that up with a correction, saying, "Oops! I mean verified. Stupid brain.":
The latest episode of the Something for Nothing podcast
features an interview with best-selling author, and longtime friend of Neil Peart, Kevin J. Anderson. Kevin talks about his friendship with Neil, giving insight into his collaboration with his musical hero, and where the bulk of the ideas for Clockwork Angels were born. You can listen to the interview below or via your favorite podcast service:
Drum! magazine posted their list of the 60 Best Rock Drummers of All Time this past week and Rush's Neil Peart made the cut of course.
The Barenaked Ladies have just released a new album titled Detour de Force, and the latest issue of Canadian Musician includes an article profiling the new album where the band is interviewed. Bassist Jim Creeggan talks about how Geddy Lee indirectly contributed to the album:
... For Creeggan, perhaps one of the most exciting parts of the process was getting to borrow and use Geddy Lee's personal Moog Taurus pedals. "That was an out-of-body experience. On 'Big Back Yard' I was actually playing bass and the Taurus pedals at the same time, so it was this wild experience of almost being an organ player!" He also proudly shares that the final bass take used on "Here Together" was from the very first band take, which was performed while he was singing at the same time. ...
You can listen to Big Back Yard on YouTube here, and purchase the album via Amazon at this location.
The Phoenix New Times posted an article this past week where they list off The Eight Best Songs About Baseball That Aren't Actually About Baseball, and Rush's Tom Sawyer made the cut:
A lot's already been said about baseball as a whole. Like, how it's got real carny vibes. Or that it's not nearly as popular as other sports. But lest we forget, it's also deeply nerdy. It's something about all the emphasis on stats, the uniforms, and perhaps the helmets that scream "dweeb energy." But that's why Rush's seminal hit "Tom Sawyer" is the perfect song for addressing the soul of baseball. It's this unabashedly nerdy prog rock jam that's all about standing as your own person. It rocks not just because of Neil Peart's drumming (though that helps) but because the band readily embraces what makes this song so weird and left-of-center. Baseball is at its collective best doing the same, maintaining its authenticity despite all the pinstripe uniforms in the world.
Ultravox's Midge Uru was interviewed for Prog magazine last year to discuss the band's 40th anniversary deluxe edition of their breakthrough Vienna album. The interview was recently posted online, and Uru brought up an interesting Rush-related story at one point (thanks RushFanForever):
When it comes to a really good prog-related story, Midge Ure's got a corker. "I was once asked to go and meet Rush, with a view to producing them. They were big Ultravox fans. So I flew over to Toronto, and we had a lovely dinner. Then we got round to talking about their album. They asked what my take on it would be, if I were producing. And I said, 'I would simplify it.'" He laughs heartily. "Suffice to say I was on the plane home the next day! It was fine, though; I had to be honest. They were brilliant players, and we'd have made a great record together..."
Def Leppard drummer Rick Allen used his downtime from touring over the past year to create a new art collection which he's been showcasing at various Wentworth Galleries over the past couple of months. In the lead-up to two East Coast gallery appearances last week in Atlantic City and King of Prussia, PA, Allen was interviewed by the Metal Voice podcast to talk about the exhibit among other subjects. The collection includes originals, limited editions, the painted drum series, mixed media originals, and the Legends Series featuring new portraits of Eddie Van Halen, Kurt Cobain, Johnny Cash, Neil Peart and others. A portion of each sale will benefit Allen's Project Resiliency which supports veterans from Vietnam, Desert Storm, Iraq and Afghanistan. Allen was inspired to do the Peart painting after his tragic death last year, saying the following:
... that was one of those occasions where I was just so deeply sort of shocked by the whole situation, that was the first thing that I did when I got home, I started a Neil Peart painting. ...
You can check out a photo of the Neil Peart artwork via WentworthGallery.com at this location.
Keyboardist Geoff Downes (Asia, YES, The Buggles) was recently interviewed for the Radio Forrest podcast to talk about various projects he's involved with currently (thanks RushFanForever). He also talked about working on the the Rock Aid Armenia project back in 1988, and being highly impressed with Rush's Alex Lifeson. You can listen to the podcast here with the Alex Lifeson portion coming in at about the 4:45 mark.
After the release of their debut album No Need in 2000, Wilkes-Barre band Strangers With Candy won first-place in MTV's Ultimate Cover Band Contest, landing them a six-album record deal with Universal/Republic Records. They then changed their name to Lifer and recruited Rush's Alex Lifeson to produce their 2001 eponymous album. The band broke up soon after, with guitarist Aaron Fink and bassist Mark Klepaski forming the highly successful band Breaking Benjamin, and other members going on to other various projects. Back in 2018 Lifer got back together for a reunion show, and were inspired to reform the band. This weekend they'll be playing a show at Hog's Hollow Saloon in Berwick to celebrate the 20th anniversary of the release of the eponymous album, and will be playing the album in its entirety, in order.
A new book on legendary Toronto music venue Massey Hall will be released this fall. Massey Hall: An Enduring Legacy is authored by David McPherson with a foreword by Jann Arden, and an advanced reading copy is available online here (thanks RushFanForever). The book also includes several interview segments from artists who have graced the Hall's stage over the years, including Geddy Lee; Rush played many shows at the iconic concert hall and recorded their 1976 live album All the World's a Stage there. You can pre-order your copy of the book via Amazon here.
Yardbarker.com posted their list of the best prog-rock bands of all time this past week, and Rush were included:
If we were ranking the greatest prog-rock bands in music history, Rush would likely top the list (most notably for its work in the 1970s). Heavy on lyrical conception, the legendary trio of Geddy Lee, Alex Lifeson, and Neil Peart offered various complex pieces ("2112," "Cygnus X-1," "La Villa Strangiato") and themes often involving science fiction fantasy. Though a guitar-driven band at heart, Peart was widely considered one of the great drummers of all time. As a collective, the musical genius of Rush is hard to beat.
UltimateGuitar.com posted their list of the Top 7 Underrated Rush Masterpieces That Everyone Should Check Out this past week. The list includes Before and After, The Necromancer, Tears, Entre Nous, The Analog Kid, Kid Gloves, and Armor and Sword.
That's all for this week. Have a great weekend everybody!!