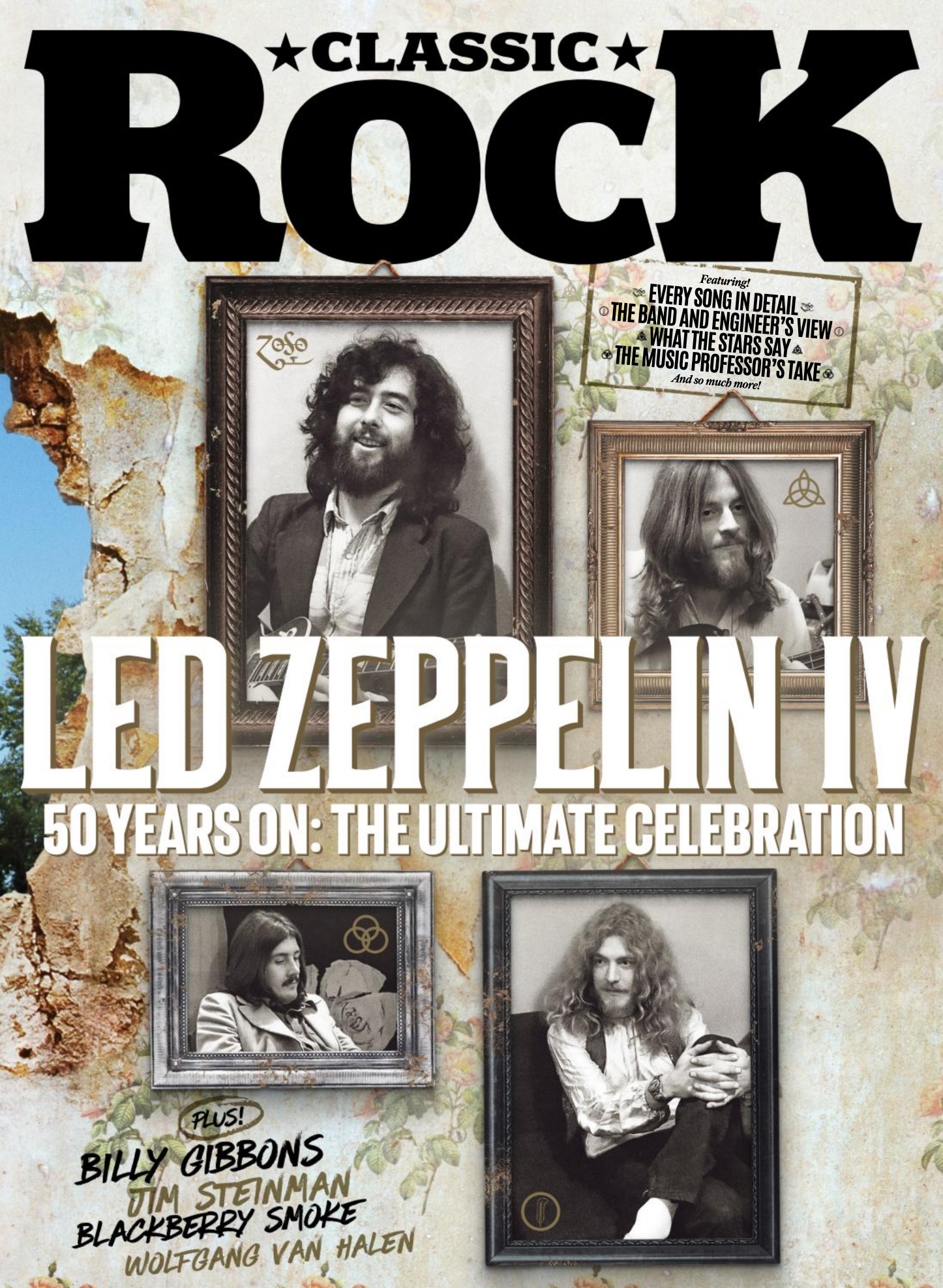 The latest edition of Classic Rock magazine (issue #289) is a special issue celebrating the 50th anniversary of the classic 1971 Led Zeppelin album Led Zeppelin IV. The issue includes an interview with Geddy Lee where he talks about the influence Zeppelin had on Rush, and one incident in particular where Robert Plant helped pull Rush from the abyss following Neil Peart's personal tragedies in the late '90s:
... I remember when Page & Plant were touring Walking Into Clarksdale and they came to Toronto. Someone kept calling our office saying they were Robert Plant and they needed to speak to me. No one believed it, but turns out it was him. And we were on hiatus after Selena (Neil's Peart's daughter) had passed away and we were not in a good place. I called Robert back, and he wanted us to come to the show, and I was pretty down in the dumps at that point. And he said no, come to the show, we'll talk. He understood what was going on with the band. I remember him saying: 'You've got to re-join life, and sooner is better than later. So get your ass down here.' So I called Alex up and said we're going to see Page & Plant. And they were totally awesome. They were so nice. There's nothing better than meeting someone you admire for so many years and so many reasons and finding out they're true gents. ...
Geddy also talks about the first time he saw Led Zeppelin live, shares his thought on each of Led Zeppelin IV's 8 tracks, and describes Zep's influence on Rush:
... They were a huge, huge influence on us. We wanted to be them instantly. But their stuff was hard to play. We tried a number of Zeppelin songs when we played in the bars, but we felt we couldn't pull them off. We did have Livin' Lovin' Maid in our set for a while though. ...
John at Cygnus-X1.net has transcribed the entire Geddy Lee interview and made it available online here.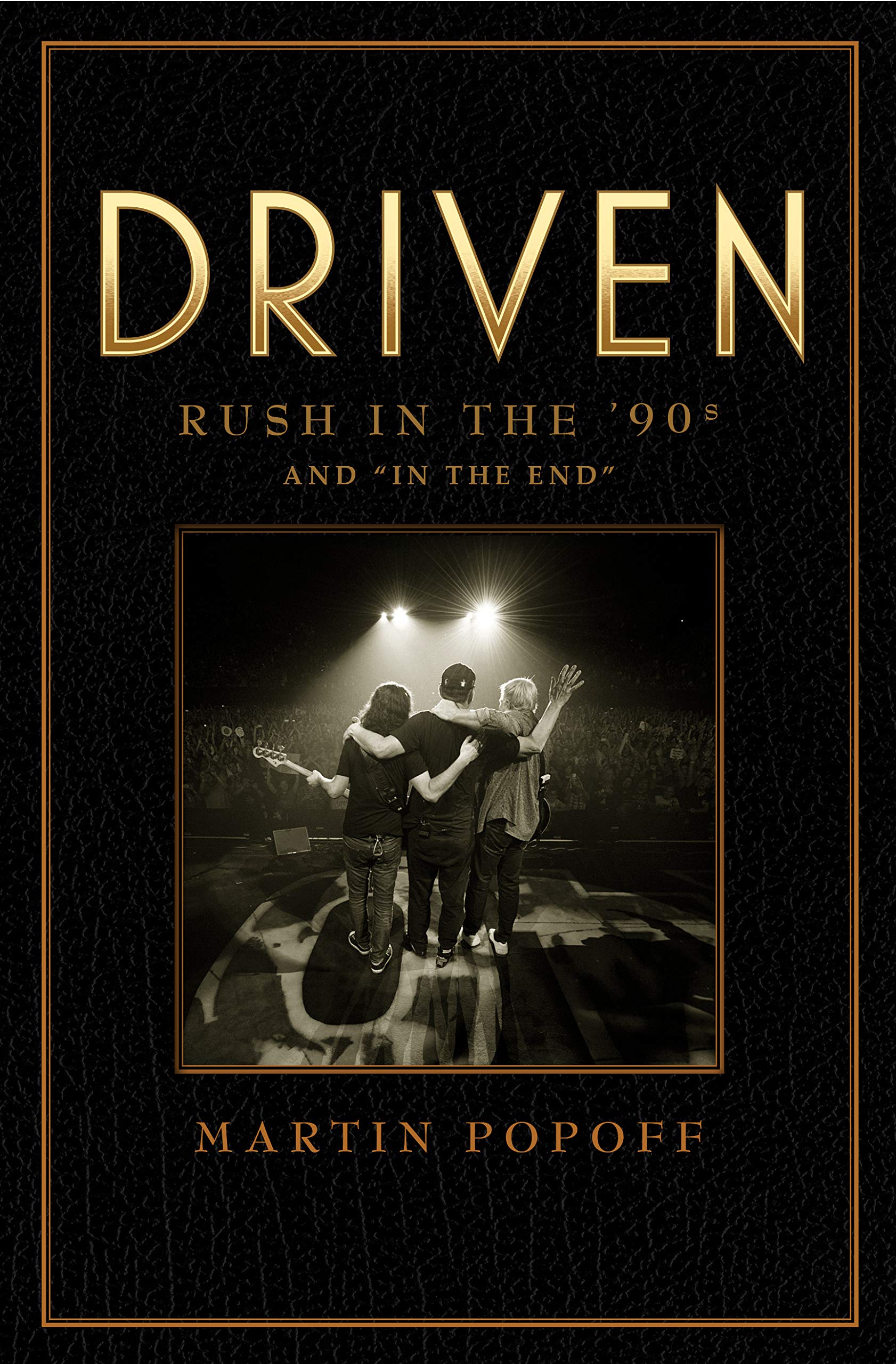 Music writer Martin Popoff's Driven: Rush in the '90s and 'In the End' - the third and final book in his 3-part Rush Across the Decades series - officially released last month and can now be ordered via Amazon and other online retailers. The author is also accepting orders for signed editions of the book via this link. The first book in the series was Anthem: Rush in the '70s, which released last May, and the second book was Limelight: Rush in the '80s, which officially released back in October. The imitation leather bound book comes in at 424 pages. From the book's description:
In this conclusion to his trilogy of authoritative books on Canada's most beloved and successful rock band, Martin Popoff takes us through three decades of "life at the top" for Rush's Geddy Lee, Alex Lifeson, and Neil Peart. Though this era begins with the brisk-selling Roll the Bones and sees throngs of fans sell out international tours, there is also unimaginable tragedy, with Peart losing his daughter and his wife within the space of ten months and, two decades later, succumbing to cancer himself. In between, however, there is a gorgeous and heartbreaking album of reflection and bereavement, as well as a triumphant trip to Brazil, a Rock and Roll Hall of Fame induction, and ― some say surprisingly ― the band's first full-blown concept album to close an immense career marked by integrity and idealism.
Popoff was a recent guest on the 2 Guys Taking Rush podcast where he discusses his experience writing about Rush and the Rush Across the Decades book series in particular. Part 1 of the interview was posted last week, and part 2 was made available earlier this week. You can listen to part 2 of the interview below or via your favorite podcast service:
On this past week's episode of the Something for Nothing podcast hosts Steve and Gerry chat with Rush fan Jarad Schofer, who is walking across the U.S. to raise money for cancer research. Jarad was inspired in equal parts by a friend who passed away from cancer and by Neil Peart's death. He has already raised more that $25,000 with less than 30 days left in his trip. You can help by donating a symbolic $21.12 to his fundraising efforts via his fundraising page or Venmo him directly @jarad2112. You can listen to the interview below or via your favorite podcast service:
Aussie alt-rockers You Am I released their 11th studio album earlier this month. The album is titled The Lives of Others and it includes a track called Lookalikes which features a reference to Geddy Lee in the lyrics (thanks Matt G):
... Geddy Lee on a crutch in a hell of a rush. I'm going nowhere and he's got somewhere to be ...
You can listen to the track along with the rest of the album via this Rolling Stone Australia article.
In a bit of sad news, drummer Kevin Clark - who played drummer Freddy 'Spazzy McGee' Jones in the 2003 film School of Rock starring Jack Black - was tragically killed in a bicycle accident earlier this week at the age of 32. The School of Rock role was Clark's one and only acting credit, and Clark once said that he only got the role because he could actually play the drums. Rush fans will remember Kevin from this scene where Jack Black's character is giving out music CDs to the students for inspiration, and hands Clark's character a copy of Rush's 2112 saying, "Okay. For you, Rush 2112. Neil Peart - one of the great drummers of all time. Study up". Jack Black sent out his condolences via this Instagram post:
That's all for this week. I hope all my Canadian readers had a pleasant Victoria Day this past Monday, and I wish my fellow US readers a safe and happy Memorial Day this coming weekend.