The Canadian Academy of Recording Arts and Sciences (CARAS) announced last week that 15-time JUNO Award-winning band and Canadian Music Hall of Fame inductees The Tragically Hip will perform with singer-songwriter Feist during The 50th Annual JUNO Awards next month. The Hip will be without their iconic front-man Gord Downie, who passed away back in 2017. The Hip will also be receiving the 2021 Humanitarian Award from Canadian Music Hall of Fame inductees Geddy Lee and Alex Lifeson of Rush. The Humanitarian Award recognizes outstanding Canadian artists or industry leaders whose humanitarian contributions have positively enhanced the social fabric of Canada and beyond. The Hip's performance from Toronto will be broadcast on Sunday, June 6th at 8PM EST on CBC TV, CBC Gem, CBC Radio One, CBC Music and streaming globally on CBCmusic.ca/junos. Guitarists Rob Baker and Paul Langlois were recently interviewed for Forbes to talk about the Award and their surprise new release Saskadelphia - a six-song record featuring five outtakes from the Road Apples session and one live song, Montreal, recorded in 1990. Here's what they said about Geddy and Alex presenting them with the Award:
Baker: It is a great honor and to get it from Geddy and Alex, our first time playing a proper arena was playing Maple Leaf Gardens opening for Rush, and it was a benefit show, because those guys gave back in massive ways, always did. And they showed the way for a lot of bands, certainly for us. And a pretty unique set of musicians, they carved a pretty unique career. So as you say, receiving it from musicians is an added bonus, from people that you really respect and admire.

Langlois: Yeah, big honor I always looked up to those guys. And so it's very nice. Tell me they've received this award.

Baker: Yeah they did, I think.

Langlois: Be a little awkward if they hadn't. And we learned from them. Charity, I think, came, naturally, I mean it was good to see their example, but we were already doing charity stuff. We're from Kingston, a small city but we were getting the opportunity. The more you get known, the more opportunity you have to do charity things, so we started our charity runs early. There are five of us hyper democrats so sometimes it was difficult to choose the charity because charities are personal ones but we managed and we did do it consistently for 32 years. So that feels good. ...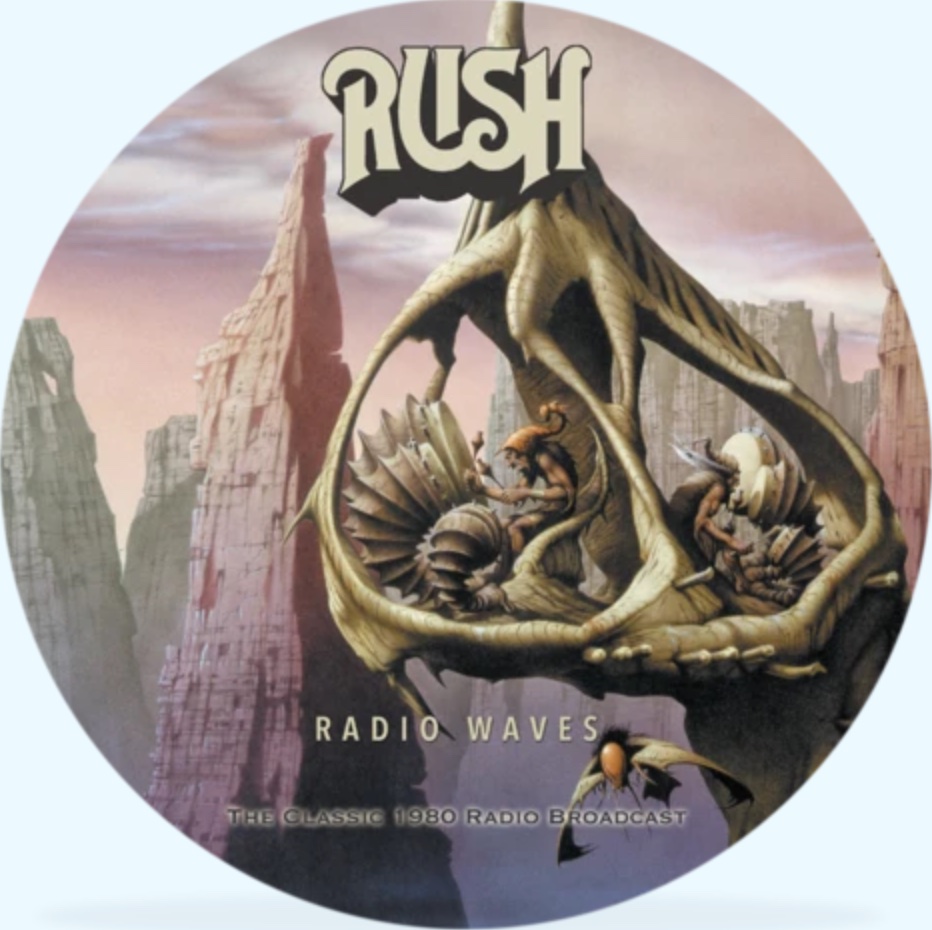 UK-based CODA Records is known for releasing recordings of past concerts that had been broadcast live on radio at some point in the past, and are now in the public domain in Europe. Although they are not in general officially-authorized by the artists, they are legal due to differing copyright laws in Europe as opposed to North America. CODA released 6 new, limited-edition, live Rush picture discs in Europe yesterday, with the titles including Rush - Finding the Way (1974 live radio broadcast), Rush - A Passage To Syrinx (1980 live radio broadcast, full 2112 suite), Rush - Radio Waves (1980 live radio broadcast), Rush - Flying By Night (1974 live radio broadcast at Electric Lady studios), Rush - 2112 Live in Concert (live radio broadcast, entire 2112), and Rush - Hemispheres...The Last Night (Pinkpop Festival in Holland, June 1979 live radio broadcast). Most of these releases have generally been available as bootleg recordings for many years, and some have also been previously released by CODA and other companies, with some portions even appearing on official box set releases. You can get more information and pre-order (as import outside Europe) at this location.
Def Leppard drummer Rick Allen used his downtime from touring over the past year to create a new art collection which he is debuting this weekend with special appearances at three Wentworth Galleries in South Florida. He appeared yesterday at Wentworth Gallery Las Olas; tonight he'll be at Wentworth Gallery at the Seminole Hard Rock Hotel & Casino and tomorrow at the Wentworth Gallery in Boca Raton Town Center Mall. Both upcoming appearances are open to the public and all artwork on exhibition is available for acquisition. The collection includes originals, limited editions, the painted drum series, mixed media originals, and the Legends Series featuring new portraits of Eddie Van Halen, Kurt Cobain, Johnny Cash, Neil Peart and others. A portion of each sale will benefit Allen's Project Resiliency which supports veterans from Vietnam, Desert Storm, Iraq and Afghanistan. Allen was recently interviewed by Robert Cavuoto for Sonic Perspectives to discuss the art collection, and spoke a little about the Neil Peart piece:
... [Neil and I] weren't friends per se. Neil was rehearsing for the last tour that they did at the same rehearsal space that Def Leppard used. Phil [Collen] went down early, and as it turns out, Neil used to go down a couple of weeks earlier to get his rig set up before the rest of the band arrived. Phil was there and saw Neil in the parking lot, and they got chatting. Neil asked Phil if he would like to see the kit. He walks in and sees this massive kit that is 360 all the way around him. Neil turns to Phil and points to that section of the kit, with the Simmons pads and electric drums, and says, "That's dedicated to Rick Allen. Without Rick Allen, electric drums wouldn't have happened." To me, that was a massive, massive compliment! I met him a few times over the years. I knew from the stories I heard like that one; there was a mutual respect. He will be sadly missed. He was an incredible person, inspiration, and teacher! ...
You can check out a photo of the Neil Peart artwork via WentworthGallery.com at this location.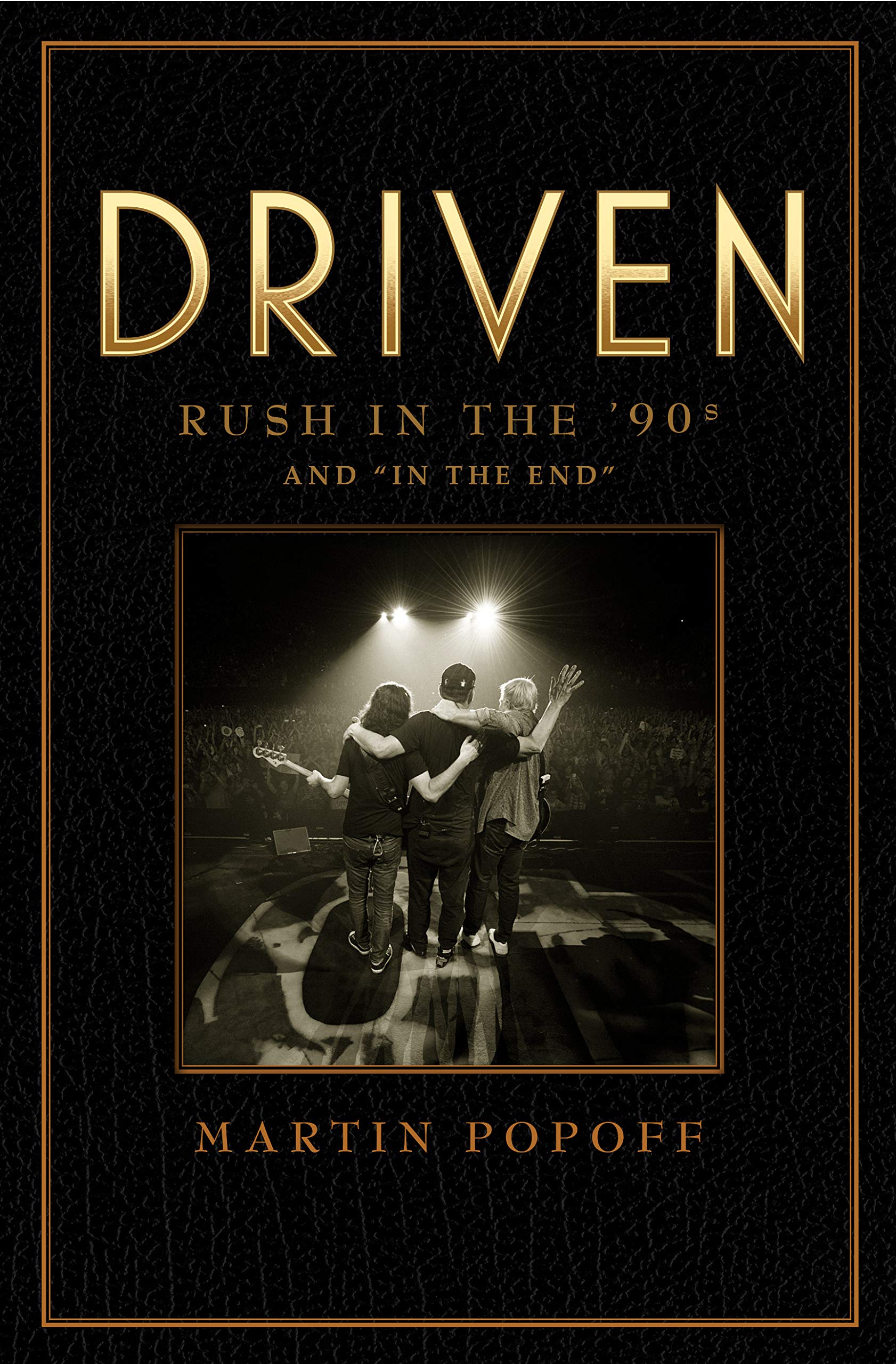 Music writer Martin Popoff's Driven: Rush in the '90s and 'In the End' - the third and final book in his 3-part Rush Across the Decades series - officially released last month and can now be ordered via Amazon and other online retailers. The author is also accepting orders for signed editions of the book via this link. The first book in the series was Anthem: Rush in the '70s, which released last May, and the second book was Limelight: Rush in the '80s, which officially released back in October. The imitation leather bound book comes in at 424 pages. From the book's description:
In this conclusion to his trilogy of authoritative books on Canada's most beloved and successful rock band, Martin Popoff takes us through three decades of "life at the top" for Rush's Geddy Lee, Alex Lifeson, and Neil Peart. Though this era begins with the brisk-selling Roll the Bones and sees throngs of fans sell out international tours, there is also unimaginable tragedy, with Peart losing his daughter and his wife within the space of ten months and, two decades later, succumbing to cancer himself. In between, however, there is a gorgeous and heartbreaking album of reflection and bereavement, as well as a triumphant trip to Brazil, a Rock and Roll Hall of Fame induction, and ― some say surprisingly ― the band's first full-blown concept album to close an immense career marked by integrity and idealism.
Popoff was the guest on the most recent episode of the 2 Guys Talking Rush podcast where he discusses the book series and also helps the guys list off their top five Rush videos. You can listen to the interview below or via your favorite podcast service:
On this past week's episode of the Something for Nothing podcast hosts Steve and Gerry listen to and discuss some Rush cover songs - a continuation of their cover song discussion on episode 71 of the podcast. You can listen to the show below or via your favorite podcast service: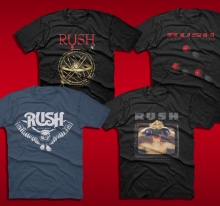 The Rush Backstage Club has added 4 new Rush t-shirts to their apparel line and are offering special introductory pricing for the first week. They include a black Hold Your Fire tee, an indigo Fly by Night tee, a Clockwork Angels Headlong Flight Sphere tee, and a Power Windows binocular tee.
The Rock and Roll Hall of Fame recently announced its latest crop of inductees, which includes the Go-Go's, JAY-Z, Carole King, Todd Rundgren, Tina Turner and the Foo Fighters. The 2021 induction ceremony will take place on October 30th in Cleveland, and Cleveland.com decided to list off the 50 greatest Rock & Roll Hall of Fame Ceremony performances ever this past week. Rush's 2013 performance made the cut at #31, and the all-star jam from that ceremony, which included Rush, also made the list at #29:
Rush fans were in full force at the 2013 ceremony, giving their performance fun energy no matter how well the band played. And Rush played very well. Things opened with Dave Grohl, Taylor Hawkins and Nick Rakulinecz imitating the band in fine fashion. The members of Rush then got in on the action and things reached epic proportions during "Tom Sawyer." It was one of the best intros in Rock Hall Ceremony history. The band continued that energy into "Spirit of the Radio." You could make a case that Geddy Lee's voice ain't what it used to be. But it's still better than a lot of the aging rockers who take the stage at the Rock Hall ceremony each year.
Former Rush producer Terry Brown will be one of 24 Canadian music industry trailblazers to be honored at this year's virtual SOCAN Awards ceremony next week with the SOCAN Guardian Award (thanks RushFanForever). For the 2nd year in a row, the 2021 SOCAN Awards will be held virtually due to COVID-19 restrictions, with over 50 SOCAN Awards being presented during the week of May 24th. For more details on the SOCAN Awards, visit socan.com.
Ultimate Classic Rock posted their list of Rock's 40 Best 10th Albums this past week and Rush's Grace Under Pressure made the cut at #20:
This second of three straight synth-focused Rush albums is often overlooked (or, worse, dismissed) because of Alex Lifeson's perceived diminishment. No, they weren't a guitar band anymore. Changing times - and changing producers - led Rush to a new creative place. But the thing is, Lifeson was no less brilliant through this transition. Instead, he found exciting new textural ways to serve the songs. 'Grace Under Pressure' is the sound of an inquisitive artist, rising to a different challenge.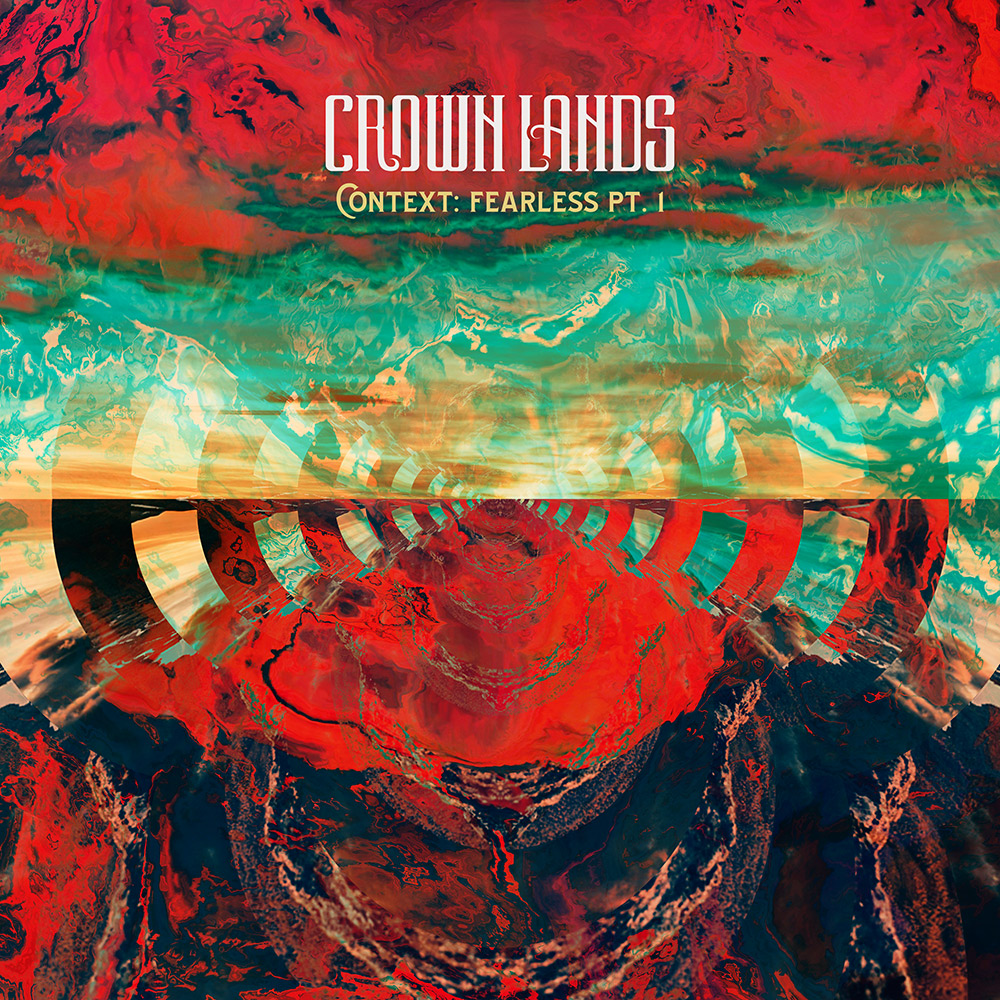 Toronto-based progressive blues-rock duo Crown Lands consists of drummer/singer Cody Bowles and guitarist Kevin Comeau, who bonded over their shared obsession with Rush six years ago and formed Crown Lands shortly after. The duo released their blues-rock, riff-laden, self-titled debut album last year, and have more recently been working on new material with a more prog-oriented feel. Back in March they released two new tracks for streaming that both draw direct inspiration from their fellow Canadian rockers Rush - Context: Fearless Pt. 1, and Right Way Back. A couple of weeks ago they released new live versions of both tracks for streaming, along with a live video for Right Way Back. Earlier this week, they also released a live performance video for Context: Fearless Pt. 1. From Prog magazine:
... "The story of Context is probably more epic than the music itself to be honest," adds Comeau. "We started working on this song before we recorded our debut LP. We had met Terry Brown through a great friend of ours. We arranged it with him and cut an early version. ... In 2018 we started working on it with Terry and then we were whisked away on tour after tour. ... The arrangement of Context started to take on a new shape after touring it and we decided it needed a new take to reflect those changes. "After touring across the USA in 2019 we prepared to record with Nick Raskulinecz in Nashville. The day before we were to drive down to Nashville to record with Nick Raskulinecz, the news of Neil Peart passing broke. Cody and I were heading home from a meeting with our label and Andy, our creative director, texted us with the news. It was one of the hardest drives I ever made. Cody and I cried the whole way home. We lost our hero. The world lost a light. Nick texted us saying that it was now more important than ever to record these songs. He told us that we had to carry the torch. That meant (and still means) the world. The fact that we have been able to work with our heroes and now call them friends is one of the greatest honours of my life. "After recording the music, the vocals still weren't quite right so we worked on them with David Bottrill (Tool, Peter Gabriel) and it felt like we unlocked a whole new sound. ...
That's all for this week. Have a great weekend!