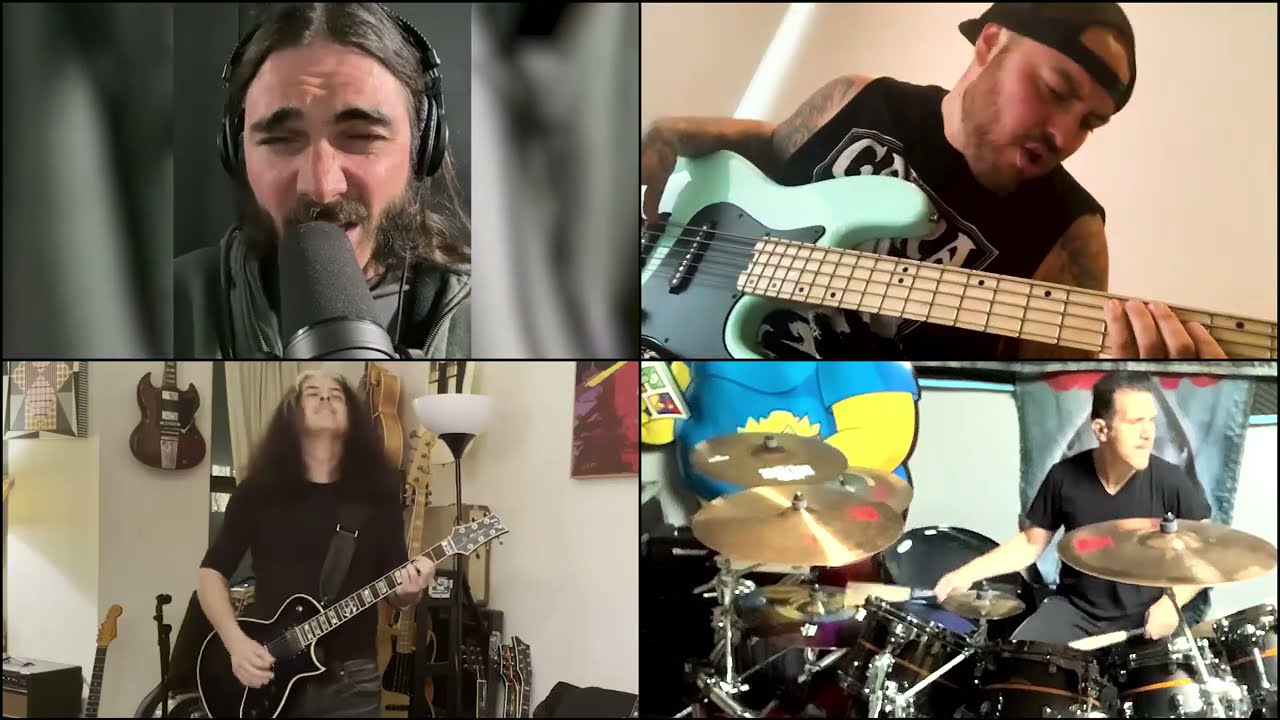 One year ago this past Monday, Anthrax drummer Charlie Benante shared a video to YouTube of himself, Testament's Alex Skolnick and Suicidal Tendencies' Roberto "Ra" Diaz performing a virtual, quarantine cover of Rush's YYZ, recorded with each member separated in their own homes. They received such a great response, they decided to do some more virtual Rush covers, including La Villa Strangiato and Red Barchetta. They didn't stop there. Over the past year Benante and friends have covered songs by a number of some of his favorite artists, spanning several eclectic musical genres, including Billie Eilish, U2, KISS and Massive Attack. In celebration of the first anniversary of that YYZ cover that lit the fuse, Benante along with Skolnick, Diaz, Crobot's Brandon Yeagley, and keyboardist MeeEun Kim, recorded a new cover of Rush's Subdivisions which you can check out below or on YouTube. A few weeks ago Benante revealed that he'll be releasing most of the quarantine covers on May 14th as a special vinyl release titled Silver Linings. A portion of the proceeds from album sales will be going to the Neal Casal Music Foundation, an organization that provides musical instruments and lessons to students and makes donations to much-needed mental health organizations that support musicians in need. In the Subdivisions video YouTube comments, Benante explains that the album won't include any of the Rush covers, as those will be saved for a special Record Store Day Black Friday EP later this year. Benante was interviewed for the April edition of The Entertainer (page 29) to discuss the album and how it got started:
... Still reeling from iconic Rush drummer Neil Peart's death in January, Benante decided to pay tribute by virtually getting together with other musicians and uploading Rush covers on his YouTube channel. "I was talking to friends throughout this thing, and they were going through the same thing I was, so I invited some of them to join in," Benante says. "The first one I worked on was a Rush song. It was (with) Alex Skolnick (from Testament) and Ra (Diaz) from Suicidal (Tendencies). I was still grieving over Neil Peart's death, and that was just one that I wanted to do, I wanted to play those Rush songs again, and that's how it happened, and then it just snowballed after that." Benante and his friends began playing a variety of songs, everything from Iron Maiden to Billie Eilish, dubbing it the
(quarantine jam video series). ...
Silver Linings is currently available for pre-order via Amazon at this location. More information on the special Record Story Day release of the Rush covers EP as we learn it.
For the 2nd year in a row the Little Kids Rock Foundation will hold its annual benefit show as a virtual event due to COVID-19 concerns. The 2021 event will take place this coming Wednesday, April 14 at 8PM EST, and some of the artists that will appear and/or perform are Carlos Santana, Todd Rundgren, James Hetfield, Jack Black, Craig Robinson, and Yo-Yo Ma. General admission tickets to view the event are free with VIP tickets available starting at $500. In addition to the benefit show, the Foundation has launched a silent auction at Givergy.us, and one of the items up for bidding is a virtual meet and greet with Rush's Alex Lifeson (the current bid is $4000!). For all the details on the benefit show and silent auction visit LittleKidsRock.org.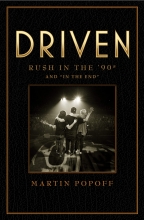 Music writer Martin Popoff's Driven: Rush in the '90s and 'In the End' - the third and final book in his 3-part Rush Across the Decades series - is slated for release later this month on April 27th and can be pre-ordered via Amazon and other online retailers. The first book in the series was Anthem: Rush in the '70s, which released last May, and the second book was Limelight: Rush in the '80s, which officially released back in October. The imitation leather bound book will come in at 368 pages. From the book's description:
In this conclusion to his trilogy of authoritative books on Canada's most beloved and successful rock band, Martin Popoff takes us through three decades of "life at the top" for Rush's Geddy Lee, Alex Lifeson, and Neil Peart. Though this era begins with the brisk-selling Roll the Bones and sees throngs of fans sell out international tours, there is also unimaginable tragedy, with Peart losing his daughter and his wife within the space of ten months and, two decades later, succumbing to cancer himself. In between, however, there is a gorgeous and heartbreaking album of reflection and bereavement, as well as a triumphant trip to Brazil, a Rock and Roll Hall of Fame induction, and ― some say surprisingly ― the band's first full-blown concept album to close an immense career marked by integrity and idealism.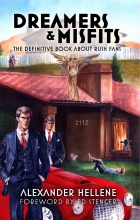 This past week's edition of the 2 Guys Talking Rush podcast features an interview with author Alexander Hellene. Hellene's new book Dreamers & Misfits: The Definitive Book About Rush Fans released late last year and is a celebration and analysis of Rush fans. It also features a foreword from RushIsABand.com's Ed Stenger (me). You can listen to the interview below or at this location, and purchase your copy of Dreamers and Misfits: The Definitive Book About Rush Fans at this location:
This past week's episode of the Something for Nothing podcast features an interview with Masters of Resonance and Growth Rings writer/director Jeremy Bout. Masters of Resonance is a 2018 Edge Factor documentary featuring Neil Peart and the R40 drum kit which is available to watch online here, and Growth Rings is a short film co-written by Bout and Neil Peart which you can watch here. You can listen to the interview below or via your favorite podcast service
Blue Oyster Cult drummer and founding member Albert Bouchard was a recent guest on the Appetite for Distortion podcast and talked about the band's 1988 album Imaginos, which took 8 years to complete and was originally intended to be the first in a trilogy of solo albums by Bouchard, who was fired from BOC in 1981 (thanks Will C). At one point he mentions how Alex Lifeson was Bouchard's top choice to play on the album, although that ultimately fell through (transcript via UG.com):
... I remember the first person I asked to play on it ended up not playing on it, and that was Alex Lifeson. We used to jam all the time when we were on the road with Rush, especially if we had a day off. We'd go to Holly, their road manager's room, and we'd bring some little amps and stuff, and jam for hours in the afternoon. So I knew Alex very well, and he said he would do it, but then when it came to doing the record, he was busy with Rush. ...
There was a brief Rush mention on the Tonight Show with Jimmy Fallon a couple of weeks ago during their Tonight Show Hashtags segment. The featured hashtag was #MyWeirdSuperstition. At about the 3:15 mark Jimmy features the following tweet from @GSFortytwo (thanks Leslie):
I put three olives in my martinis. One for each member of RUSH.
WhatCulture.com posted their list of 10 Rock Songs Too Weird To Get Big this past week and Rush's Xanadu was included at #10, although the author completely misses the fact that the song is based on Samuel Taylor Coleridge's epic poem Kubla Khan:
... Being massive fans of science fiction and fantasy novels, most of the lyrics of this song center around a long journey our narrator takes for the lost Xanadu. Running over 10 minutes, most of this song feels like it should be playing over the opening credits of some elaborate Tolkien-inspired film. While you can still hear the guitars in full force in some spots, it gets a bit hard to navigate when you start hearing Geddy Lee sing about drinking the milk of paradise after dining on honeydew. ...
Buzzfeed posted a list of 19 Songs You Might Not Know Are Based On Books earlier this week and Rush's Tom Sawyer is included:
8. "Tom Sawyer" by Rush is based on the Mark Twain classic The Adventures of Tom Sawyer.

Neil Peart, who wrote Rush's lyrics post 1975, wrote "No, his mind is not for rent, to any god or government." When I read The Adventures of Tom Sawyer I saw a twerp who refused to follow the rules. Rush imagined this childhood classic as a rock renegade.
That's it for this week. Have a great weekend everyone!!!