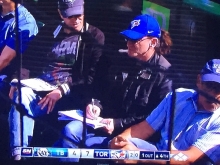 The Globe and Mail posted an article earlier this week on Sportsnet's recent decision to do away with a standalone radio broadcast of Toronto Blue Jays games and replace it with a simulcast called for both radio and TV. They asked seven prominent fans to weigh in on the decision, one of whom is Rush's Geddy Lee. Here's what Geddy had to say (thanks RushFanForever):
Geddy Lee, Rush singer-bassist and Blue Jays season-ticket holder

Some of my most memorable baseball memories were not from sitting in the stands or watching the game on the tube, but listening to the radio. Driving home from the cottage, I heard Dave Stieb's heartbreaking first one-hitter.

There are nuances and descriptors that radio broadcasters share with their audiences that are simply not the same as a cabal of TV announcers, no matter how good they are. It's a time-honoured craft that requires a special ability to bring to life what we at home simply cannot see. This is a bad and regrettable decision.
As most Rush fans know, Geddy is a huge baseball fan and can often be seen sitting in his seats behind home plate at Toronto Blue Jays games.