The Fore Batten Foundation is a charity with the goal of raising awareness and funding for increased research into Juvenile Batten Disease - an ultra-rare, fatal, inherited disorder that primarily affects the nervous system. The Foundation was founded 4 years ago by Scottsdale-based golf course architect David Kahn and his wife after learning that their twin daughters both suffered from the disease. The Foundation sponsors a silent auction each year with most donations coming from the greater golfing community, and this year's auction includes a day of golf with Rush's Alex Lifeson as described in this Golf Digest article:
... Those golf course packages, donated by clubs, club members and influential organizers from around the county, are a major reason for the auction's broad support. Available for bidding this year are golf rounds at a wide array of Golf Digest America's 100 Greatest and Second 100 Courses, such as Friars Head, Oakmont, Ballyneal, Oakland Hills, Inverness Club, Quail Hollow, Maidstone, Pikewood National, Olympic Club, Castle Pines, The Quarry at La Quinta and dozens of others, including Monterey Peninsula Country Club, where Kahn and Jackson completed a renovation of the historic Dunes course in 2015. Also up for bid are unique lots like vacation getaways in Vail and Napa Valley, and day experiences with athletes and celebrities such as Jason Kidd, Rocco Mediate, former Vice President Dan Quayle and Rush guitarist Alex Lifeson. ...
The auction kicked off this past week and will run through the end of the month. You can view the items up for bidding here, including the day of golf with Alex Lifeson, which has a current bid of $10,000! For all the details visit forebatten.org.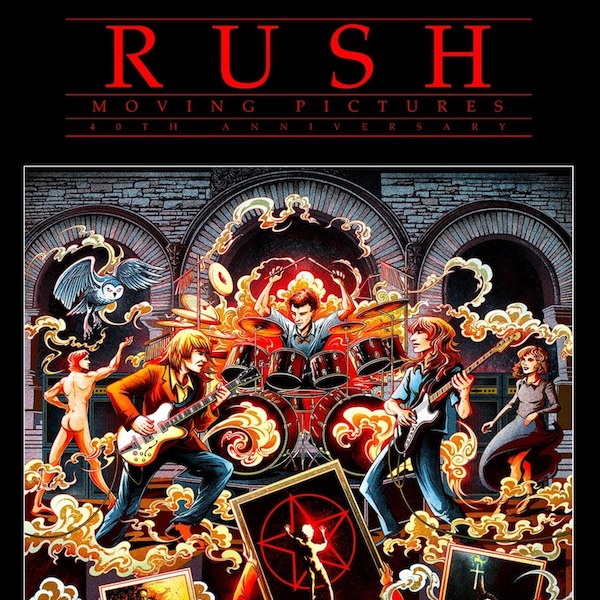 Iconic By Collectionzz is commemorating the 40th anniversary of Rush's Moving Pictures album with a set of three officially-licensed, limited-edition poster screenprints by Toronto artist Miles Tsang. The 18"x24" screenprints come in a main edition, 5-color screenprint for $75 (212 available); a Limelight Variant, 6-color, glow-in-the-dark screenprint for $150 (81 available); and an 18.5"x24.5" Country Place Edition, Wood Veneer Panel in Hand Welded Metal Frame (includes all hardware) for $400 (40 available) . Each hand-numbered screenprint has a holographic authenticity sticker on the back. The prints were made available for purchase last week, but are now unfortunately SOLD OUT except for the Country Place Edition.

Speaking of Moving Pictures, reader Rinus van L let me know that the latest issue of German magazine Eclipsed includes a cover feature on Rush and the 40th anniversary of Moving Pictures as seen here.
This evening the Fishers Arts Council in Noblesville, IN will be presenting a virtual reception with Rush album artist Hugh Syme as part of an exhibit now on display through March on the 2nd Level of The Art Gallery at City Hall. The event will feature a live interview with Syme via Facebook and a chance for virtual attendees to send in questions through the comments. You can register for the event online at fishersartscouncil.org. From local newspaper The Times:
... Hugh's work has been on display since January with rotating exhibits at the Art Gallery at City Hall. The current exhibit, "Music and Cover Art," features 13 prints. On March 8, the exhibit will change to "Music Art of RUSH" with 25 prints on display through March.
The Art Gallery at City Hall is located at One Municipal Drive in Fishers, open daily Monday-Friday from 8:30 am to 4:30 pm excluding holidays. ...
Speaking of Syme, he'll be releasing an updated edition of his Art of Rush book this coming September as detailed in this Bleeding Cool article.
Instrumental prog supergroup The Aristocrats (guitarist Guthrie Govan, bassist Bryan Beller and drummer Marco Minnemann) will be releasing their new live album, FREEZE! Live In Europe 2020 on May 7th. The album was recorded just before the Pandemic lockdowns in February, 2020 in Spain, and includes a special performance of Get It Like That with a drum solo by Minnemann dedicated to Neil Peart, who passed away while the band was on tour. You can currently pre-order the album via BandCamp, where you can also listen to a preview of the track Spanish Eddie.
Mike Portnoy and John Petrucci were recent guests on the Prog Report podcast to talk about the new, upcoming Liquid Tension Experiment album LTE3, and to help put together the Ultimate Rush Album (thanks RushFanForever). You can listen to the podcast here or on YouTube.
Yahoo News posted an article in the lead up to this past weekend's Grammy Awards where they list off 15 rock stars who never won a Grammy but definitely should have, one of which is Rush:
... Despite receiving seven nominations, Rush has never won a Grammy. The prog trio has earned seven nominations through the years. It's unfathomable that Rush's Grammy nominations never translated to wins. Not even Neil Peart's virtuosic drumming on "O Baterista" could do the trick. The legendary prog outfit earned six nominations for best rock instrumental performance and, most recently in 2010, one for "Rush: Beyond The Lighted Stage," the documentary about the band. ...
The Billings Gazette posted an article yesterday about the venerable Billings, Montana concert venue The Metra (currently the First Interstate Arena), listing off 12 Platinum-selling rock artists who performed at the Metra at the peak of their career, including Rush, who performed two shows there; one on May 20, 1978, and another on September 14, 1982.
The latest edition of the Something for Nothing podcast features a discussion centering around Rush's 2007 Snakes & Arrows album. You can listen in below or via your favorite podcast service.
This past week's edition of the 2 Guys Talking Rush podcast features a discussion on the sensitive topic of Rush and Religion with the assistance of Tom Beaudoin and Donna Halper. Donna is a Boston-based historian and radio consultant who is well-known to Rush fans as being credited with discovering Rush while working as the music director at WMMS in Cleveland back in 1974. Tom Beaudoin earned his Master of Theological Studies from Harvard University School of Divinity in 1996 and has a Ph.D. in Religion and Education at Boston College, and is also a massive Rush fan. You can listen to the show below or at this location:
That's all for this week. Have a great weekend everyone!