UPDATE - 2/27@12:09PM: Regarding the From Cradle to Stage story, reader Jennifer M discovered recently that Geddy's mother gave an oral history interview to the US Holocaust Memorial Museum back in 2006 that was put online in late 2019. You can listen to her 3-part interview online here.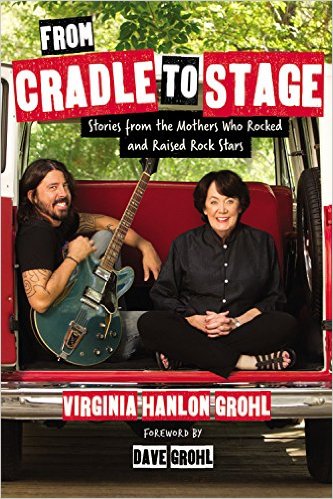 Foo Fighters frontman Dave Grohl's mother Virginia Hanlon Grohl released her book From Cradle to Stage: Stories from the Mothers Who Rocked and Raised Rock Stars back in 2017. The book contains a chapter on Geddy Lee's mother Mary Weinrib, where Mary talks about what influenced Geddy to choose a musical career, and the prevalence of music in their family home. Earlier this week at a launch event for the newly-minted Paramount+ (formerly CBS All Access), MTV Entertainment Group President Chris McCarthy announced that the network would be premiering a new, non-scripted docu-series based on the book and co-hosted by Dave and Virginia Grohl. From Deadline:
... The six-part series, directed by Dave Grohl, will tell stories of the special relationship between successful musicians and their moms. Each episode features a famous performer and his or her mother as well as Dave and Virginia. It comes from Live Nation Productions and Endeavor Content. ...
Although nothing's been confirmed yet, it seems quite likely that Mary Weinrib and Geddy could be featured in one of the episodes. In a 2017 interview with Rolling Stone, Virginia Grohl spoke about her background as a rock mom and how she got the idea to write the book:
... [Grohl] was always surprised how rarely she ran into other moms out on the road. So she decided to track some down, and ended up interviewing 18 mothers of famous musicians for her book ... "They all said, 'Oh, there's nothing interesting about me except for my son or daughter.' And then it turned out that wasn't true at all." In Texas, Virginia met Miranda Lambert's mom, Bev, who used 
to be a private investigator (including on the Paula Jones case
 against Bill Clinton). In Toronto, she talked to Geddy Lee's mom, Mary Weinrib, a Holocaust survivor who raised a family alone after her husband died. "Mike D's mom, Hester Diamond, is a very high-powered woman in the art world," Virginia says. "When Mike wanted to be a Beastie kind of boy, she was totally accepting." ...
If you haven't read From Cradle to Stage yet, you can order your copy at this location.
A new book titled That Night At Massey Hall is currently in the works, and the book's publisher has launched a website and social media campaign to track down fans and artists who are willing to share their stories, memories, and photographs of the iconic Toronto venue. From the website:
We are calling out to all fans, artists, and friends for their memories of seeing concerts, performances and special or unique moments that took place at the great institution, Massey Hall. Personal stories, experiences, anecdotes and original photos and memorabilia will tell the incredible history of "The Old Lady of Shuter Street". That Night At Massey Hall is a limited-edition new book project that will celebrate and chronicle the history of the venue through the eyes and memories of you, the fans.
Rush recorded their All the World's a Stage album at Massey Hall. To share your Massey Hall story and learn more about the book, visit the website at thatnightatmasseyhall.ca and follow them on Facebook and Twitter.
The late Neil Peart grew up in the St. Catharines, Ontario community of Port Dalhousie, the lakefront home of Lakeside Park which inspired the lyrics to the 1975 Rush song of the same name. Last year the St. Catharines City Council, with the full support of the community, voted to name the newly rebuilt pavilion at Lakeside Park the Neil Peart Pavilion at Lakeside Park in honor of the hometown icon who passed away last January. The Council also established the Neil Peart Commemorative Task Force, with the objective to commission a public work of art commemorating Peart's life and legacy. Last month the city officially began welcoming artists to submit requests for pre-qualification via the city's website, and will be accepting submissions through March 29th. From the press release:
... "The Neil Peart memorial is an important project in our community as it celebrates the life of an amazing musician, lyricist and author who called St. Catharines his hometown during his formative years," explains Mayor Walter Sendzik. "I am looking forward to seeing the vision artists have for the memorial, which will complement the Neil Peart Pavilion at Lakeside Park, as it will be a beacon for Rush fans to visit our community for years to come to celebrate and reflect on Neil Peart's amazing contribution to his craft." ... "This initiative has had the overwhelming support of the community with more than 25,000 people signing an online petition to honour Peart with a memorial in Port Dalhousie," said Manager of Business Planning and Strategic Services Eric Lamothe. "It is, therefore, something we at the City are very proud to support." ... "As a committee we're excited to finally be reaching out to artists," said Neil Peart Memorial Task Force Chair David DeRocco. "There's great anticipation to see what kind of creative and original ideas artists submit for this project. Neil set the bar incomparably high when it came to his own art, so we expect to receive some very inspired suggestions for what no doubt will become a mecca for his fans around the world." The artwork will be funded via a public fundraising campaign, which is set to launch in February at www.EngageSTC.ca/Neil-Peart. ...
Neil Peart Commemorative Task Force member Chris O'Connor was a guest on the most recent episode of the 2 Guys Talking Rush podcast and gave a brief update on the status of the memorial. You can listen to the discussion here or via your favorite podcasting service.
Rush: Time Stand Still director Dale Heslip was the guest on a recent episode of the Something for Nothing podcast. In the interview Dale describes what it was like behind the scenes of the R40 tour, discusses how the tour's concept came to be, and explains what it was like to be filming what was to be Rush's last concert. You can listen to the interview here or via your favorite podcasting service.
The Post-Journal's Lifestyles/Entertainment Editor Michael Zabrodsky wrote a piece this past week where he lists off some of his favorite albums that have been keeping him entertained during the Pandemic, including Rush's Moving Pictures and Signals albums:
Moving Pictures, Signals - Although I was interested in Rush in junior high school, this album helped me begin high school. Who could forget Neil Peart's awesome drum work on Tom Sawyer. Also the artwork is awesome. On the front is a movie sound stage and on the back are some people actually moving paintings or pictures across the same movie sound stage. Simulacra at its best. Signals was a followup to Pictures, and I am drawn to the lyrics.
Opening day for the 2021 MLB season is a month away, which means it's time for reader Ken K (aka The Clansman 2112) to kick off his annual rushisaband Fantasy Baseball League. It's a 20 Team Roto League with no entry fees or prizes - they just play for fun and bragging rights, and have a lot of fun talking about baseball and Rush. There are still a few spots open, so if you are interested, go to this link to join up, and send email to Elwood2000@hotmail.com if you have questions.
Ultimate-Guitar.com posted their list of the 25 Best Albums of the 1970s last Friday and Rush's 2112 came in at #4:
The story behind Rush's "2112" feels like it was written for a movie. The band was told that they either need to put up a catchy cookie-cutter commercial rock album or change the label. So they did the best thing that they could - recorded an album that opens up with a sci-fi dystopian 20-minute-long progressive rock epic. And it's one of the best albums of all time.
uDiscoverMusic.com posted their list of the 25 Greatest Prog Guitarists this past week and Alex Lifeson made the cut at #3:
Rush may be the only power trio where the lead guitarist sometimes got overshadowed by the rhythm section. Yet Alex Lifeson would have been the standout star in virtually any other band, and what he gave Rush was immeasurable: he could do heavy arena-ready leads, subtler textural parts, or wildly exploratory solos. His career showpiece, "La Villa Strangiato," has plenty of all three.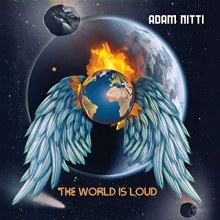 Nashville session/touring bassist and recording artist Adam Nitti released his new solo album The World is Loud last month - the 5th solo album he's released on his own Renaissance Man label. Nitti is a highly-regarded session musician who has appeared on three Grammy-winning albums and another Grammy-nominated album to date, performing with artists such as Kenny Loggins, Carrie Underwood, Michael McDonald, the Dave Weckl Band, Susan Tedeschi, Jon Anderson, Peter Erskine and many more. One of the tracks on The World is Loud is an instrumental titled The Professor which pays tribute to the late Neil Peart. The song features Nitti on bass/guitars, Jason Palmer on drums and Chris Carver on keys, and you can listen to it below or on YouTube here.
That's all for this week. Have a great weekend!