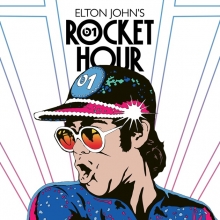 In recognition of Canadian pop star The Weeknd's halftime performance at the Super Bowl this past Sunday, Elton John devoted the latest episode (airing this past Saturday) of his Apple Music radio show Rocket Hour to the music and musicians of Canada. In addition to Joni Mitchell, Leonard Cohen, k.d. lang and many others, he mentioned Rush and played their hit song Tom Sawyer:
... Right now, we're going to the most legendary Canadian band of all time, Rush. This is a song called Tom Sawyer. It's inspired obviously by Mark Twain's 1876 novel, 'The Adventures of Tom Sawyer.' The legendary drummer and lyricist Neil Peart passed away last year, and it was such a tragedy because I think most musicians considered him to be one of the definitive drummers in the band. Rush sold so many records and continued to do so. I want to play this track to pay tribute to them and to Neil. ...
You can learn more about Elton John's Rocket Hour and listen/subscribe to the podcast at Apple Music.