UPDATE - 1/11@7:03PM: NOTE: The release date has been pushed one week to Jan. 19.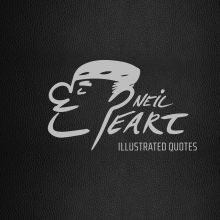 Rush has just announced that FANTOONS will be releasing a new officially-licensed Rush book titled Neil Peart: The Illustrated Quotes. The 108-page, hardcover book is slated for release on January 12, 2021, just over a year after Neil Peart's untimely passing. From the Rush newsletter announcing the release:
... Neil Peart: The Illustrated Quotes pairs elegant illustrations with some of Neil's greatest remarks to bring the poignant words of one of the world's greatest drummers to life. The book release was approved by Neil and in the works for prior to his untimely passing earlier this year. ... Pairing striking black-and-white illustrations from the acclaimed artists at FANTOONS with some of the drummer's greatest quotes, Neil Peart: The Illustrated Quotes keeps the beautiful words and musings of Neil Peart alive. Neil Peart: The Illustrated Quotes is the first and only Neil Peart quotes collection authorized by Neil himself. Not only does the book provide Rush fans-both old and new-the opportunity to dive into Neil's inspiring messages whenever they need a pick-me-up, it also serves as a love letter to Peart and his beautifully-crafted words that have inspired and influenced millions around the world.
The book is now available for pre-order via Amazon at this location.