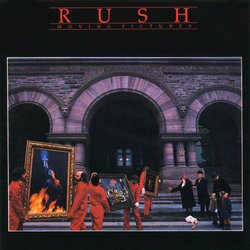 Back in 2003, Rolling Stone magazine first published their list of the 500 Greatest Albums of All Time, and - not surprisingly - no Rush albums were included. The magazine made a slight update to their list in 2012, adding 38 albums not present in the original, 16 of them released after 2003... but none of them from Rush. Earlier today the magazine posted a completely revamped list with many significant updates, and this time one Rush album did finally make the cut; Moving Pictures was included at #379 (thanks RushFanForever):
On Seventies albums like 2112 and Hemispheres, Rush mastered the high-prog epic. Moving Pictures was the record where they proved they could say as much in four minutes as they previously had in 20. Songs like "Tom Sawyer," "Limelight," and the Police-like "Vital Signs" showcased the trio's superhuman chops in a radio-ready framework, while more adventurous tracks like the Morse code-inspired instrumental "YYZ" and the synth-heavy suite "The Camera Eye" found them tastefully streamlining their wildest ideas. Said Geddy Lee, "We learned it's not so easy to write something simple."
The album will be celebrating its 40th anniversary next year, and it's expected that Rush will be releasing a 40th anniversary commemorative box set in celebration, as they've done with several other albums in the past few years, including last year's Permanent Waves 40th anniversary box set.