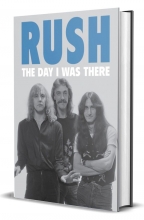 A new book from British author Richard Houghton titled Rush - The Day I Was There is slated for release this coming November 13th. The 378-page book features stories and memories from over 400 Rush fans. From the publisher's description:
... With previously unseen photos and fan memorabilia, Rush - The Day I Was There brings together over 400 previously unpublished eye witness accounts to allow the reader to take a journey back in time and recapture the experience of seeing live the greatest ever power trio in rock. ...
Orders made via the publisher before the November 13th release date will include a limited edition hardback copy signed by the author, with shipping available worldwide. For all the details and to place your order visit this location. Thanks to John at Cygnus-X1.net for the heads up.