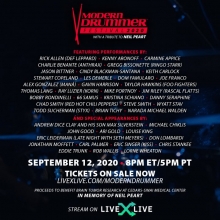 Modern Drummer magazine's 20th annual Modern Drummer Festival took place this past Saturday evening as a virtual, livestreamed, pay-per-view event produced by LiveXLive, and paying tribute to the late Neil Peart, who would have celebrated his 68th birthday on Saturday. The event was a huge success, and included an all-star tribute to Peart, with record attendance and ticket sales. From the press release:
... For its first-ever livestream pay-per-view event, the Modern Drummer Festival 2020 featured never-before-seen footage of Neil Peart, as part of a tribute to the iconic drummer of the rock band Rush who passed away in early 2020. Peart was recognized with Modern Drummer's "Lifetime Achievement Award" and named as the inspiration for the "Neil Peart Spirit of Drumming" award coming in 2021, which provides one drummer the opportunity to win a year of drum lessons from a world-class drumming educator.

Fans also erupted with enthusiasm for Kristina Schiano, a YouTuber Influencer drummer and other next-generation drummers, including Jackson Daw and young drummers from School of Rock worldwide. Other special moments included Ringo Starr's surprise guest appearance and introduction of Gregg Bissonette along with some of Neil's closest friends providing never-before-seen video clips, photos and telling behind-the-scenes stories for the first time publicly.

Red Hot Chili Peppers' Chad Smith, Foo Fighters' Taylor Hawkins, Styx's Todd Sucherman, Rascal Flatts' Jim Riley, Def Leppard's Rick Allen, Anthrax's Charlie Benante, Korn's Ray Luzier and many of rock's greatest drummers were among the 35+ performances at the festival. In addition, special guests included legendary drummers Carl Palmer, Carmine Appice, Cindy Blackman-Santana, Mike Protnoy, Keith Carlock, Danny Seraphine, Kristina Schiano, Gavin Harrison, Les DeMerle, Dom Famularo, Thomas Lang, Wyatt Stav, 66 Samus, Brian Tichy, Jason Bittner, Stewart Copeland, Nirada Michael-Walden, Eric Singer and Steve Smith. ...
In case you missed the event, LiveXLive and Modern Drummer are offering video-on-demand viewing options for $12.99 available at LiveXLive.com until December 11th. Fan donations and a portion of the proceeds will go to benefit brain research at Cedars Sinai Medical Center, Los Angeles.