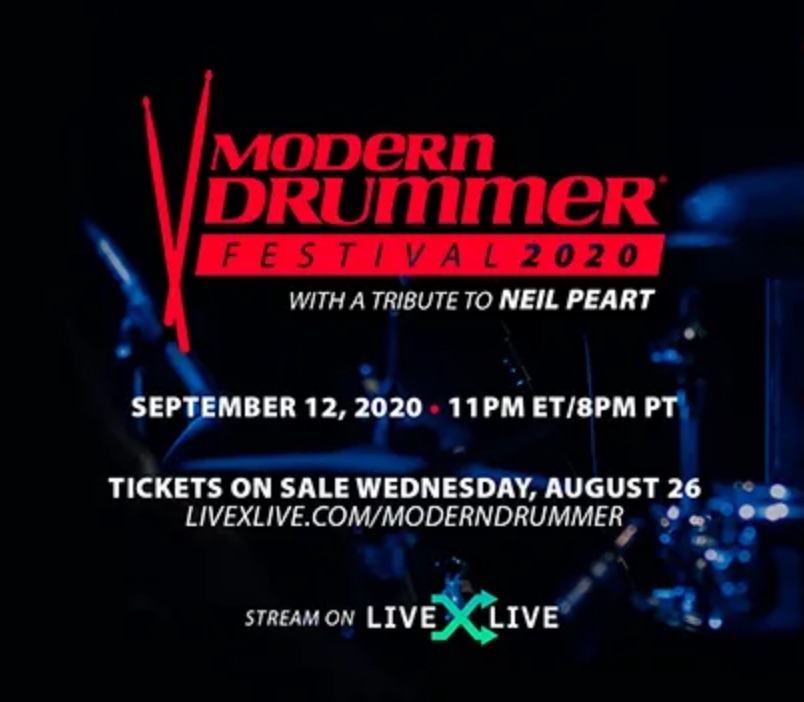 Modern Drummer magazine has announced details regarding their 20th annual Modern Drummer Festival. The virtual, livestreamed, pay-per-view event will pay tribute to the late Neil Peart and be produced by LiveXLive to air on what would have been Neil Peart's 68th birthday next month on September 12th. Tickets will go on sale this coming Wednesday, August 26th, with packages starting at $14.99. VIP and Special-Offer Bundles will include merchandise, tickets, and subscriptions to LiveXLive and Modern Drummer. From the press release:
... Featuring a tribute to the late and great drummer Neil Peart, who passed away in January, the line up for Modern Drummer Festival 2020 includes Cindy Blackman-Santana, Chad Smith (Red Hot Chili Peppers), Taylor Hawkins (Foo Fighters), Thomas Lang, Alex Gonzalez (Manå), Jim Riley (Rascal Flatts), Danny Seraphine, Dom Famularo, Carmine Appice, Keith Carlock, Todd Sucherman (Styx), Kenny Aronoff, Gregg Bissonette (Ringo Starr), Ray Luzier (Korn) and Kristina Schiano, with many more to be announced soon. The festival will also feature special appearances by Carl Palmer, Eric Singer (Kiss), Mike Portnoy, Eric Leiderman (Seth Meyers Late Show), Les DeMerle, Brian Tichy, Jason Bittner, Don Lombardi, Charlie Benante (Anthrax), Jonathan Moffett, Wyatt Stav and 66 Samus. Collectively, performers and guests reach over 150 million fans on social media. Modern Drummer reaches hundreds of thousands of subscribers and a digital reach to millions of drummers.

The Rock and Roll Hall of Fame, School of Rock, DW & Drum Channel are on board as festival partners to provide exclusive content, giveaways and special guests.

"Modern Drummer turns 45 next year and through more than 40 of them, we formed a close and unique collaboration with the one and only, Neil Peart. Neil even gave away his iconic candy apple red kit to a Modern Drummer reader in the 80's via mail-in letters chosen personally by Peart himself! It was without question that as Modern Drummer celebrates our twentieth festival, we are honoring Neil with a fitting tribute from some of his closest friends as well as world-class drummers that he inspired. The Modern Drummer Festival is a celebration of drums, drumming and drummers worldwide. This year will be the first year that everyone can attend as our capacity just went into the Hemispheres!" said David Frangioni, CEO and Publisher of Modern Drummer Publications.

"As Modern Drummer celebrates its twentieth year, the world lost a great talent this January when Neil Peart passed on, adding to the list of heartbreaking events in 2020," said Jackie Stone, Chief Marketing Officer of LiveXLive. "We get to support Modern Drummer Festival 2020 in not only celebrating Neil, but celebrating drumming talent worldwide and paying homage to these artists with our global village filled with fellow music-lovers." ...
Speaking of Neil Peart tributes, the 2020 Metal Hall of Fame gala took place this past January and included a tribute to Rush's late drummer. The gala is now available for free streaming for Amazon Prime members, or it can otherwise be purchased as a digital download for $9.99 and rented for $2.99.
Former UFO bassist Pete Way passed away last Friday at the age of 69 after sustaining "life-threatening injuries" in an accident two months ago. Way played with UFO from 1969 to 1982, briefly in 1988-1989 and once again from 1991 to 2008. He was also known as a founding member of Waysted and Fastway, and played with the Michael Schenker Group and Ozzy Osbourne as well. Rush and UFO often toured together back in the 1970s and Geddy Lee took to Instagram over the weekend to share his memories of the iconic bass player:
Sad to read today about the passing of Pete Way ...
I have so many fond and hilarious memories of touring with Pete and UFO back in the 80's ...
A true rock and roll character ...always "takin' the piss" as they would say in his homeland ...
I once asked him about his bass sound and he said, "Well, Glee.. it's uh...3/4 good, and 1/4 ..not very nice!"
A funny, energetic, sweet man and a great rock bassist ...
R.I.P. Pway
A couple of years ago Way released his memoir A Fast Ride Out of Here: Confessions of Rock's Most Dangerous Man and Geddy Lee was interviewed for the book. The following quote from Lee appears on the back cover:
Pete Way was a force of nature. Most people actually need to be sober at some point in the day, but he didn't seem to require that. At one gig we were backstage listening to UFO play and the bass just disappeared - of course he'd fallen off the stage
Redditor petdance posted an extended excerpt from the book where Pete talks about touring with Rush, and Geddy adds his own memories of touring with UFO. Here's a sampling from Geddy's comments:
... Whenever Pete's name comes up between the three of us today we all smile. He was a lot of fun to be around, but also very sweet. He truly was a wouldn't-hurt-a-fly kind of guy and dedicated to his music. And he was very rock and roll. I was on our tour bus one time and listening to the new Bill Bruford solo album, which had just then come out. There was a great bass player on that record named named Jeff Berlin, and it was pretty complex sort of jazz-rock. Pete came stumbling around the bus and was just appalled at the sound of it. He sat down beside me and said, as if in profound pain, "Glee", which he used to call me, "don't listen to this, it isn't rock and roll." You know, Pete's a rocker at heart and he's remained true to that from the music that he's played to the way he's lived his life. ...
Created in tribute to Casey House founder June Callwood in 2008, The Casey Awards annually celebrate individuals and organizations across Canada that demonstrate leadership in social justice and commitment to HIV/AIDS. Rush's Alex Lifeson was announced last month as the recipient of the 2020 award for his visionary philanthropy to LGBTQ initiatives as detailed in this article:
... The award honours Lifeson's continued and extraordinary support as a generous donor, volunteer and ambassador. He is an active supporter, whose significant contributions have had a lasting impact for AIDS service organizations, particularly Casey House, Ontario's HIV/AIDS hospital.

Alex Lifeson has a personal connection to Casey House and has been an inspiration there for more than 20 years. Casey House founder June Callwood, who passed away in 2007, referred to him as an 'ardent supporter'. When still located in their original space in a Victorian house, Lifeson would come to small social events, bring his guitar and sing along with clients and guests.

Alex Lifeson aims to make a change in an organization, and he had the opportunity to do something significant when Casey House was fundraising to expand the hospital between 2010 and 2015. He and his wife Charlene contributed to the capital campaign financially, and he worked closely with the campaign cabinet to bring a number of substantial donations to the cause.

In 2019, Alex stepped up again to contribute to a capital project to build a healing garden and rooftop terrace for inpatient clients at Casey House's new facility. Alex was one of the first donors to commit to the garden project. Donor and campaign supporter Mark S. Bonham says, "His donation was a very important start to this small campaign and inspired other donors to step up and make pledges."

Most recently, Lifeson committed to supporting Casey House's advocacy initiatives, including the ongoing #smashstigma campaigns, which have raised awareness and sparked global conversation about HIV stigma.

Lifeson is known for giving from his heart, fellow musician Molly Johnson says, "He represents the community leadership needed to tackle the issues around AIDS and raise its awareness". ...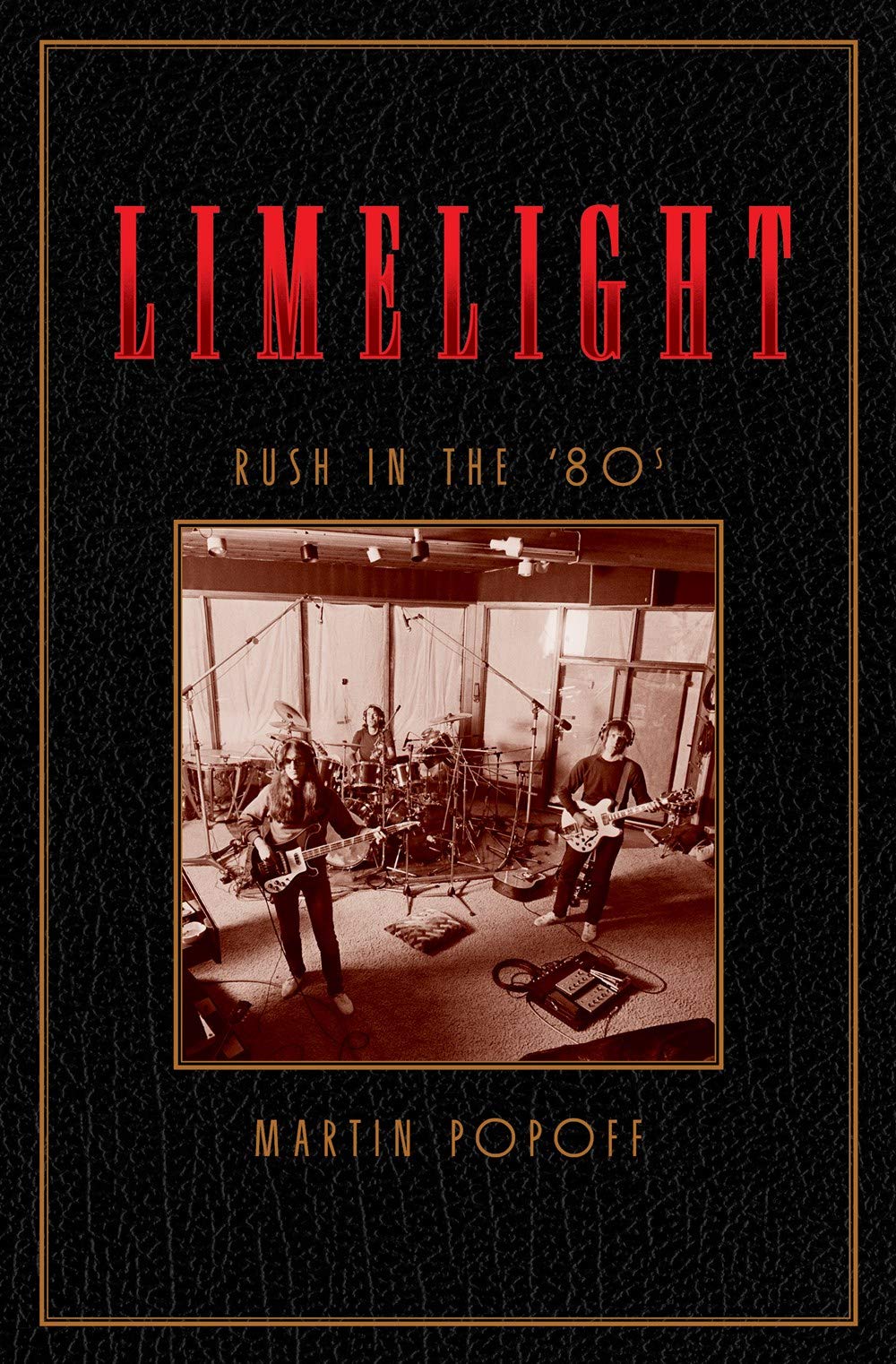 Music writer Martin Popoff released his new book Anthem: Rush in the '70s back in May, which is the first of a 3-part Rush Across the Decades series. The second book in the series - Limelight: Rush in the '80s - is slated for release on October 13th and can be pre-ordered here. The third book in the series will be titled Driven: Rush In The '90s and is slated for an April, 2021 release as mentioned in this article (thanks Chad H). The article also includes a low-res version of the Driven cover.
Treble magazine posted the 4th part of their series profiling Rush's discography. This latest installment covers the late '80s through the '90s period of the band, from Presto to Test for Echo, and you can check it out online here.
Las Vegas rock-n-roll power couple Nina DiGregorio and Brody Dolyniuk have turned the arrival of their daughter Raina Marie Dolyniuk into an online rock photo gallery (thanks RushFanForever). In the weeks leading up to Raina's birth on June 16, the couple re-created a half-dozen iconic rock-n-roll portraits from their Las Vegas home, including one of Geddy Lee onstage in a kimono (captioned as "Preggy Lee") as seen here. DiGregorio plays violin and bass guitar and is the founder of the Bella Electric Strings music company and Femmes of Rock ensemble. Dolyniuk is a musician/vocalist who created the Yellow Brick Road rock cover band and is frontman for many Symphonic Rock Show performances across the country.
10-year-old Japanese drumming sensation Yoyoka made some waves across the internet this past week with his impressive drum cover of Rush's YYZ, which he dedicated to the late Neil Peart. You can watch his performance below or on YouTube.
That's all for this week. Have a great weekend everybody!