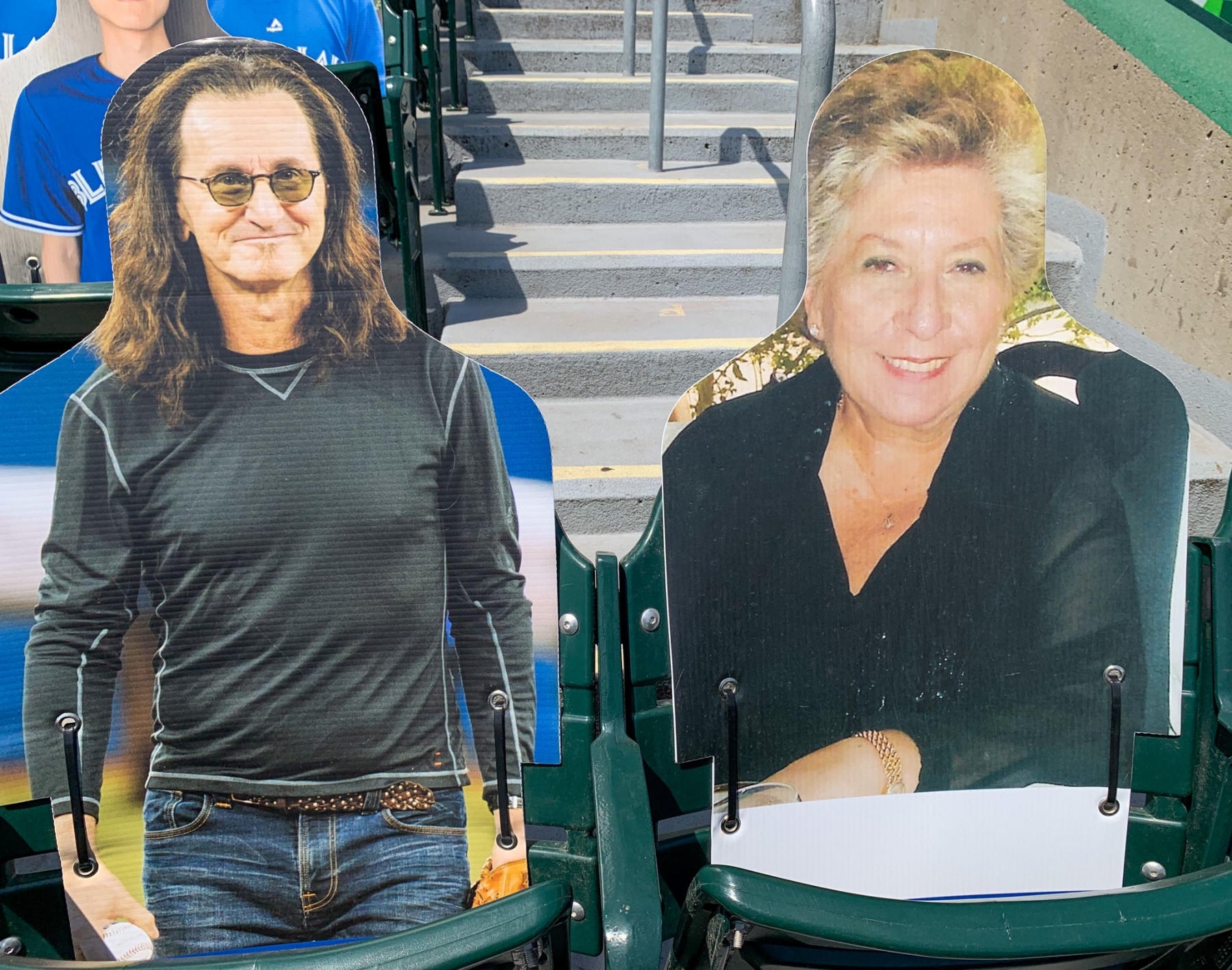 Rush fans all know how big of a baseball fan Geddy Lee is. Geddy has season tickets to the games of his hometown team the Toronto Blue Jays and is a regular at the team's home games in his perch behind home plate. Unfortunately, major league baseball is being played without fans this year due to COVID-19 concerns, and to add insult to injury, the Toronto Blue Jays were denied permission to host games at the Rogers Centre by Canadian public health officials concerned about cross-border coronavirus spread. Instead they found a temporary home at Buffalo's Sahlen Field, the regular home of Jays Triple-A affiliate the Buffalo Bisons. They began playing their first games in their temporary digs this past week, and to make it feel more like home, the Jays put up hundreds of cardboard cutouts in the seats, including one of Geddy Lee right behind home plate. From the St. Catharines Standard:
She is among the Blue Jays' most recognizable fans, a picture of stoicism behind home plate at the Rogers Centre, so unflappable she is viral-video worthy. Try as they might, the Jays won't make Home Plate Lady flinch again this season. An image of the longtime season-ticket holder - as familiar at home games as Vladimir Guerrero Jr. or Bo Bichette - will be one of 1,600 cardboard cut-outs perched in nine sections at Buffalo's Sahlen Field on Tuesday when the Jays will host the Miami Marlins, their first game in their temporary home. The Jays were denied permission to host games at the Rogers Centre two weeks ago by Canadian public health officials concerned about cross-border coronavirus spread. Home Plate Lady will be in good company in Buffalo. Rush frontman Geddy Lee, who has been known to bring a scorecard to his regular perch behind the plate, will also be present in cardboard form. So will a trio of former Jays outfielders: George Bell, Jesse Barfield and Lloyd Moseby, seated together in baby blue uniforms. ...
Fans have been posting screenshots all over social media the past few days showing the Geddy cutout behind home plate at this past week's Jays games. Although it's unlikely to happen this season, hopefully we'll get to see the real Geddy behind home plate once again by next year's season.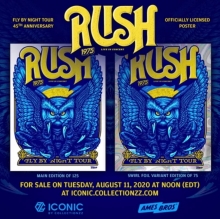 Iconic By Collectionzz is commemorating the 45th anniversary of Rush's Fly By Night album and associated tour with an officially-licensed, limited-edition tour poster screenprint by Barry Ament of the legendary Ames Bros. Rush recorded Fly By Night in late 1974 and released it in February, 1975 with a 70-city U.S. and Canadian tour in support of the album. The tour took place from February to June 1975, opening for KISS and Aerosmith. They also performed their first major headlining shows across Canada, including a sold-out show in Toronto at Massey Hall. The 18"x24" screenprints come in a main edition for $75 and a swirl foil edition for $125. Each has a holographic authenticity sticker on the back and is signed and numbered by Barry Ament. The prints became available for purchase earlier this week but quickly SOLD OUT. There's no word on whether they'll release any more, but they are already available on reseller sites such as eBay (for a HUGE markup of course).
A Night for Neil: The Neil Peart Memorial Celebration concert and charity fundraiser was originally planned to take place on Saturday, May 16th at the Meridian Centre in Neil Peart's hometown of St. Catharines, Ontario. However, due to the COVID-19 pandemic the event has been postponed for a second time, and will now take place next spring on April 17th. Here's the official statement as posted on the A Night for Neil Facebook group:
As a result of the continuing and unprecedented times we are all facing, Overtime Angels has made the decision to reschedule A Night for Neil. We are excited to announce, after talks with both the Peart family and the Meridian Centre, Saturday, April 17th, 2021 as the new date for our celebration. Tickets purchased for this event will be honoured for the new date. Should you require a refund, they are available at point of purchase and may be done so up to 30 days prior to the event. We are also thrilled to announce a handful of confirmed artists for the event including; David Barrett, Brandon Dyke, Rush Tribute bands Solar Federation and Permanent Waves, Devah Quartet, Jacob Moon and Hannah Burkholder. We continue to work on securing more artists and special guests and will announce them once their re-scheduled tour dates are confirmed. We thank you all for your patience during these difficult times and appreciate all the support we are getting for this once in a lifetime event.
Speaking of Neil Peart tributes, RUSHfest Scotland is sponsoring a crowdfunding campaign to help finance the production of an album of Rush songs played by Rush tribute bands and musicians from around the world. The album is titled TRIBUTES - SONGS FOR NEIL VOL.1 and is dedicated to Neil Peart, with plans to release it on what would have been his 68th birthday next month on September 12th. The following bands and musicians have confirmed to be on the album. 3 Snow Dogs (Brazil), Clockwork Angels (Scotland), Fleesh (Brazil), Jacob Moon (Canada), La Villa Strangiato (Italy), Lotus land (USA), Moving Pictures (Scotland), New World Men (Canada), The Rush tribute Project (USA), The Rushians (Netherlands) and Bravado (England). All profits from the album will be split equally between two charities - Glioblastoma Foundation Neil Peart Research Award in the USA and Cancer Support Scotland (registered charity SC012867). You can all the details and order your copy via the crowdfunding page at this location.
Geddy Lee will be contributing an essay to an upcoming book on the legacy of Terry Fox which celebrates the 40th anniversary of his Marathon of Hope. The book is titled Forever Terry: A Legacy in Letters and is slated for release on September 1st. From the book's description:
... [the book] recounts the inspiration, dedication, and perseverance that Terry Fox embodied, and gives voice to an icon whose example spoke much louder than his words. Comprising 40 letters from 40 contributors, and edited by Terry's younger brother Darrell on behalf of the Fox family, Forever Terry pays tribute to Terry's legacy, as seen through the eyes of celebrated Canadians ranging from Margaret Atwood, Bobby Orr, Perdita Felicien, Jann Arden, and Christine Sinclair, to those who accompanied Terry on his run, Terry Fox Run organizers, participants, supporters, and cancer champions. Appearing alongside never-before-seen photos of their hero, their reflections reveal connections that readers would never have expected, and offer a glimpse into the way goodness and greatness inspire more of the same. ...
A recent Zoomer magazine article profiling the book indicates that Geddy Lee is one of the contributors. Thanks to RushFanForever for the heads up.
Canadian rockers Big Sugar will be celebrating the upcoming 25th anniversary of their 1996 Hemi-Vision album with a deluxe reissue next month via Universal Music Canada (thanks RushFanForever). It will be made available digitally, on CD and as a 2xLP set pressed to 180-gram bright green and orange vinyl. The deluxe edition includes six previously unreleased bonus tracks, rare photos and memorabilia from the band's archives, and extensive liner notes by Gordie Johnson with a foreword from Rush's Alex Lifeson.
YES frontman Jon Anderson was a recent guest on the Talkin' Rock With Meltdown podcast, and spoke a bit about the band's 2017 Rock and Roll Hall of Fame induction, which featured Rush's Geddy Lee and Alex Lifeson inducting the band. Geddy also sat in on bass for the band's performance of Roundabout, and Anderson mentions how nervous Geddy was (thanks RushFanForever):
... "He didn't seem like it, he was just playing great. And he's such a sweet guy, and that moment in my life was magical. "Because, you know, you play in front of about 10,000 people, and everybody's there for another artist, of course, and you get on stage, develop a certain feeling, there you are, running about, and it sounded great, and Geddy Lee was brilliant." ...
Louder is currently running an online poll to determine the greatest prog musician of all time and all three members of Rush are in the running. You can vote for as many as you want, so go vote for Rush! Voting ends this coming Wednesday, August 19 and they'll announce the winners later next week.
The October 2020 issue of Guitar World magazine includes a piece titled The North Stars by Adam Kovac. The article discusses some of the lesser known guitarists from Canada such as David Wilcox, Ed Bickert, Liona Boyd, and newer musicians like Luke Bentham (guitarist and singers for The Dirty Nil), Monster Truck guitarist Jeremy Widerman, and guitarlst Steve Sladkowski from the band PUP. Sadowski is quoted in the article saying the following (thanks RushFanForever):
... "I prefer guitar players who are able to tell stories through what they play," says PUP guitarist STEVE SLADKOWSKI, who cites [Joni] Mitchell and Bruce Cockburn as some of his favorite Canadian players. "Even someone like Alex Lifeson is somehow an understated guitar player. Playing in Rush, in a power trio, he's happy to play what needs to be there. There's some way of playing this really technical music and really proggy but never overplaying." ...
Eric at Power Windows recently discovered a brief Rush reference in the 2019 film Spinster, which features a 39 year old woman who suddenly finds herself single and dating. In one brief scene where she is on a date she says, "I guess I never really listened to Rush". You can watch the scene in the film's trailer here at the 25-second mark.
Ultimate Classic Rock posted a fun little article yesterday on album birthday buddies, where they profile several pairs of albums that were released on the same day (or around the same time for albums whose release date has been lost to history). One of the featured pairs were Rush's debut album and Aerosmith's Get Your Wings, which were both released in March of 1974:
Rush's self-titled debut would be the only one they made with original drummer John Rutsey, but they would still get a foot in the door in the U.S. thanks to radio airplay of "Working Man." 'Get Your Wings' began Aerosmith's successful period with producer Jack Douglas, and featured future favorites like "Same Old Song and Dance" and their cover of Johnny Burnette's "Train Kept A-Rollin'."
Speaking of Rush's debut, Classic Rock magazine posted a list of the 20 best rock albums of 1974 earlier this week and Rush's debut album made the cut:
Heavy as hell and without an inch of the flab that crept in later, Rush's first album hit with the impact of an H-bomb. Comparisons to Led Zeppelin were made (and readily admitted to), but tunes such as Finding My Way and Working Man were classics in their own right. "The debut album was made in four days," Alex Lifeson has since recalled, making it all the more remarkable.
Stacker magazine recently compiled comprehensive chart data from Best Ever Albums on every year in music ranging from 1940-2019 to rank the best years in music history. 1981 came in at #54 on the list, with Rush's Moving Pictures listed as the top-ranked album of that particular year. Speaking of that album, Cleveland.com posted their list of the 100 greatest Rock and Roll Hall of Fame songs of the 1980s this past week and Rush's Limelight and Tom Sawyer from Moving Pictures made the cut at #94 and #49 respectively.
Toronto-based progressive blues-rock duo Crown Lands consists of drummer/singer Cody Bowles and guitarist Kevin Comeau, who bonded over their shared obsession with Rush six years ago and formed Crown Lands shortly after. The pair have just released their self-titled debut album via Universal Canada, which will also be available in the US next week. Bowles spoke about his drummer father exposing him to Rush as a child in this Beatroute article:
... my father would spend countless hours in the basement of our rented home playing the drums at crushing decibels. He didnt just play around on them, he would play 2112 by Rush in its entiretyto a tee. I would sit there in awe of his skill. He was renowned for his drumming in the poor Toronto neighbourhood he grew up in. Shortly after that, my father broke his back, completely and irrevocably altering his ability to play the way he used to. I took it upon myself to stick to the practice for the sheer love of it. He has always been my biggest drumming influence, with Neil Peart [of Rush] coming in at a close second. ...
Guitarist Comeau was also recently interviewed by Guitar World to talk about the album and his musical background, and he also talks about discovering Rush as a teenager:
When Crown Lands guitarist Kevin Comeau was 14, he was a budding punk bassist with spiky blue hair who worshipped Green Day and the Clash. Unfortunately, his parents were absolutely fine with his rebellious music. So he did the most punk thing he could think of at the time: he dove headfirst into progressive rock. At the height of my punk-rock rebellion I discovered my parents least-favorite band of all time was Rush, [so] I downloaded A Farewell to Kings, he says with a laugh. I remember listening to Xanadu for the first time and hearing the birds chirping in the background. I think thats the first time I discovered what a synthesizer was. Geddy [Lees] bass playing is so good, and Alex [Lifesons] solo at the end. It changed my life, man. ...
Not surprisingly, Crown Lands will occasionally cover Rush songs at their live shows. Here's a video of the duo performing Working Man at the Velvet Underground in Toronto last year. Thanks to RushFanForever for the heads up.
Joe Bergamini, author of the 2012 book Neil Peart: Taking Center Stage: A Lifetime of Live Performance, was the latest guest on the Something for Nothing Rush Fancast podcast, and the episode is now available for listening online. Joe spoke with hosts Steve and Gerry about drumming and his relationship with Neil, first as a young rabid fan, then as collaborator on the DVD series and book of the same name, and, ultimately, as friends. You can listen to the episode at this location. This was the podcast's 50th episode, so congrats to Steve and Gerry for reaching that milestone. Another Rush podcast to check out is the relatively new 2 Guys Talking Rush podcast, which aired its 4th episode this past week. So far they've spoken with Donna Halper, author Martin Popoff, Front of House (FOH) sound engineer Robert Scovil, and - most recently - had a roundtable discussion of women Rush fans with Media Scholar/DonnaHalper, Music Journalist/Annie Zaleski, Rushcon Director/Elizabeth Eddy Maxwell, and Superfan/Kelly D.

46 years ago today, on August 14, 1974, the classic line-up of Rush with the late Neil Peart on drums played their very first live show, opening up for Uriah Heep and Manfred Mann at the Civic Arena in Pittsburgh. They played a short, 4-song set consisting of Finding My Way, In The Mood, Bad Boy, Working Man and a short Neil Peart drum solo - his first ever as a member of Rush. You can listen to a bootleg recording of the set below or on YouTube. The Pittsburgh Tribune-Review posted an article last year on the 45th anniversary of the concert where they take a look back on this milestone show, including interviews from concert promoter Rich Engler and music writer Rex Rutkoski.
... Concert promoter Rich Engler, an East Deer native, didn't remember a lot about that first show other than the fact they played. Engler, one half of DiCesare-­Engler Productions, said he put Rush on as a favor to their agent, who he said pushed the band on him. "I didn't want them. They were unknown," Engler told the Tribune-Review. "Putting a third act on a show costs extra money. If you put somebody on like that, you want them to be able to sell tickets. Nobody knew who they were." ... After they started getting airplay with their second album, "Fly By Night" (1975), Engler was bringing Rush to town as headliners. "They're great guys, and I can't say enough about the band," he said. About a week later, then-Valley News Dispatch entertainment writer Rex Rutkoski reviewed the show in his "Vibrations" column focusing on Uriah Heep and Manfred Mann. "It was heavy metal in the city of steel last week, served up British style," he wrote about the show, during which the arena's retractable roof was open. His only mention of Rush was to say: "A Canadian trio, Rush, rocked in the preliminary." While Ultimate Classic Rock took it as Rutkoski being "less than enthused," Rutkoski said it wasn't intended as a slight against the band. "In those days, opening acts, or 'baby bands' as they were known, were virtually thrust on the promoter by the band management or the record company," he said. "I was not being dismissive of Rush. We generally didn't cover opening acts when space was tight, which it was for this particular column. When there was room, I loved turning readers on to new bands." ...
That's all for this week. Have a great weekend everybody!!