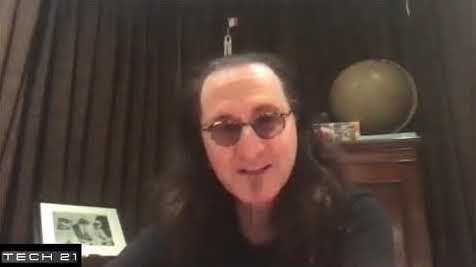 Geddy Lee recently chatted via Zoom with Tech 21's Andrew Barta to talk about his history with Tech 21 and his series of signature SansAmps. He also spoke a little about what he's been doing during the lockdown, which includes spending a lot of time with his 6-year-old grandson. You can watch the entire, 10-minute interview below or on YouTube here. Tech 21 first introduced their GED-2112 Geddy Lee Signature SansAmp at the 2017 NAMM show as described in this post. Then at last year's show back in January of 2019, they unveiled their pedal format version of the GED-2112 - the SansAmp YYZ. For this year's NAMM show back in January they unveiled yet another product in the Geddy Lee Signature series - a desktop version called the DI-2112.
Speaking of Geddy, Dirk celebrated his 67th birthday this past week and the internet celebrated right along with him, with several music news publications posting tributes, including Loudwire, JamBase, Metalhead Zone, and more. Rush discoverer/big sister Donna Halper also posted this heartfelt tribute to her friend:
... For those who don't know much about Geddy, what I find unique about him (and his band-mates) is how appreciative they have always been for what I did for them. I am known for launching their career in the US, and I always stood up for them when media critics were scornful towards them; I advocated for their star on the Hollywood Walk of Fame, and I was there to give a speech in June 2010 when they received it. And they never forgot it. And they always showed their gratitude, even years later. My point is not that I'm such a wonderful person-- my point is that as a music director and a deejay, I helped many rock stars during my years in radio, and seldom got so much as a thank-you; in fact, I seldom heard back from any of them. But Rush always kept in touch. If they could mention me during an interview, they always did. They didn't have to. Yet they still did it. And my experience is not unique: many fans have stories of how courteous and thoughtful these guys always were. Many fans have positive recollections of meeting them, even for a brief moment at a "meet-and-greet" event. I hope Geddy's birthday was a happy one (he spent it with his family, I am told). And I'm glad my post brought back some positive memories for the fans. In this crazy world, with a pandemic, political divisions, economic problems, and general insecurity, it's comforting to share some good music, and to keep in mind that there are still people out there who haven't changed-- they are still the same good people they always were. I don't know about you, but I find that both refreshing and encouraging.
Grapes for Humanity is an organization that helps to raise funds to benefit humanitarian causes around the world with the assistance of the international wine community, and Geddy Lee is a member of the board of directors. The charity will be hosting an online fine wine auction in support of the hospitality industry on Monday September 28th through Wednesday October 7th, 2020 via Waddinton's Auctioneers & Appraiser. Last month, Geddy Lee wrote an open letter to the wine enthusiast community asking for donations of wine for the auction which you can read online here. Thanks to RushFanForever for the heads up.
FANTOONS founder and creative director David Calcano was the featured guest on the Something for Nothing Rush Fancast podcast this past week and the episode is now available for listening online. David spoke with hosts Steve and Gerry about how he became a Rush fan, the history of FANTOONS, and more. You can listen to the episode in the player below or at this location:
Rush made the top 10 on two separate lists this past week, coming in at #3 on both of them. Classic Rock magazine posted their list of the the 50 best rock bands of all time as chosen by readers, with Rush beating out everyone except Led Zeppelin and The Who. WhatCulture.com posted their list of the 10 Greatest Prog Rock Bands and Rush finished third behind Pink Floyd and Genesis:
As the '70s reached its midpoint, prog rock had been a major sonic force for a couple of years. Though bands like Yes were opening up the possibilities for more ambitious rock and roll, it was unclear whether the hard rock world had any place in this new genre. Emerging from the snowy depths of Canada, Rush exploded onto the rock scene and became one of prog's most enduring bands. While you can tell the band's affinity for groups like Led Zeppelin and the Who, there was something much more intricate going on once you decided to listen to these records. Oftentimes containing no more than a handful of songs, each track this band made took you on a journey, as they played with time signatures almost effortlessly to tell their sonic stories. These guys also don't seem to get enough credit for their wordplay, with drummer Neil Peart penning awe-inspiring tales, whether it's cast in a dystopian future or in the depths of J.R.R. Tolkien's work. At a time when prog seemed to be getting too complex for its own good, Rush came through with songs that not only had killer solos, but also enough riffage to keep hard rock fans headbanging along. No matter how much people slacked them off for being music for nerds, Rush deserve to be celebrated for every single door they managed to open up.
Reader Dave H noticed a Rush reference in one of Mental Floss' Kennections games, where you need to answer a set of questions and then determine what the answers all have in common. In this particular game, all the answers were progressive rock bands, with Rush being one of them.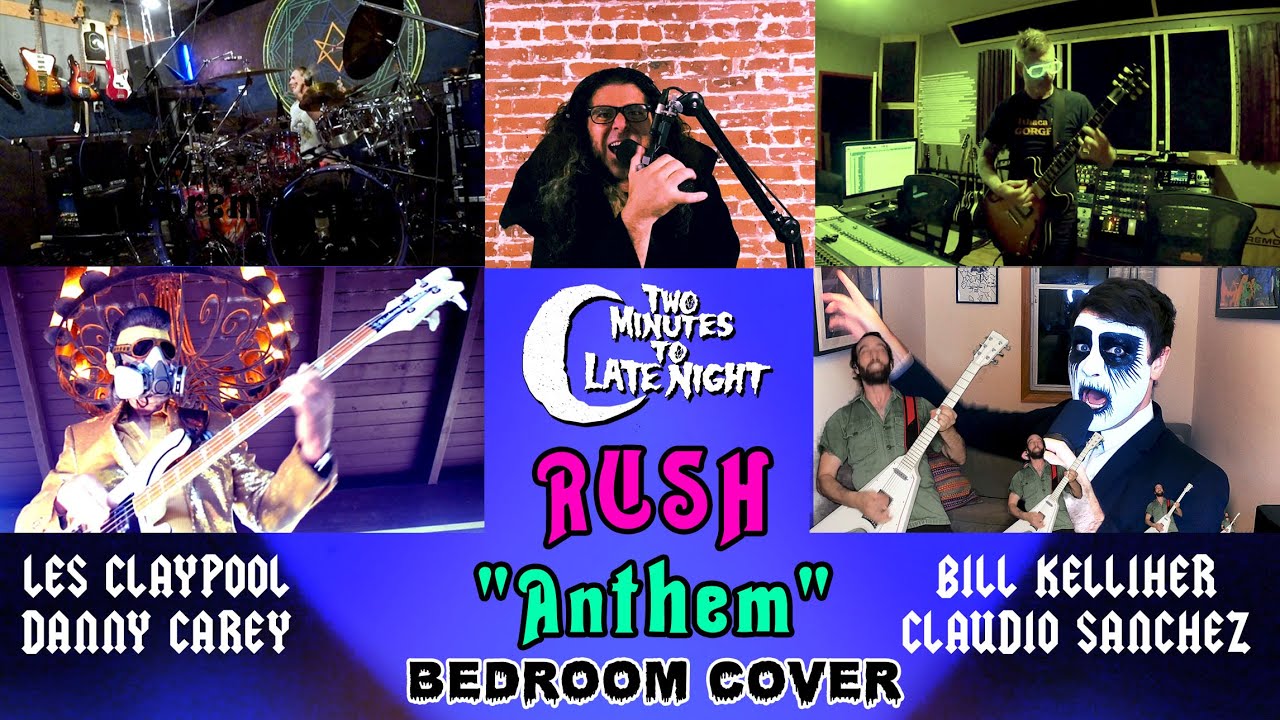 Tool's Danny Carey, Primus' Les Claypool, Coheed & Cambria's Claudio Sanchez, Mastodon's Bill Kelliher and Mutoid Man's Stephen Brodsky recently teamed up to cover Rush's Anthem to help raise money for the Cancer Research Institute. The track was recorded in conjunction with the Two Minutes To Late Night YouTube channel, who have been keeping music fans entertained during lockdown by inviting a host of musicians to contribute to cover versions. You can watch the video below or on YouTube at this location. From the video description:
Uhhh... Holy Moley. It's Claudio Sanchez, Bill Kelliher, Les Claypool, Danny Carey, and Steve Brodsky covering a Rush song. We're just as surprised as you are. This is our 15th bedroom cover made with the support of Patreon. With so many musicians stuck at home with no outlets, we're going to keep producing these style videos and use the Patreon to give some money to everyone who has a part in them. Please support our friends by donating to our newly redone Patreon at www.honorableswords.com. In lieu of taking money for this cover, all of the artists who participated will be donating their fees for this video to The Cancer Research Institute.
Tomorrow is the 5th anniversary of Rush's final live performance; on August 1, 2015 the band closed out the R40 Live tour at the LA Forum. That's all for this week. Have a great weekend!