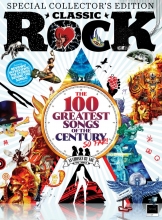 Classic Rock magazine #277 is a Special Collectors Edition profiling the 100 Greatest Songs Of The Century So Far as voted on by readers via this online poll from last month. One of the songs included in the poll was Rush's Caravan from their Clockwork Angels album, and the song ended up in the list's top 10, coming in at #6. The issue includes a 2-page profile of the track, which can be seen online in this 12-page sampler (thanks RushFanForever). Here's some of what they had to say about the song:
When Rush's Clockwork Angels album was released in 2012, few suspected it would turn out to be the band's final album, not least because it sounded like the work of a group that still had plenty of fuel in the tank. But what a way to close out a quite remarkable career. A muscular yet intricate concept record, it included some stone-cold classics, led by the incendiary, one-two punch of Caravan. If you didn't 'get' Rush before, this was likely to be the track that converted you. For a band who often reveled in the polarizing sides of prog rock, Caravan had an instant, swaggering sense of funk, while retaining the nuances and textures that had served them well for 19 albums already. ...
You can read the entire profile online or in this screenshot.