UPDATE - 8/10@5:37PM: The feature is now online here.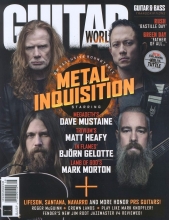 The August, 2020 issue of Guitar World magazine includes a feature on 35 Years of PRS Guitars, where they speak with a number of guitarists about their experience with PRS, including Rush's Alex Lifeson. Here's Lifeson discussing the PRS CE 24 Bolt-On that he received from PRS back in 1990, which he used to record Dreamline:
"I received a CE Bolt-On from PRS in early 1990, and I immediately became partial to that model for most of the Nineties," Lifeson says. "I recorded 'Dreamline' from Roll the Bones with a black CE Bolt-On that was my main guitar during that entire period. More recently, I've done a lot of recording with my PRS Alex Lifeson Private Stock Thinline Signature Acoustic model. It is very easy to record and sounds great in any application. It is an everyday guitar for me taht sits proudly on its stand in my living room where we happily meet each day for our special workout, and I don't mean pushups!"
The issue also includes Rush's Bastille Day as one of the 2 songs featured in the Performance Notes section along with a complete transcription of the track. Thanks to RushFanForever for the heads up and Jeff H for providing the scans.