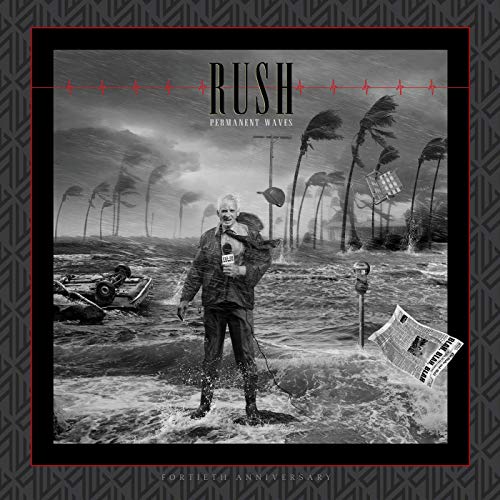 Rush's new box set celebrating the 40th anniversary of the band's Permanent Waves album released a couple of weeks ago and is now available as a 2 CD or 3 LP set, or as a Super Deluxe Edition containing both the CDs and LPs along with some bonus goodies. It's also currently available on all the major streaming platforms. Shortly after the release the band teased a planned June 5th release for a music video for The Spirit of Radio from the set, but they ended up being a week late, having just posted the video online this morning - and the wait was worth it! FANTOONS did a wonderful job with it, and you can check it out below or on YouTube. Here are the details regarding the Super Deluxe version of the box set from Rush.com:
The Super Deluxe Edition includes two CDs and three high-quality 180-gram black vinyl LPs. The set encompasses the Abbey Road Mastering Studios 2015 remastered edition of the album for the first time on CD, along with previously unreleased and newly restored bonus content newly mixed from the original analog live multi-tracks by the band's original producer, Terry Brown. The unreleased bonus live tracks come from three stops on the Permanent Waves World Tour 1980: (1) Manchester Apollo in Manchester, England; (2) Hammersmith Odeon in London, England; and (3) Kiel Auditorium in St. Louis, Missouri. The Super Deluxe Edition of Permanent Waves-40th Anniversary will also include several exclusive items, including a 40-page hardcover book with unreleased photos, reimagined artwork by original album designer Hugh Syme, and an extensive & exclusive 12,000-word essay; a replica of the Permanent Waves 1980 official tour program; The Words & Pictures Volume II, a replica of the band's rare 1980 UK-only tour program; a 24×36-inch two-sided wall poster of the original album cover model photo shoot and photos of the band recording at Le Studio; three replica bandmember 1980 tour backstage laminates; three Neil Peart-handwritten lyric sheets for "The Spirit Of Radio," "Entre Nous," and "Natural Science"; and a 20-page 5×7-inch notepad emblazoned with Le Studio letterhead. ...
Reviews from both mxdwn.com and Ramzine were posted online this past week, and John over at Cygnus-X1.net has transcribed/scanned the entire set online at this location. The Permanent Waves 40th anniversary box set is now available in stores and online retailers, including via Amazon here: Super Deluxe Edition, 2CD and 3LP.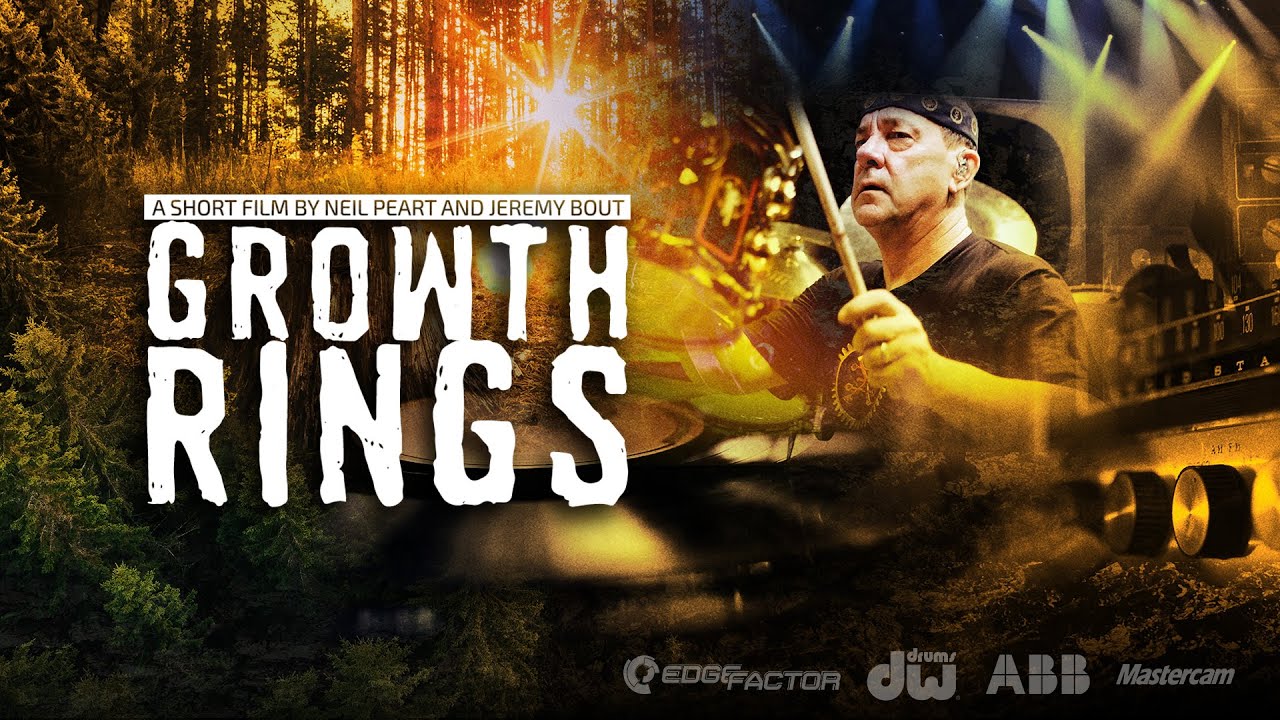 Neil Peart and the R40 drum kit were prominently featured in the 2018 Edge Factor documentary Masters of Resonance, which is available for viewing on YouTube here. While filming the documentary, Neil Peart and Edge Factor's Jeremy Bout also co-wrote a short film titled Growth Rings which was just released online earlier today. You can watch the film below or on YouTube at this location (thanks Eric at Power Windows). From the YouTube description:
"Growth Rings" Co-written by Jeremy Bout and recorded by Neil Peart of RUSH, one of the greatest drummers of all time, this short film honors the way in which music marks moments in our lives. Just as the life of a tree can be understood through it's growth rings, we can look at the milestones and eras of our lives and reminiscence of the songs and bands that resonated with us during those times.
British producer and songwriter Rupert Hine passed away at the age of 72 last week. Hine had produced Rush's Presto and Roll the Bones albums, and Rush put out the following statement via social media in response to the sad news:
In the wee hours of this morning our dear friend and super talented musician, songwriter, and producer of two Rush albums, Presto and Roll The Bones, sadly passed away.

Roop was always such an upbeat, unflappable and all around lovely "chap" to work with and to be around. His influence on our music and on our attitude towards enjoying life was profound and he shall be sorely missed by so many.

There are still many of his very "British" expressions that have made their way permanently into our lexicon and we can see his smiling face and the twinkle in his eye whilst saying, "Jolly D!!"

RIP dear "Roop"...We love you man!
A couple of years ago, Hine was interviewed for the Hustle podcast, and at one point he talks for about 10-15 minutes about his involvement with Rush as producer, discussing his reluctance to work with the band at first, working with Geddy Lee on his vocals, the band's intelligence and sense of humor, Neil Peart's drumming, and more. You can listen to the podcast at this location and the Rush bit comes in during the 3rd hour at about the 2:14:05 mark. RIP.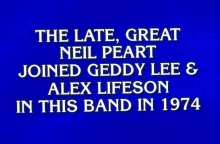 There was yet another Rush reference on the popular American quiz show Jeopardy! this past Wednesday evening. The round 3 Double Jeopardy answer for $1200 in the 3 Names in Classic Rock category was:
The late, great Neil Peart joined Geddy Lee & Alex Lifeson in this band in 1974
And the question was ... Who is Rush? - which was provided correctly by Joanna Pratt (appropriate last name!), a library programming associate from Ravenna, OH. Jeopardy! seems to have a love affair with Rush, and have used the band in MANY clues over the last several years.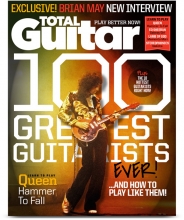 The July, 2020 issue of Total Guitar magazine (issue 333) includes a cover feature on the 100 Greatest Guitarists. One of the sections lists off the Top 25 Rock Guitarists and Rush's Alex Lifeson comes in at #8 (thanks RushFanForever):
The Rush guitarist on whether there's a solo he'd like to re-record.
"I suppose so, but, you know, I really try to step away from that. It is in a place in time and whatever you did, you did it for some reason. I work pretty hard on my solos but would I do some over again? Yeah, I probably would. But on the flip side of that coin, I've done a lot of solos that were just throwaway solos that weren't meant to be anything other than a temporary plug in a space on a song. But they've stayed with us and they've become some of my favourite solos. The solo in Bravado for example, was at throwaway solo, just filling the demo, but it's among my favourites now."
WhatCulture.com posted their list of 10 Hard Rock Albums That Were A Nightmare To Make and Rush's 2112 made the cut at #8:
Rush's 2112 was a real watershed moment for the prog rock genre. Even though bands like Yes and Genesis were thriving in the scene, this was a record that had the same complexity, but with the pure musical power of a band like Led Zeppelin. People might see it as a classic now, but the band's opus was almost not created at all. After the band came off the commercial bomb Caress of Steel, their label was leaning on them to deliver some more accessible material. So how do you get your label on board with an album that will feature a 20 minute epic title cut? Simple: lie to their faces. As the band's manager Ray Danniels went to the label to discuss the band's future, he convinced the corporate suits that they would be delivering something much more radio-friendly, all while they were at work crafting a prog rock masterpiece. Geddy Lee also recalled that the band was convinced that the label would hate the record, but were determined to go out doing what they loved rather than water it down. With this album becoming the definitive Rush record, it's abundantly clear that the band made the right call.
Speaking of 2112, Ultimate-Guitar.com posted their list of the 25 Best Songs to Listen to In Space this past Friday and Rush's 2112 came in at #5:
Whenever those label executives and other finely-dressed people pressure you to release a cheesy commercially-driven album, go ahead and open it up with a 20-minute-long prog rock epic. That's what Rush did with their "2112" and its title track.
The 2003 Aqua Teen Hunger Force episode Spirit Journey Formation Anniversary (Season 2, Episode 14, aired Oct. 19, 2003), which contains several Rush references, received a mention in this ScreenRant article profiling the 10 Most Memorable Aqua Teen Hunger Force Villains. The villain in this episode was guitarist Zack Wylde, who comes in at #9 on the list:
Zack Wylde is a songwriter best known for being Ozzy Osborne's guitarist and the founder of Black Label Society. But on Aqua Teen Hunger Force, he and Geddy Lee were commissioned by Master Shake to help write a song to take the place of "Happy Birthday." Naturally, Shake's song was a miserable failure and he couldn't afford to pay Wylde the money he owed him. In response, Wylde put an ax-shaped guitar through Shake's skull. Shake then tried to stage a performance featuring robotic scorpions and Wylde. It didn't work out, and Wylde was eventually killed by the scorpions. Come to think of it, Shake might have been the villain on this one.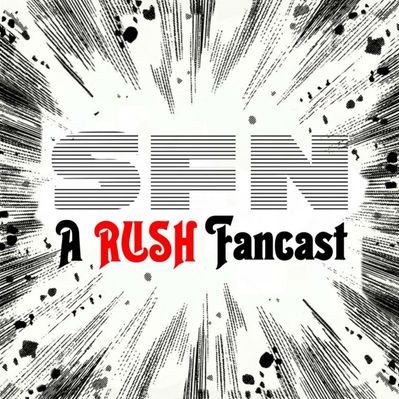 I had the honor of being a guest on the latest edition of the Something for Nothing Rush Fancast podcast this past week, and the episode is available for listening online here. I spoke with hosts Steve and Gerry about the origins of rushisaband.com, how I became a Rush fan, the role of social media in Rush fandom, and more. We also tried to determine the 3 best Rush album openers, which was not an easy task! To learn more about the Something for Nothing podcast, check out their website, and be sure to follow them on Twitter for all the latest episodes.
44 years ago this weekend, Rush played three nights (June 11-13, 1976) at Massey Hall in Toronto on the 2112 Tour which were recorded for later release as the band's first live album, All The World's A Stage. Also, Rush's final studio album, Clockwork Angels, released in North America on this day back in 2012. Happy 8th anniversary! Have a great weekend everyone!!