UPDATE - 6/11@8:43AM: Here are a few more details; it was a Double Jeopardy question for $1200 in Round 3 and was correctly answered by Joanna Pratt, a library programming associate from Ravenna, OH.
UPDATE - 6/10@9:21PM: Here's some video:
Here it is... pic.twitter.com/k0GrRgzYyM

- Barry Wiederman (@BWieds) June 10, 2020
----- snip -----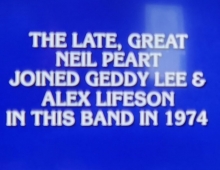 There was yet another Rush reference on the popular American quiz show Jeopardy! this evening. The category was 3 Names in Classic Rock with the answer being:
The late, great Neil Peart joined Geddy Lee & Alex Lifeson in this band in 1974
And the question was ... you guessed it - Who is Rush! Jeopardy! seems to have a love affair with Rush, and have used the band in MANY clues over the last several years. Thanks to Nancy M for the heads up and Aaron B for the screenshot.