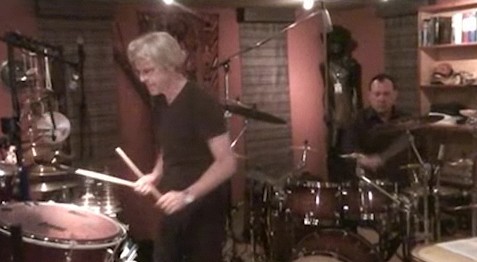 Drummer Stewart Copeland was recently interviewed by Rolling Stone magazine for a piece where the former Police drummer talks about life in quarantine, recently reuniting with his jam band Oysterhead, and sharing memories of his late friend Neil Peart:
... [his passing] took longer to hit me than his family and so on. He was a really good friend and a unique character. And a big part of my enjoyment of life was going down to the Bubba Cave and shooting the shit about cars, or him coming over here with Danny Carey and others to have it up at the Sacred Grove. I am very sad to miss those times. When he first passed, I was pleased for him, because [his illness] was a two-to-three-year process. At one point during it, he said, "Look, I'm a year past my sell-by date. I'm still here." And then another year went by. So when he passed, my first thought was, he had an incredible life. What a great way to go out. He saw his train coming and he got a first-class seat. That's him. Then comes me, thinking, "Wait a minute. He's not there anymore. I can't call him up anymore." I started to just miss him. I just wish he was back. Like, "That was really cool, Neil! Wow! You really aced it there, buddy! OK, you can come back now." And that's the part that sticks with me. I just wish he was here. ...
The interviewer remarks about the public perception of Peart as being a very quiet, serious guy when in reality, he was very funny and engaging. Copeland agrees and says the following:
... Yes. Very dry, very deadpan. He had some quirks. One of the stranger quirks, which any Rush fan probably knows, or anyone who has loved Neil, [is that] he cannot take compliments. He cannot take adulation. It just touches a button. I should be speaking in past tense. He had, I suppose, a dour exterior, but that craggy, dour exterior just made his wit more piercing. If you'll forgive the pun. ...
You can read the entire interview online at this location, and watch one of the above-mentioned Sacred Grove jam sessions involving Neil below or at this location.