UPDATE - 1/13@12:38PM: It's on YouTube now:
----- snip -----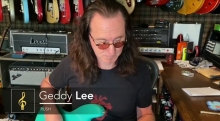 UPDATE - 5/6@10:38PM: It's up already! You can watch it here. Geddy shows up at the 1:17:50 mark, plays a little of YYZ on his bass, and says the following:
Hi. I'm Geddy Lee. During this unprecedented time - restaurants - which are the lifeblood of our community, are either closed or are struggling to keep their people employed. The trickle down of all of this has shaken our cultural foundation and quite literally affects the livelihood of thousands of people; chefs, sommeliers, wait staff, hostesses, delivery personnel, farmers, fishermen, bakers and so many more. That's why I'm ordering in contact-less pickup at least once a week and definitely every "takeout Wednesday". In the past few weeks I've ordered from [lists off restaurants] and I'll continue to support my local restaurants and food community by ordering in and buying gift certificates. I encourage you to do the same. Wherever you may live, these important food producers and suppliers need our help now to get through this tough time. So please stay safe, stay home, and trust the science. Thank you.
----- snip -----
UPDATE - 5/6@9:58PM: Geddy showed up around the 1:18 mark and said a quick word about supporting local restaurants with his bass in his hands. The show should be available to rewatch on the Great Kitchen Party Facebook Watch page in the next few days.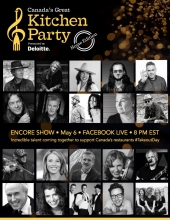 Canada's Great Kitchen Party is a live streaming fundraising event that's been airing every Wednesday night on Facebook Live since the middle of last month. The show is hosted by CBC Music's George Stroumboulopoulos from his home in downtown Toronto with the aim being to encourage Canadians coast-to-coast to order food from local restaurants, and raise money for Goodfoodfund.ca - and also to enjoy performances and food-related greetings from notable Canadians. Last week was supposed to be the last of these events, but due to the overwhelmingly positive response, they decided to bring it back for another week. Tonight's show will feature none other than Rush's Geddy Lee. From FYI Music News:
... The fourth Home Edition will benefit MusiCounts, the charity arm of the Canadian Academy of Recording Arts & Sciences (CARAS) that provides musical instruments to schools and community programs. Jackson-Triggs winery is the matching sponsor, kicking it off with $20,000 to start. ... "If you're able to, order some takeout today from your favourite local spot," said Strombo on the webcast. "These places that we rely on so much during regular times, well they need us now during these difficult times. They need to be able to rely on us. When you order from a restaurant tonight, we are showing them and everybody who works in that chain that they matter to us. That chain being the farmers, the dishwashers, the chefs, the delivery people, the restaurant owners, we are there for them today." Last Wednesday was supposed to be the third and final edition, but at the end, as expected, he announced it would be back May 6. "I think we should keep going," he said. Set to appear are The Jim Cuddy Band, Tom Cochrane, Ed Robertson, Barney Bentall, Alan Doyle, Geddy Lee, Raine Maida and Chantal Kreviazuk, Chilliwack's Bill Henderson; Danny Michel, 54.40's Neil Osborne and daughter Kandle, Serena Ryder, Glass Tiger's Alan Frew, Ashley MacIsaac, The Tenors, Mary Walsh, Ron MacLean, Col. Chris Hadfield and more. ...
You can tune in to watch the event via Facebook Live at 8PM EST at facebook.com/GreatKitchenParty. Thanks to RushFanForever for the heads up.