UPDATE - 4/23@5:51PM: It's confirmed - Geddy Lee was officially added to the long list of participants in another press release posted earlier today. You can check out the full list of of today at this location.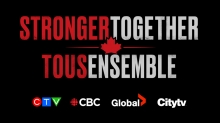 The CBC in conjunction with Bell Media, Corus Entertainment and Rogers Sports & Media will be broadcasting a 90-minute, multi-platform special this coming Sunday, April 26th to support front-line workers across Canada during the COVID-19 pandemic. From a CTV.ca press release posted on Monday (thanks RushFanForever):
Bell Media, CBC/Radio-Canada, Corus Entertainment, Groupe V Média, and Rogers Sports & Media are coming together in a show of support for the frontline workers fighting the battle against COVID-19 across Canada. Featuring a star-studded lineup of homegrown artists, activists, actors, and athletes, the multi-platform, all-Canadian special Stronger Together, Tous Ensemble airs on English and French services on Sunday, April 26 at 6:30 p.m. across all markets. ... Canadians who are able are invited to donate to Food Banks Canada in association with the broadcast to support local food banks from coast-to-coast-to-coast as they face the drastic impacts of COVID-19. ... Featuring a mix of music, messages, and more, Stronger Together, Tous Ensemble presents iconic Canadians sharing their stories of hope and inspiration in a national salute to frontline workers combatting COVID-19. Canadian talent are uniting to show everyone working on the front lines of this pandemic that we are all #strongertogether ...
Although the original press release does not mention that Geddy Lee would be participating, an advertisement shown on CTV this evening did include the Rush frontman as seen in this screenshot (thanks to blueschica at The Rush Forum). For all the details on how you can tune in and contribute, check out the press release. Note that the broadcast will be unavailable outside of Canada. More information as we learn it.