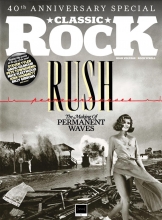 Rush will be releasing a new box set on May 29th which celebrates the 40th anniversary of the release of Permanent Waves, and Classic Rock magazine's latest edition marks the occasion with a cover feature on the making of the album written by Philip Wilding. The issue officially went on sale earlier this week and Classic Rock posted all the details here:
... We're really proud of it. It was the first time the team had finished an issue from the new 'normal' of sofas, makeshift desks and precariously balanced laptops, aided and abetted by Team Classic Rock's various feline assistants. Google Hangouts became our new home, and we got it done.

The new issue is a Rush spectacular celebrating 40 years of Permanent Waves (we spoke with Geddy, Alex, producer Terry Brown and art director Hugh Syme about it) and it comes with a Rush album-by-album guide and an official Rush 'Starman' laptop sticker. ...
There's also this short excerpt from their Alex Lifeson interview that appears in the issue:
... "Freewill stands out the most for me. It was such a challenging song to play for all of us, but I remember being so excited on the day we recorded it. I can still remember clearly sitting on the tall stool directly behind engineer Paul Northfield, with producer Terry Brown at the console to my right smoking Gitanes. "I'm sure we did The Spirit Of Radio in the control room too, because that's how we worked: on a stool, sitting behind Paul, with Terry there giving Paul a kick in the back of his chair every so often when he drifted away!" ... "At times, Hemispheres was soul crushing. On the other hand, Permanent Waves was so positive and fun. We had come some way as a touring band, playing to larger and more supportive audiences, and all the touring made us better players. "Individually we were all in a good space, and it showed in the way we treated each other and those around us. Life was fun and exciting."...
You can check out a 21-page sampler of the issue online here which includes the first few pages of the feature. The Permanent Waves 40th anniversary box set releases on May 29th and you can pre-order yours via Amazon here: Super Deluxe Edition, 2CD and 3LP.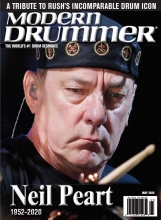 The May, 2020 issue of Modern Drummer magazine is a special edition that pays tribute to the late Neil Peart with an extensive cover feature as outlined at ModernDrummer.com:
... To honor Neil Peart's musical contributions-and the outsized influence he had on so many people, in so many forms-we begin by examining the music he made with the progressive-rock band Rush, pointing out highlight moments on each and every studio album they recorded with him, from their 1975 sophomore set, Fly by Night, through 2012's Clockwork Angels.

Later we trace the evolution of his famous drumsets via several of Rush's iconic live albums, and then survey the popular books he wrote during his lifetime, a "side career" that Neil took to with the same energy and thoughtfulness that he approached his playing and...well...everything else that interested him throughout in life.

Finally, we hear from the pro drummers: some household names, others less famous, but all profoundly influenced by their exposure to Peart's life's work. All have a unique tale to tell, but also share with their peers an utter respect not only for Neil's artistic accomplishments, but for his humanity, and the role that he reluctantly yet brilliantly played as representative to the world of the power and glory of drumming. ...
The issue also includes many other Neil Peart feature articles that can be previewed via the Modern Drummer website. To learn how you can subscribe and/or obtain a copy of the tribute issue, visit this location.
A Night for Neil: The Neil Peart Memorial Celebration concert and charity fundraiser was originally planned to take place on Saturday, May 16th at the Meridian Centre in Neil Peart's hometown of St. Catharines, Ontario. However, due to the COVID-19 pandemic the event has now been rescheduled to October 17th. Here's the official statement from the event organizers:
March 30, 2020 - The team at A Night for Neil has been diligently working with the venue, speakers and performers to secure a new date for our event. We watched and waited while the unprecedented events happening around the world unfolded before us. As COVID-19 and its effects swept across the globe, we knew ultimately we would need to make the decision to postpone our event. The fans have proven their love for Neil is great as they continued to buy tickets even during these times of uncertainty. We are thrilled to announce a new date of October 17th has been secured. Please hold on to tickets that have already been purchased as they will be valid for the new date. If you require a refund, we ask you to visit this link https://bit.ly/2xr5o9Q to find out how to ensure that happens. These times are challenging, but we know the fans need live entertainment and we look forward to celebrating Neil with all of you!
In addition to Overtime Angels, the charities chosen by the Peart Family as beneficiaries of this event are: St. Catharines Hospital and Walker Cancer Centre, The Juravinski Hospital & Cancer Centre in Hamilton, and the Royal Victoria Regional Health Centre in Barrie. Please follow the event on social media (Facebook, Twitter, Instagram) and/or subscribe to the email list at this location to get the latest information.
Long-running syndicated rock radio show and website In The Studio With Redbeard has launched a new, 2-part series titled the History Of Heavy Metal, compiled from past In the Studioe interviews:
My guests are the leaders of the pioneering bands who forged the foundation of Heavy Metal: Deep Purple's Ian Gillan and Roger Glover; Alice Cooper; Paul Stanley and Gene Simmons of KISS; Rob Halford of Judas Priest; the late Ronnie Montrose & his discovery Sammy Hagar; Alex Lifeson and Geddy Lee of Rush. Hour one of two. -Redbeard
The first hour of the series is available for listening online here.
Last week Rolling Stone posted their list of The 50 Greatest Rock Memoirs of All Time and Neil Peart's 2002 book Ghost Rider made the cut at #39 (thanks RushFanForever):
In the summer of 1997, Neil Peart's teenage daughter Selena dies in a car crash. Less than a year later, his wife Jackie dies of cancer. So he gets on his motorcycle and hits the road, from Quebec to the Yukon, then down south to Mexico and Belize. He rides thousands of solitary miles, brooding over his grief, with no home to go back to, while his brothers in Rush give him the time he needs to fire up the willing engine. Ghost Rider is different from anything Peart wrote for Rush an unusually personal statement from such a shy and private writer. But the Professor brings all his analytical rigor to these road journals and leans on the healing power of mechanical music.
Louder.com is running a poll to determine the greatest rock album of the '90s and Rush's Test for Echo is in the running. You can go vote for Rush here (thanks RushFanForever).
Author Rush Evans wrote a recent article for Goldmine magazine title Rush on Rush, where he expounds on his love of the band that bears his name. You can check it out online here (thanks RushFanForever).
Treble magazine recently posted the second in a series of articles in tribute to Neil Peart where they present a historical retrospective of Rush's discography. The first installment was posted back in February and covers Rush's first four albums. The second article covers A Farewell to Kings to Moving Pictures and can be seen here.
Since back in January, ThatHashtagShow.com has been posting a series of articles where they cover Rush and their storied career, reviewing each of their many studio albums. They've published 10 articles over the past several weeks, each covering 1 or 2 of Rush's albums, and wrapped things up this past week with their 11th and final article, profiling the band's swan song, Clockwork Angels, and discussing Rush's legacy:
... This will be total conjecture on my part, but if I was speaking on their behalf, I would think they want you to be better than you currently are. They want us to push boundaries in whatever field you work in. Rush wants us to be better versions of ourselves and not be afraid of failing when you do it. They also want us to never stop experimenting. You'll never get it wrong if you never try to do it in the first place. Think that's dopey? Listen to their lyrics. Look at the musical risks they took. Read about their failures and successes. Study how they went about making these incredible progressive rock masterpieces. They are a total case study in disciplined methodology. These three guys set a life example with rock and roll as the backdrop of their fish bowl, and we're all looking inside it. What better legacy can you leave than that?
WBSM's Ken Pittman posted his list of Hard Rock's Ten Most Perfect Songs 1980-85 and Rush's Tom Sawyer made the cut at #9:
This Canadian trio has, for many fellow musicians, the gold standard for average quality per position of almost any band imaginable in rock. They pivoted to a more commercial sound with their release of Moving Pictures and released the feature song "Tom Sawyer," which continues today to be one of the best quality sound productions, despite the lack of digital and other modern advantages found in studios today.

Yes, it is one of those "perfect" songs. The one credible critique on the band is the high pitch of the singer Geddy Lee (also regarded as one of the best bass players ever) but as well as many songs this band produced, it is very fitting and his tone threads the needle and is complementary to "Tom Sawyer." And it's probably the song most played by the air drummers of the world.
KISS frontman Paul Stanley was recently interviewed for a feature in Outlaw magazine and spoke a little about his introduction to Rush:
... "The first time RUSH opened for us, they had their original drummer, John Rutsey, along with Geddy and Alex. But when Neil joined, overnight it became a different band," Stanley said. "Suddenly, they had this incredible musician backing Geddy and Alex. There was only one RUSH and they perfected a style and walked a road that nobody else had been on. I saw that band in its infancy and they went on to build an incredible legacy." ...
Brooklyn Vegan posted their list of 13 great punk and rock documentaries to stream right now and Rush's Beyond the Lighted Stage made the cut. The film also made the New York Times' list of 13 Uplifting Documentaries on Netflix.
iHeartRadio.com posted an article this past week titled 6 Times Rush Was An Answer On 'Jeopardy' where they cover the many times over the years when Rush was the subject of a question on the popular quiz show.
Spitfire Audio recently interviewed composer, producer and organist Andy Richards to discuss the development of the Symphonic Organ, along with Andy's earlier career as a session musician, including his experience playing keyboards on Rush's Power Windows and Hold Your Fire albums. You can listen to the interview on YouTube here with the Rush part coming at around the 8-minute mark (Thanks Tony C).
Three years ago this coming Tuesday, April 7th, YES was inducted into the Rock and Roll Hall of Fame by Geddy lee and Alex Lifeson. Geddy stood in for the late Chris Squire on the band's performance of Roundabout as seen in this video:
That's it for this week. Have a great weekend everyone. Stay home and listen to RUSH!