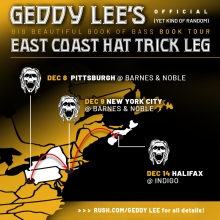 Geddy Lee wrapped up the latest leg of his Big Beautiful Book of Bass signing tour at Coles Halifax Shopping Centre in Halifax this past Saturday. The weekend prior to that he visited Barnes & Nobles stores in Pittsburgh and New York City. The Halifax Chronicle Herald was on hand at the event and posted a video news story with accompanying article covering the event (watch below). They spoke with a number of fans in attendance about their experience meeting Geddy and what Rush means to them. From the article:
... Mike McManaman was one of the fans who waited in line to see Lee. He drove from Amherst to get his book and have his chance to meet Lee. "He's just a hero of mine. He taught me everything I know when it comes to playing bass. He's somebody that really means a lot to me and the whole band - Rush - they're just an amazing band." Jaegar Laird,14, was one of the younger fans in the crowd. "I'm a big fan of Rush because of Geddy Lee's bass playing. I think that he's one of the greatest of all time -- certainly the greatest rock bassist of all time. "I feel a connection to them because one - they're Canadian - and because Geddy wasn't supposed to be a bass player but he got forced into the position and he really made the best of what he was given. I really think he's the greatest. I model my playing after him." Many of the fans took the opportunity to simply say thanks to Lee for the decades of music. Katelyn Bonomo, a guitarist in Halifax, said It's amazing to see Geddy Lee. "(He's) so inspiring to so many musicians and the music is so good." Bonomo took advantage of her time with Lee to say thanks for everything he's done for the music industry. "Being a young musician, it's so inspiring to actually meet him and say hi to him. It was great."
Just like he'd done for his stops in Pittsburgh and New York City, Geddy also posted a memory of Rush's past visits to Halifax to his Instagram page to coincide with his visit:
Hey Haligonians! So nice to be back in your fair city by the sea! My memory takes me back to Rush's "All the World's a Stage" Tour and, more specifically, October 4th 1976 which was our first ever appearance here at the Halifax Forum ...Always a raucous and welcoming crowd! Hope to see you Bass Folk and normal people on Saturday at Coles for wee chin wag and a 🤜🤛 #Halifax #Haligonians #BBBoB
#chinwagsandfistbumps #youwantabigeffinbassbookforXmas #reallyyoudo #asyoulikeit #AllTheWorldsAStage #coles4pm
Fans attending the signing events have been canvasing social media with photos, which I've been accumulating on the RIAB Twitter feed, so check that out and share your own photos as well - I'll retweet as I come across them. This was Geddy's final stop on his signing tour for 2019, and may have been his last stop altogether. Earlier this year Geddy promised that he'd be doing signings up through the end of 2019, but didn't mention anything beyond that.
While Geddy Lee was mingling with fans in Halifax, longtime Rush album artist Hugh Syme appeared at Renditions Fine Art, Framing, & Photography in Indianapolis for an encore appearance at his new art exhibit titled The Artwork of Hugh Syme, which he had opened early last month. The exhibit features 12 Rush images and more than 20 non-Rush pieces, and will be on display through February 21st. Syme mingled with fans and signed copies of his Art of Rush book as described in this article from CBS 4 in Indianapolis:
Art lovers and fans of classic rock band Rush formed a line that nearly stretched out the door to meet visual artist Hugh Syme on Saturday night. Ron Wise, owner of Renditions Fine Art Gallery was thrilled with the turnout as fans from as far away as Colorado came to view Syme's artwork and have his Art of Rush book signed. "It's so cool to see Rush and Hugh Syme fans turn out to admire his work and to meet the artist himself. One guy flew in from Denver just for the event!" said Wise. ... Die-hard fans were thrilled as Syme was more than happy to talk at length and sign pretty much anything that was asked of him, including albums and posters. Carmel resident Scott Patterson has been a Rush fan since 1985, and showed up to get his cherished Rush vinyl album jackets signed by the artist in-person. "Hugh graciously signed my Moving Pictures and 2112 album covers - fantastic works of art. Rush always had awesome shows visually and so much of Hugh's work played a prominent role during the concerts." Patterson's friend Brad Melchi, also of Carmel, said he's been a follower of the band since 1983's Grace Under Pressure album and nabbed two copies of Art of Rush. "One of the books is for my brother, who is also a big Rush fan. I was at the gallery opening in early November when Hugh was there and it was fantastic. When I heard that Hugh was coming back I had to be there." ...
Syme conducted a couple of local interviews in the lead-up to his Saturday signing appearance - one with Fox 59 and another with Wish TV. In coordination with the exhibit, Rush has also opened up an online Art of Rush Gallery store where fans can purchase beautiful framed fine art prints featuring Syme's Rush album art. You can check out all the framed prints and make a purchase at artofrush.shop.musictoday.comstore.
Earlier this week Classic Rock magazine released their list of the 50 best rock albums of the 2010s as voted by readers, and Rush's 2012 swan song Clockwork Angels topped the list at #1:
... Marvel at Clockwork Angels for one or all of its many levels: its literary depth and steampunk cool; its creators' unity of purpose and preternatural musical sense; its lip-curling rock grooves and girthy production. In the blue sky of their creative Indian summer, and with a cultural tailwind behind them, Rush channelled the impulse that made them so special all along on a modern progressive album which sat right up there in their canon.
Speaking of the 2010s, LouderSound.com posted an article this past week titled Death, drugs and rock'n'roll: The biggest news stories of the decade and Rush gets a couple of mentions (thanks RushFanForever):
2010

* On March 28, Rush are inducted into the Canadian Songwriters Hall Of Fame at a ceremony in Toronto. Five of the trio's tracks were also enshrined: Closer To The Heart, Limelight, The Spirit Of Radio, Subdivisions and Tom Sawyer.

2013

* On April 18 at the Nokia Theater in Los Angeles, Rush and Heart are inducted into The Rock And Roll Hall Of Fame. It's the fist time in the Rock Hall's history that fans are allowed to have their say through a special fan's ballot, with Rush coming out on top.
Ultimate Classic Rock also celebrated the end of the 2010s with a recap of what rock's 55 biggest acts did this past decade, including Rush:
... After its curtain call, the trio has consistently swatted away the inevitable reunion questions, maintaining it has zero plans to record or perform live again under the Rush name. Their recent actions seem to confirm that hard-no stance: Peart, battling numerous physical ailments (including chronic tendinitis), likely retired from drumming altogether; Lee devoted years to his Big Beautiful Book of Bass; and Lifeson has bounced around with random musical projects, including a guest spot with stoner-rock band Fu Manchu and a collaborative album with drummer Marco Minnemann. The silver lining: While we may never hear another Rush album, it's very likely we'll get a sequel to Lee's lone 2000 solo LP, My Favourite Headache. "I have faith in my interests, and I have faith in my ideas, and I know that sooner or later I'll find myself doing something that intrigues me," the bassist told UCR in 2019. "But I won't do music just for the sake of doing music. I have to feel that I have something to say. And that's really important to me. I don't want to just repeat and live off the fumes of my past."
MusicInMinnesota.com posted their list of 19 famous artists you didn't know were from Canada and Rush made the cut at #9 (does anyone really not know they are from Canada?!).
Reader Jacob A let me know that Dutch online radio station PinguinRadio.com recently did their annual countdown of the 2000 best alternative songs played on the station and several Rush songs made the cut including YYZat 822, Subdivisions at 514, Tom Sawyer at 472, 2112 at 237, and La Villa Strangiato at 187.
That's all for this week. Happy Holidays everyone!!