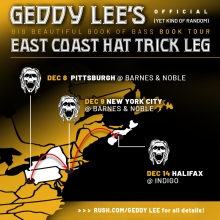 Geddy Lee's Big Beautiful Book of Bass signing tour visited Pittsburgh and New York City this past Sunday and Monday respectively. Geddy mingled with fans at Barnes & Nobles stores in both locations and signed copies of his bestselling book. He also posted some memories of Rush's past visits to these 2 cities to his Instagram page in coordination with his tour stops, including this message on the day of his visit to Pittsburgh:
Strong memories abound whenever I return to Pittsburgh..why? Many reasons, but most importantly it was on August 14 1974 that Alex and I played our very first gig with the "new guy"... Neil Peart. As the opening act for Uriah Heep and Manfred Mann's Earth Band we got to play all of 26 mins! We were so "green" that we didn't even have proper road cases yet! We had to make due to with "Coke crates" for cables and whatever we could manage to protect the gear...Rush's first "Official American Tour" was underway and I'll never forget it... If any of you "yinzers" were there let me know !
And while visiting NYC he posted these remarks about the late Rory Gallagher:
Hello NYC! So many great shows in the Big Apple over the years but this one stands out to me as it was our very first ...November of 1974 ..opening for the late and truly great Rory Gallagher at the Beacon Theatre,...here was the mention we got in Variety shortly thereafter ... "Ear shattering sound was supplied by Rush, a Canadian trio in their first Gotham appearance. In sound, especially the lead vocals of bass guitarist Geddy Lee, the Mercury Records act, was a cross between Humble Pie and Slade. Rush was vibrant, but the throng clearly belonged to Gallagher, who etches for Polydor."
Fans attending the signing events have been canvasing social media with photos, which I've been accumulating on the RIAB Twitter feed, so check that out and share your own photos as well - I'll retweet as I come across them. Geddy will do one more signing event before the Holidays when he visits Coles Halifax Shopping Centre in Halifax tomorrow at 4PM. Morgan Mullins of The Coast posted a preview article where she lists Five questions I wish I could ask Geddy Lee (thanks RushFanForever). No other signing events are currently scheduled, but stay tuned for any updates.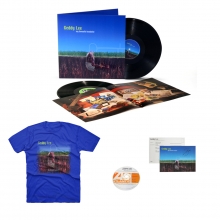 Speaking of Geddy, Record Store Day's big Black Friday event took place back on November 29th, and Rush participated with a limited edition, 2-LP vinyl release of Geddy Lee's My Favorite Headache solo album as seen in this listing on the Record Store Day website. The limited edition release includes two additional bonus tracks - instrumental versions of both My Favourite Headache and Home on the Strange. If you weren't able to obtain a copy on Record Store Day, the Rush Backstage Club is now selling a My Favorite Headache vinyl bundle that includes the 2-LP release (minus the bonus instrumental tracks) along with a Geddy Lee MFH Blue T-shirt, a promo CD from the archives, and an autographed MFH postcard. You can order your MFH bundle at the Rush Backstage Club here. Earlier this week Billboard reported that this year's Record Store Day Black Friday helped drive the third biggest sales week for vinyl in the Nielsen era, and Geddy's MFH vinyl was one of the top 25 best sellers coming in at #15.
Early last month, longtime Rush album artist Hugh Syme appeared at Renditions Fine Art, Framing, & Photography in Indianapolis to open up his new art exhibit titled The Artwork of Hugh Syme, which features 12 Rush images and more than 20 non-Rush pieces, and will be on display through February 21st. Syme was on hand to mingle with fans and sign copies of his Art of Rush book. Syme will be hosting another such signing event at the gallery tomorrow evening from 5-8 PM. In coordination with the exhibit, Rush has also opened up an online Art of Rush Gallery store where fans can purchase beautiful framed fine art prints featuring Syme's Rush album art. You can check out all the framed prints and make a purchase at artofrush.shop.musictoday.comstore.
Rush's Broon's Bane, The Trees, La Villa Strangiato, and A Farewell To Kings get a mention in this Post-Journal article titled For Some, Classical Guitar May Make Listening To Music More Enjoyable.

Edge Factor's Masters of Resonance documentary, which features Neil Peart and the R40 drum kit, is currently available to watch for FREE on YouTube. The film first hit the film festival circuit last year, and has been available on paid streaming services ever since. The filmmakers recently posted a bonus clip from the film that features Neil Peart talking about DW Drums founder John Good which you can watch below or on Facebook here (thanks RushFanForever). For more information about the film and to keep up on the latest news, visit the website at mastersofresonance.com, and follow them on Facebook and Twitter.
This past week the Martin Miller Session Band released this new live video of their cover of Rush's YYZ featuring guitarist Paul Gilbert (thanks RushFanForever):

Christmas and New Year's Day are just around the corner, and I'd like to take a moment to thank everyone who has donated to the site, purchased items through my Amazon links and my Amazon Rush store, or clicked on any of my sponsor ads in the past year. Every bit helps and I really appreciate it. If you'd like to make a donation yourself, you can do so at this link. Any donation of 3 bucks or more will get you a free RUSH IS A BAND bumper sticker. Also don't forget to follow RIAB on Facebook and Twitter, and keep sending in any Rush news tidbits you might come across. That's all for this week. Have a great weekend and a Happy Holiday season everyone!!!