UPDATE - 12/6@10:31AM: It looks like the Rush Backstage Club version does not include the 2 bonus instrumental tracks that the RSD Exclusive release does.
UPDATE - 12/3@2:33PM: Geddy posted an old photo from the MFH recording sessions in Seattle to his official Instagram yesterday:
----- snip -----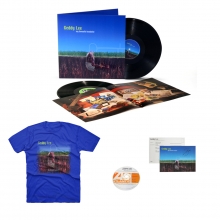 This past Friday was Record Store Day's big Black Friday event, and Rush participated with a limited edition, 2-LP vinyl release of Geddy Lee's My Favorite Headache solo album as seen in this listing on the Record Store Day website. The release includes two additional bonus tracks - instrumental versions of both My Favourite Headache and Home on the Strange, and it was billed as an RSD Exclusive Release limited to 2500 units. This normally means that it won't be made available outside of participating retailers on Record Store Day. However, just 3 days after the event, the Rush Backstage Club is now selling a My Favorite Headache vinyl bundle that includes the 2-LP release along with a Geddy Lee MFH Blue T-shirt, a promo CD from the archives, and an autographed MFH postcard. Maybe they got around the exclusive designation by bundling it with other stuff? In any case, you can order your MFH bundle at the Rush Backstage Club here.