UPDATE - 11/27@10:49AM: Here's the full, 3.5-minute video interview with Geddy where he discusses his playlist (thanks RushFanForever):
----- snip -----
UPDATE - 11/24@10:58AM:

Here's a screenshot of the playlist courtesy RushFanForever.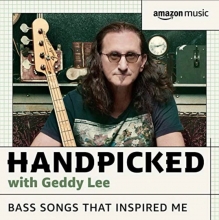 Amazon Music is currently featuring Geddy Lee's handpicked playlist of bass songs that inspired me on their Amazon Music service, along with a short introductory video of Geddy talking about the playlist, and Paul McCartney in particular. Geddy's playlist consists of 22 songs including tracks from The Beatles, Led Zeppelin, YES, Primus and many more. You can check out the full playlist at this location, and watch Geddy's video below or at this link.