UPDATE - 10/20@10:28AM: Eric at Power Windows has transcribed the new liner notes essay from Ray Wawrzyniak and made it available online here.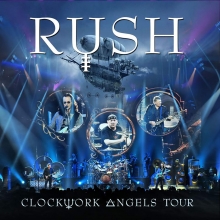 A 5-LP vinyl box set edition of Rush's 2013 Clockwork Angels Tour live album officially releases today and is now available for purchase. From the product description:
This live 5LP set is pressed on 180-gram vinyl, and includes an etching on the flipside. The set comes packaged in a two-piece telescopic box with a full-color booklet, and a code to download a high-definition digital version of the album. The band recorded concerts in 2012 in Phoenix, Dallas and San Antonio for a live album, and this set includes all 31 tracks from those recordings. This vinyl set also features the bonus tracks from the original CD release, including a version of the classic "Limelight" that the band recorded during soundcheck.
You can order Clockwork Angels Tour vinyl set on Amazon here. Earlier this year the band released vinyl box set versions of both Rush in Rio and Time Machine 2011: Live in Cleveland.