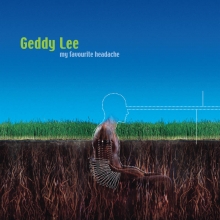 During the theatrical showing of Rush: Cinema Strangiato back in August, a pre-show advert teased the upcoming release of a Geddy Lee My Favorite Headache vinyl edition. It turns out the release will be part of Record Store Day's Black Friday event next month on November 29th as seen in this listing on the Record Store Day website. The listing also indicates that it will include two additional bonus tracks - instrumental versions of both My Favourite Headache and Home on the Strange. The release is currently listed as an RSD Exclusive Release limited to 2500 units - which means it won't be made available outside of participating retailers on Record Store Day (as opposed to an RSD First Release, like the RSD Hemispheres 12-inch picture disc from earlier this year). For a full list of participating stores, go to the Record Store Day website.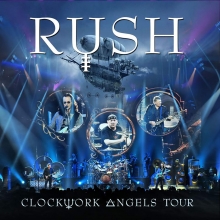 Speaking of Rush on vinyl, today the band officially releases a 5-LP vinyl box set edition of their 2013 Clockwork Angels Tour live album. From the product description:
This live 5LP set is pressed on 180-gram vinyl, and includes an etching on the flipside. The set comes packaged in a two-piece telescopic box with a full-color booklet, and a code to download a high-definition digital version of the album. The band recorded concerts in 2012 in Phoenix, Dallas and San Antonio for a live album, and this set includes all 31 tracks from those recordings. This vinyl set also features the bonus tracks from the original CD release, including a version of the classic "Limelight" that the band recorded during soundcheck.
You can order Clockwork Angels Tour vinyl set on Amazon here. Earlier this year the band released vinyl box set versions of both Rush in Rio and Time Machine 2011: Live in Cleveland.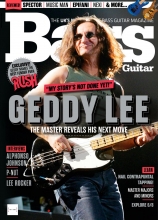 Geddy Lee is the subject of a cover feature in the latest edition of Bass Guitar magazine (issue #175). The cover tagline reads Geddy Lee: The Master Reveals His Next Move - "my story's not done yet". The magazine posted a 12-page sampler of the issue online earlier this week, which includes the cover and the first page of the article as transcribed here:
Geddy Lee led the prog-rock giants Rush from 1968 to 2018. That's 40 long years. Now that the ultimate power trio have called time, he's made his mark as an author - but enough about the past ... we want to know what his next move might be. Ellen O'Reilly puts the questions to the master.

Readers with keen memories will recall that we sat down with Geddy Lee a few months back to discuss his then-new publication "The Big Beautiful Book of Bass". In that interview we talked about the journey that the Rush frontman had been on during the creation of the book, but we didn't have space to fit our entire conversation into that issue - so here's the rest of the amazing afternoon we spent in conversation with Geddy.

Here, he covers the incredible depth with which he researched the history of the Fender Jazz bass - you'll know, of course, that he has a signature model of his own - as well as the choices that lie ahead of him. Once you've reached the very top of the rock world, shaken hands with your bandmates and walked away, what do you do with the rest of your life? It's not as easy a decision as you might think ...
The issue will hit newsstands next Tuesday, October 15. The previous article with the first part of the interview with Geddy that is referred to was in the March, 2019 edition (issue #166) of the magazine.
Speaking of Geddy Lee interviews, Ged was a guest on this past Monday morning's edition of NPR Music's World Cafe where he talks all things bass, including his Big Beautiful Book of Bass:
Today we're not worthy: Joining us, it's the legendary Rush frontman and bassist, Geddy Lee. While Rush has retired from touring, Geddy's kept busy, cataloging, photographing and writing about his collection of bass guitars for the almost-encyclopedic Geddy Lee's Big Beautiful Book of Bass. And it's definitely big and beautiful, featuring hundreds of bass guitars, a whole lot of history and in-depth interviews with guys like Adam Clayton of U2 and Robert Trujillo of Metallica. In this session, step into the limelight as we talk all things bass and geek out with Geddy. Plus, hear songs featuring some of his favorite bass players, including John Entwistle, in the audio player.
You can listen to the interview on the NPR website here. Geddy Lee's Big Beautiful Book of Bass was released this past Christmas and can be ordered online at this location.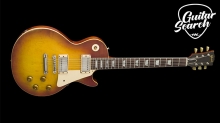 Remaining on the subject of Geddy and his Big Beautiful Book of Bass, over the course of the last several years he's amassed a huge collection of vintage guitars while compiling the book. As we had first revealed back in August, he recently decided to unload a few of the guitars, and will make six of the vintage instruments from his collection available for bidding at the Mecum Auction in Las Vegas this weekend as described here:
... With his book now a complete and published piece and his private collection of guitars nearing 300 in total, Lee said he feels that the time has come to reunite a select few of his finest string instruments with talented musicians around the world who can help these works of art fulfill their original and intended purpose of making art. As such, a small selection of six blue-ribbon, coveted classic guitars from Lee's private collection is now slated to join the Mecum Auction lineup for the Las Vegas auction this October 10-12 as part of Mecum's new department: Mecum Presents Guitar Search by Domino, and ... the highlight of his upcoming offering in Las Vegas is a special-edition Gibson often referred to as the holy grail of guitars: a 1959 Les Paul Standard with Sunburst finish. Produced for just three years, the Les Paul Standards, built by Gibson, are considered by many to be the pinnacle of the American electric guitar, and they rank as the most collectible vintage guitars on the market. According to Tony Bacon's book, "50 Years of the Gibson Les Paul: Half a Century of the Greatest Electric Guitars," only about 650 of the guitars were produced in 1959, and it is estimated that fewer than 1,700 of the desirable 1958-1960 "Burst" design examples in total are still extant today; Lee's 1959 model is in stunning original condition, save for a single refret, and it comes with the original case. A rare piece like this in any state and from any collection would be a remarkable find, and this one's original condition and status as an exalted member of rock legend Geddy Lee's previously untouchable private collection catapult it into the stratosphere of the truly one-of-a-kind, inimitable classics. All six of the guitars Lee has hand selected to join the Mecum Las Vegas auction lineup are rare and investment-worthy guitars, and all share that inextricable tie to the legendary musician and his amazing, documented private collection of instruments, from which he has never before offered a single one for sale. ...
Composer and multi-instrumentalist Marco Minnemann was recently interviewed by Eric Blair and spoke a bit about Rush and his musical relationship with Alex Lifeson. Minnemann and Lifeson have collaborated on a number of projects over the last couple of years, as Minnemann explains in the interview:
... That started actually way back through UK [the '70s prog-rock supergroup Marco was involved with as touring member in 2009, 2011, and 2013], and Eddie [Jobson, keyboards/violin] contacted him, and also Neil Peart, he wanted to do a double-drum thing together. And they both got back, and it was actually cut quite beautiful, and Neil said, like, 'Well, you know, it would take a lot of time to learn those parts and stuff,' and they actually both refused to work with UK then - but in a really nice way. Since then, Alex and I always kind of crossed paths through Steven Wilson or through my former record company. So he got invited to play on my [2017] album 'Borrego,' the first time, so it has four or five songs that he's on. And now, actually, we just wrote an album together, which I think came out really well. There's an eight-minute kind of song which is called 'Lovers Calling,' Mohini [Dey] on bass and Alex kind of got the whole guitar arrangement for it and brought in his whole entourage. He's also on my new record, the song is actually also available in digital format on my new album, which is called 'My Sister.' It's a great relationship with this guy, he's really cool, I learned a lot through working with him to take more time with things because I'm very fast with composing, and sometimes I have little of this attitude going, like, 'Cool, once the song is done let's release it.' And Alex went always back and forth; he's, like, 'Ah, I'm not happy with the guitars, let me try this approach.' I thought, like, while we were doing this song, all of a sudden, in a few weeks, the thing was done - or actually a few months - but he was very picky about it and I liked it because he came, like, 'We have a singer I'd like to incorporate, or how about Mohini on bass then?' And it was just beautiful, and I decided to take my time with this album as well. ... I brought him into [The Mute Gods] production because there was this one song we have, which is called 'One Day'; it's a really cool riff, and I just heard Alex over it. "I thought he would fit perfectly, and Alex is very selective. If he doesn't like something, he doesn't do it. But if he likes it, he's completely in the zone; he goes fully into details. And with 'One Day,' it was, like, one of those things: he played multiple acoustic guitars, just ultimate joy, it was great. ...
He was also asked whether he would like to be in a band with Lifeson and Geddy Lee, and what it was like to work with one of his idols:
... Hell yes, absolutely. There's nothing wrong with those guys. [Laughs] ... Obviously, you learn to kind of move swiftly from the idolizing factor because since you were a kid you were listening to Rush or something to having a personal relationship. And at first, it was obviously intimidating, you're kind of really careful with this, but after a while, you just learn, like, 'Yeah, this is a piece of art, but also we have to collaborate and still kind of form the car and the vehicle that's drivable, so let's do our best.' So it came from both idolizing to really kind of cool collaborating relationship." ...

This year's Rush Eucon European Rush fan convention takes place this weekend in Crewe at Langtry's in The Royal Hotel. The 2-day event will feature Rush tribute bands Exit Stage Left and La Villa Strangiato, Rush Fans Got Talent, the legendary Rush Quiz and the famous Eucon charity raffle and auction. Proceeds from the event will go to support Jessie's Fund. For all the details and to purchase tickets visit the Rush Eucon 2019 Facebook page and also follow them on Twitter.
Also taking place this weekend is the 2019 MidWest Rush TabCon at St. Francis High School just a couple of miles south of Milwaukee. The Rush TabCon has been going strong for over 20 years and consists of a group of amateur, intermediate, and professional Rush fan musicians who originally became friends via the Rush Tablature Project and Mailing List. Participants include members of the Rush Tribute Project as well as the online Rush tribute band Wheels Within Wheels, along with a number of amateur musicians of all levels. It's a very informal and low key event so all are invited to participate or just watch/hang out. You can get all the details via the Facebook event page or at www.cygnusproductions.com/tabcon.
Guitarist Vinnie Moore (UFO, Alice Cooper) was recently interviewed for Sonic Perspectives and spoke a bit about opening for Rush back on the Roll the Bones tour. You can listen to his comments on YouTube here (thanks RushFanForever).

Reader Erik T recently watched the 2017 horror movie The Terror of Hallow's Eve (watch on Amazon Prime) and noted that one of the characters was sporting a Rush t-shirt as seen in this photo and in the trailer.
The Cleveland Plain Dealer posted their list of the 100 greatest Rock and Roll Hall of Fame albums this past week and Rush's Moving Pictures made the cut at #91:
Five of the seven tracks on Rush's "Moving Pictures" run under five minutes long. Today, that doesn't seem all that shocking, considering if you've only heard one Rush album, it's "Moving Pictures." But it was almost unheard of in the heyday of progressive rock. But Rush found away to gets its point across in concise fashion. And the songs are all the better for it.
Tulsa World magazine posted a photo gallery this past week of top local chefs sharing the stories behind their tattoos. One of the featured chefs is Michelle Donaldson, who has a tattoo of Julia Child on her arm:
Former Tulsa chef Michelle Donaldson has a likeness of Julia Child inked on her arm. It even caught the attention of Geddy Lee, lead singer of rock band Rush, who posted a snapshot of her arm on his Instagram feed. Donaldson's Julia is depicted as a saint, with eggs and wooden spoons as her nimbus. "I joke that I'm armed with inspiration," Donaldson said. "Which, of course, isn't a joke! She's been a colossal inspiration my entire career. Julia is goddess status." Donaldson also has a cheese tattoo on her right arm, along with the name "femme de fromage" from her days as a cheese monger, as well as "NaCl," the chemical compound for salt. "It's my salting hand!" she said.
CNN anchor Chris Cuomo is a big Rush fan and often quotes the band in his news broadcasts, as seen in this tweet from a broadcast earlier this week (thanks Michael P).
Legendary Cream drummer Ginger Baker passed away this past weekend at the age of 80. Cream was a major influence on Rush, and Neil Peart routinely cited Baker as one of his biggest drum influences. Peart appeared in Jay Bulger's 2013 documentary on Ginger Baker - Beware of Mr. Baker - and had the following to say:
"He was really at the forefront of a complete revolution of rock. It is hard to find fault with the notion he was the pioneer of a rock drummer. There was no context for him, there was no archetype. He is the archetype. Ginger Baker's most notable achievement that should be recognized is the first rock drum solo. And me as a 15 year old kid at the time was `yeah, yeah, that's the rock drummer I want to be!'" - Neil Peart
Geddy Lee posted the following tribute to Ginger Baker to his Instagram earlier this week:
Here's Rush performing Cream's Crossroads from the R30 video:
That's all for this week. Have a great weekend!