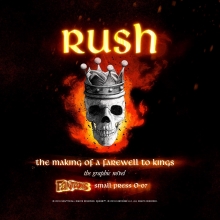 FANTOONS' new graphic novel chronicling the making of Rush's 1977 album A Farewell to Kings officially released earlier this month and is now available to purchase. The beautifully illustrated, 144-page hardcover book tells the familiar story of the making of A Farewell to Kings, but does so in such a fresh and unique way that it feels new. The book features artwork and storytelling from FANTOONS, with new input from Alex Lifeson and producer Terry Brown, who also wrote the book's foreword. FANTOONS founder David Calcano was recently a guest on the Permanent Waves Podcast to discuss the book, and you can listen to the entire interview online here. You can order your copy of Rush: The Making of A Farewell to Kings at Amazon.com and other retailers, or via the official FANTOONS online store at fantoons.shop (get a 10% discount at fantoons.shop using code RUSHFANS). FANTOONS hopes to release several more making of graphic novels for other Rush albums, so stay tuned. To learn more about all of the other officially-licensed Rush merchandise available from FANTOONS, be sure to check out their online store, and follow them on Facebook and Twitter.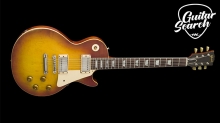 Over the course of the last several years Rush's Geddy Lee has amassed a huge collection of vintage guitars while compiling his Big Beautiful Book of Bass. As we had first revealed last month, he recently decided to unload a few of the guitars, and will make six of the vintage instruments from his collection available for bidding at a Mecum Auction in Las Vegas next month as described here:
... With his book now a complete and published piece and his private collection of guitars nearing 300 in total, Lee said he feels that the time has come to reunite a select few of his finest string instruments with talented musicians around the world who can help these works of art fulfill their original and intended purpose of making art. As such, a small selection of six blue-ribbon, coveted classic guitars from Lee's private collection is now slated to join the Mecum Auction lineup for the Las Vegas auction this October 10-12 as part of Mecum's new department: Mecum Presents Guitar Search by Domino, and ... the highlight of his upcoming offering in Las Vegas is a special-edition Gibson often referred to as the holy grail of guitars: a 1959 Les Paul Standard with Sunburst finish. Produced for just three years, the Les Paul Standards, built by Gibson, are considered by many to be the pinnacle of the American electric guitar, and they rank as the most collectible vintage guitars on the market. According to Tony Bacon's book, "50 Years of the Gibson Les Paul: Half a Century of the Greatest Electric Guitars," only about 650 of the guitars were produced in 1959, and it is estimated that fewer than 1,700 of the desirable 1958-1960 "Burst" design examples in total are still extant today; Lee's 1959 model is in stunning original condition, save for a single refret, and it comes with the original case. A rare piece like this in any state and from any collection would be a remarkable find, and this one's original condition and status as an exalted member of rock legend Geddy Lee's previously untouchable private collection catapult it into the stratosphere of the truly one-of-a-kind, inimitable classics. All six of the guitars Lee has hand selected to join the Mecum Las Vegas auction lineup are rare and investment-worthy guitars, and all share that inextricable tie to the legendary musician and his amazing, documented private collection of instruments, from which he has never before offered a single one for sale. ...
Toronto-based electric string quartet, Dévah Quartet, just released their impressive electric string cover of Rush's 2112 which you can check out on YouTube here (thanks Jeffrey F).
Earlier this week the Rock and Roll Hall of Fame Foundation announced that Jann Wenner would be stepping down as chairman of the institution which handles the Rock Hall's annual induction. Wenner co-founded the Rock and Roll Hall of Fame with Ahmet Ertegun back in the mid '80s and took over as chairman from Ertegun in 2006. Wenner was no fan of Rush and - whether true or not - was often cited as one of the primary reasons it took so long for the band to get inducted into the Rock Hall. When the band was finally inducted back in 2013, Wenner's speech to open the ceremony was famously drowned out by Rush fans when he mentioned a band "from Toronto" as seen in this clip:
That's all for this week. Have a great weekend everybody!