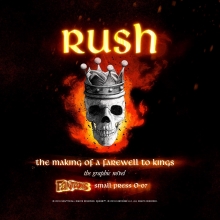 FANTOONS' new graphic novel chronicling the making of Rush's 1977 album A Farewell to Kings officially released last week and is now available to purchase. It also debuted as the #1 New Release in Amazon's Biographies & History Graphic Novels category last week, and currently sits at #2. The beautifully illustrated, 144-page hardcover book tells the familiar story of the making of A Farewell to Kings, but does so in such a fresh and unique way that it feels new. The book features artwork and storytelling from FANTOONS, with new input from Alex Lifeson and producer Terry Brown, who also wrote the book's foreword. You can order your copy of Rush: The Making of A Farewell to Kings at Amazon.com and other retailers, or via the official FANTOONS online store at fantoons.shop (get a 10% discount at fantoons.shop using code RUSHFANS). FANTOONS hopes to release several more making of graphic novels for other Rush albums, so stay tuned. To learn more about all of the other officially-licensed Rush merchandise available from FANTOONS, be sure to check out their online store, and follow them on Facebook and Twitter.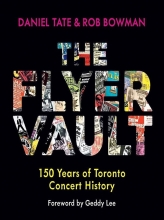 Daniel Tate is the curator of the popular Flyer Vault Instagram page, where he has shared thousands of Toronto-area music flyers that he has collected over the years. He'll be releasing a book version of his Instagram page with co-author Rob Bowman later this Fall titled The Flyer Vault: 150 Years of Toronto Concert History, which includes a foreword by Rush's Geddy Lee. From Exclaim!:
... Authored alongside Grammy Award-winning musicologist Rob Bowman, the book features a foreword penned by Rush's Geddy Lee and promises to be "a visual tour-de-force" that "captures a mesmerizing history of Toronto concert and club life, ​running the gamut of genres from vaudeville to rock, jazz to hip-hop, blues to electronica, and punk to country." ... "I started the Flyer Vault on Instagram in 2015 simply to upload all the flyers I saved when I was a little raver and hip-hop head back in the '90s and early '00s," Tate wrote in announcing the project on Instagram. "As the popularity of the project grew, I realized two universal truths: everyone loves music, and everyone loves nostalgia. Four years later, here we are." Tate added that book also includes anecdotes from Flyer Vault followers, and illustration from Dave Murray.
Earlier this year on the Instagram page he profiled an early Led Zeppelin show from August 18, 1969 at the Rock Pile in Toronto, which Geddy Lee, Alex Lifeson and John Rutsey attended as described by Geddy in this post:
"I know it sounds somewhat trite to say that an album changed your life but the first Led Zeppelin album had that kind of impact on me. The record was released early in 1969, and word of it's greatness was spreading with such intensity that by the time they were enroute to Toronto for a gig at the The Rock Pile, getting tickets had become nothing short of frenzied...I had zero money at the time and my mom was not very accommodating in such matters...my bandmates Alex Lifeson and John Rutsey had managed to scrape together enough coin but I couldn't...this required drastic measures and so I took the typewriter that my grandmother had bought me for my birthday and ventured down to Church St and pawned it in one of the shops that dotted that street. Success. I guiltily accepted the money and went straight out to buy my ticket for the show that was now being referred to as "Mighty Monday"! We lined up extra early for the 8 p.m. general admission show and we ended up in the 2nd row right in front of Jimmy Page...effin amazing! The band floated onto the stage and started rippin' into a killer version of the old Yardbirds classic, "Train Kept a Rollin"- they were super loud, and the summer heat kept rising in that old Masonic Temple and the crowd was so seriously jacked and stomping that I remember little bits of plaster falling from the ceiling of the place. They literally brought down the house! The unforgettable birth of heavy rock as far as my bandmates and I were concerned. I left the show breathless and ecstatic and it wasn't until the next day that I started trying to figure out how the hell I was going to get my typewriter out of hock before my mom found out!"
The book is slated for release on October 26th in Canada, and on November 19th in the US, and can be pre-ordered at this location.
Ultimate-Guitar.com posted their 25 Best Albums That Inspire Deep Thoughts earlier today and Rush's 2112 made the cut at #17:
Is there a better way to inspire deep thoughts than with a sci-fi concept record revolving around a story about dystopian future? Funnily enough, this was a crucial point in Rush's career as they were pretty much ordered by the label to create a more commercial record. So they decided to come out with "2112" that opens up with a 20-minute-long prog epic.

This year's Rush Eucon European Rush fan convention will take place three weeks from now in Crewe at Langtry's in The Royal Hotel. The 2-day event will feature Rush tribute bands Exit Stage Left and La Villa Strangiato, Rush Fans Got Talent, the legendary Rush Quiz and the famous Eucon charity raffle and auction. Proceeds from the event will go to support Jessie's Fund. For all the details and to purchase tickets visit the Rush Eucon 2019 Facebook page and also follow them on Twitter.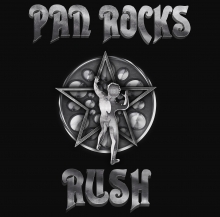 Earlier this year the Pan Rocks steel drum orchestra released videos for their covers of Rush's YYZ (watch), The Spirit of Radio (watch) and Tom Sawyer (watch) from their Pan Rocks Rush steel drum tribute project featuring Mike Portnoy. The videos were recorded from the Pan Rocks Rush sessions at Eldorado Recording Studios in Los Angeles, and you can watch them on the Pan Rocks YouTube channel here. Pan Rocks is a 50 piece steel drum orchestra founded by drummer Tracy Thornton. The Rush project is a follow-up to 2017's Pan Rocks Project LA which featured the music of Led Zeppelin, KISS and Jane's Addiction performed by 30 steel pan drummers and a band consisting of Billy Sheehan (Mr. Big, Sons Of Apollo), Stephen Perkins (Jane's Addiction, Porno For Pyros), Tracii Guns (LA Guns) and Bruce Kulick (KISS, Grand Funk Railroad). In addition to Mike Portnoy, the Pan Rocks Rush project includes Philip Bynoe on bass and Pete Thorn on guitar. A short documentary chronicling the Pan Rocks Rush project was released via YouTube earlier this week and you can watch it below or at this location. The Pan Rocks Rush EP featuring recordings of their 3 Rush covers is now available for digital purchase via Amazon and other streaming services, and can also be purchased at panrocks.com.
That's all for this week. Have a great weekend!!