UPDATE - 9/6@1:33PM: FANTOONS is offering an exclusive discount for Rush fans who order their Rush: The Making of A Farewell to Kings graphic novel via their online store. Just go to fantoons.shop and use the code RUSHFANS to get a 10% discount.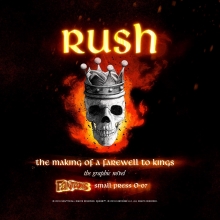 This coming Tuesday, September 10th, FANTOONS will be releasing a new graphic novel chronicling the making of Rush's 1977 album A Farewell to Kings. The beautifully illustrated, 144-page hardcover book tells the familiar story of the making of A Farewell to Kings, but does so in such a fresh and unique way that it feels new. The book features artwork and storytelling from FANTOONS, with new input from Alex Lifeson and producer Terry Brown, who also wrote the book's foreword. John at Cygnus-X1.net posted a review of the book to his site last week which you can check out here, and GeekDad posted their glowing review this past week, having the following to say:
... I think David Calcano nailed it, this graphic novel is something that both Rush fans and comic book fans both can appreciate (but especially Rush fans). I was first introduced to Rush around the time of the release of the Roll The Bones album (a cassette tape back then) and from there I slowly started listening to the Rush back catalog of albums. So for me, A Farewell to Kings, was an album I didn't know a lot about going into the graphic novel. But this made the read even that much more enjoyable. I read the entire graphic novel in one sitting one evening and have since been going back to re-read it again. You can tell there was a lot of effort put into this product with the aim of truly capturing the essence of the band and capture it they did. ...
You can pre-order your copy of Rush: The Making of A Farewell to Kings at this location. FANTOONS hopes to release several more making of graphic novels for other Rush albums, so stay tuned. To learn more about all of the other officially-licensed Rush merchandise available from FANTOONS, be sure to check out their online store, and follow them on Facebook and Twitter.

The first annual Cinema Strangiato theatrical film experience hit movie theaters worldwide a couple of weeks ago, bringing Rush fans together for a special look into Rush's R40 Live tour, with new backstage footage, special guests, and performances. It was such a huge success that Anthem/Trafalgar made some tickets available for encore showings in select locations worldwide. As of this post, tickets are available for showings this upcoming week in theaters near San Francisco, Denver, Edinburgh and Penrith. You can check cinemastrangiato.com for specific theaters and showtimes.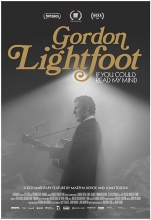 A new documentary on legendary Canadian singer-songwriter Gordon Lightfoot titled Gordon Lightfoot: If You Could Read My Mind made its world premiere at the Hot Docs Film Festival in Toronto earlier this year, and has been getting regular showings at film festivals and special screenings ever since. The CBC plans to air the film on its documentary Channel later this year. Rush's Geddy Lee appears in the documentary and can be seen in the film's trailer at about the 25-second mark saying, "He is one of the greatest singer-songwriters" (thanks RushFanForever).
Musician/producer/teacher Rick Beato posted a video to his
popular (800K+ subscribers) YouTube channel this past week where he counts down his top 20 drum intros of all time and Rush's YYZ intro made the cut at number 7.
Online satirical news site The Hard Times posted an article this past week titled I Thought This Couple Looking for a Third on Tinder Wanted a Three-Way but Now I'm in a Rush Tribute Band. :)
Rush's Geddy Lee and his baseball collection were featured in Pitcher List's latest installment of its weekly The Rotation column, which explores stories involving the intersection of music and baseball. You can check out the article online at this location.
Speaking of Geddy, Ultimate-Guitar.com posted their list of 8 Iconic Bass Tones That Shaped Modern Metal this past week and Geddy made the cut:
Now let's look at progressive metal, who own a lot to Geddy Lee of Rush in terms of bass. Lee took the ideas and inspiration from guys like John Entwistle and took them a million miles further. The constant experimentation (at times in a span of one song) with effects, techniques, and approaches take Lee's playing far beyond the 'innovative' and right to the 'iconic'. Many bass players in modern progressive metal like John Myung (who is a bass guitar hero on his own) or others still look up to Geddy Lee for inspiration and new ideas.
There was a small Rush/Neil Peart reference on a recent episode of the new USA Network show Straight Up with Steve Austin (Season 1, Episode 2 - Sal Vulcano). Steve spends the day with Impractical Jokers' Sal Vulcano, and at one point Steve is explaining how his mother used to discipline him with wooden spoons. He said she would, "get your ass in the corner and go like Neil Peart" and demonstrates with some air drumming. Thanks to Paul D for the heads up.
Multi-instrumentalist/guitarist and YouTube star Rob Scallon recently set out to break the world record for the World's Largest Guitar Pedalboard with some help from Sweetwater Sound. They constructed the pedalboard at a venue near Sweetwater headquarters in Fort Wayne, IN and Scallon then put on a performance showcasing the rig to complete the requirements for a World Record as described in this article:
... Scallon, performing an original composition for listeners who were gathered to witness this first-ever performance utilizing the GUINNESS WORLD RECORDS World's Largest Guitar Effect Pedalboard. But the word "largest" really doesn't do it justice. It's massive. Comprised of 319 effects pedals on 34 individual pedalboards running into a giant wall of Marshall amps, the sound is both ethereal and overwhelming, swirling and aggressive. As the last chord rings out in waves upon waves of delays, Rob runs from row to row, pedal to pedal, adjusting dozens of knobs (of the 1,000+ knobs available) and reveling in a sound that he never could have imagined just a few short months ago. ...
The entire process was captured in this YouTube video, and at about the 21-minute mark, a very special guest popped in for a visit:
.. For the icing on the cake, we had a special guest artist drop by. Guess who just happened to be in town and wanted to try his hand on this largest pedalboard in the world? None other than Alex Lifeson of Rush. It's fascinating that no matter how famous you are, you still love getting a chance to geek out with other guitar players. Alex is no different. ...
You can watch Alex play with the pedalboard below or on YouTube at this location. Sweetwater will be giving away the pedalboard in their monthly contest which you can enter at this link.
September is a busy month for Rush album anniversaries. Sometime in September of 1975 Rush's Caress of Steel was released, and this past Tuesday, September 3rd was the 28th anniversary of the release of 1991's Roll the Bones. Three other Rush releases will celebrate anniversaries in the upcoming week as well; Hold Your Fire (September 8, 1987), Signals (September 9, 1982) and Test for Echo (September 10, 1996). Later this month on September 29th, the band's first live release All the World's a Stage celebrates its 43rd anniversary. Also, Neil Peart and his wife Carrie Nuttall are celebrating their 19th wedding anniversary this coming Monday, September 9th, and Neil will also be celebrating his 67th birthday on September 12th! Have a great weekend everybody!