UPDATE - 8/28@3:13PM: RushCamp will be broadcasting LIVE on YouTube all weekend starting on Friday 8/30 at 6:30PM EDT. Stop in and check out performances and other shenanigans at this location.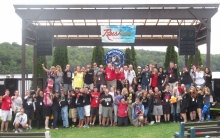 The third annual RushCamp event/fundraiser presented by Overtime Angels will take place next weekend at Independent Lake Camp in North East Pennsylvania, and feature performances by David Barrett, Brandon Dyke, Solar Federation and Second Contact. If you weren't able to register for the event in time, there are several ways to still help support their charitable mission, including a charity auction, raffle and merch store. Here are all the details via the Overtime Angels website:
CLICK HERE to bid in our eBay auction for chance to win: "The Peart Package" - a paperback copy of "Ghost Rider", signed by Neil Peart and a hardback copy of "Rhythm & Light", signed by Carrie Nuttall. Auction ends at 9pm EDT on Wed, Sep 4th.

CLICK HERE to bid in our eBay auction for a chance to win a signed artist print of a photograph taken by Geddy Lee. Auction ends at 9pm EDT on Tue, Sep 3rd.

CLICK HERE to purchase entries for chance to win some great prizes in our online raffle! The top prize is a numbered, sealed copy of Clockwork Lives, signed by Neil Peart and Kevin J Anderson!! Raffle ends on at 8pm EDT on Sat, Aug 31st.

CLICK HERE to donate to our RushCamp! 2019 online fundraiser on Facebook. One of the best features of Facebook fundraisers is that 100% of your donation goes to our charity because there are no credit card transactions fees! Fundraiser ends on Fri, Sep 6th.

CLICK HERE to purchase "swag" with the RushCamp logo created by FanToons from the Overtime Angels store on Zazzle. We have over 60 items in our store, something for everyone!
Alex Lifeson celebrated his 66th birthday this past week. In celebration of the occasion, and just because we can't get enough of it, here he is singing his new "hit single" Snider from the Cinema Strangiato film:
That's it for this weekend. Have a great Labor Day weekend everyone!