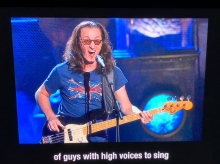 Cartoon Network's adult-oriented nighttime programming block, Adult Swim, aired a bizarre Geddy Lee tribute bumper commercial during a break last night. The 15-second bumper featured some backdrop photos of Geddy while a song with the following lyrics played in the background:
This is a song for Geddy Lee
of prog rock legends
RUSH
You're the greatest bassist in history
and you've inspired generations
of guys with high voices to sing
[geddy lee]

You can watch a cell phone video of the bumper on reddit here. Thanks to John at Cygnus-X1.net for the heads up and redditor GeddysPal for recording the spot.