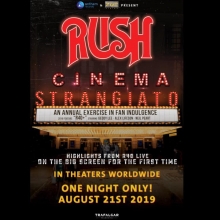 Earlier this summer Rush and Anthem/Trafalgar announced the first annual Cinema Strangiato - a theatrical film experience that will bring Rush fans together for a special look into Rush's R40 Live tour, with new backstage footage, special guests, and performances. Cinema Strangiato will hit theaters worldwide for one night only a week from this coming Wednesday on August 21st and tickets are now available at cinemastrangiato.com. You can watch the official, 1-minute trailer for the film below or on YouTube at this location, and the band has also just released a preview video from the film of the band performing Distant Early Warning from the R40 Live tour (the same version included on the R40 Live bonus disc), along with a new Billboard article where Adam Jones of Nashville's ALJ Innovations, who edited the film, is interviewed and reveals several more details:
... Weighing in at just over two and a half hours, Cinema Strangiato is a mongrel of sorts, blending 16 songs from the R40 Live film (from Rush's final and 40th anniversary tour in 2015) along with material and outtakes from the documentary Rush: Time Stand Still. It includes special video content Rush created for the tour as well as behind-the-scenes footage and a sound check sequence of "Jacob's Ladder" from the Los Angeles Forum that splices in a montage of other performances of the song from the tour. ... Cinema Strangiato opens with an extended sequence about Lee's bass collection, promoting Geddy Lee's Big Beautiful Book of Bass, which came out in December. Another highlight includes a performance of "Losing It" in Newark, N.J., with Jonathan Dinklage, a violinist from the 2012 Clockwork Angels Tour, while other rockers such as Tom Morello and his wife Denise, Smashing Pumpkins' Billy Corgan and producer Nick Raskulinecz tout Rush's virtues and influence in interview clips. ... Jones, a Rush fan himself who worked at Rounder Records while the band was signed there, is hoping Cinema Strangiato will be just the first of many "posthumous" film projects culled from Rush's vaults. "After this we'll go back and see what we've got and assess for the next (possibility)," he says. "This is a good start, and I hope the fans enjoy what we've done and want more so we can look forward to the next years of this." ...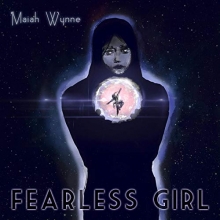 Portland-based singer/songwriter Maiah Wynne recently released her new single Fearless Girl, which features the Portland Cello Project and Rush's Alex Lifeson. The song is about the battle to find inner strength in the aftermath of sexual assault, and 10 percent of all proceeds from sales of the track will go to Missing and Murdered Indigenous Women USA, which seeks to stop violence against Native women. You can listen to the song on SoundCloud, and purchase the track via Amazon or other streaming channels. Here are more details on Alex Lifeson's involvement from a recent Vortex Magazine article:
... As for the contributions of Rush's Alex Lifeson, Wynne's mentor Andy Curran of Anthem Entertainment connected her with the legendary progressive rock guitarist. So Wynne boldly asked if he'd play on "Fearless Girl" "and within a few days he sent me tracks that he recorded at his own studio," she says. "They were absolutely amazing, and I loved the textures and depth they brought to the track."

"Maiah's ability to fuse her evocative vocal arrangements with the haunting narrative of 'Fearless Girl' is a testament to her skills as a strong songwriter who can deliver an emotive soundscape as a platform to lyrics both personal and universal," Lifeson says. "I was touched deeply when I first heard 'Fearless Girl' and felt any guitar arrangement required a delicate but resolute approach to echo the sentiment of this moving song. I feel very fortunate to be able to collaborate with Maiah on her music as well as mine." ...
Wynne also sang vocals on a recent collaboration between multi-instrumentalist Marco Minnemann and Alex Lifeson titled Lover's Calling. The lengthy 7-minute piece was made available as a limited collector's edition of 500 physical units only, and is currently being sold exclusively at merch tables on the Aristocrats tour.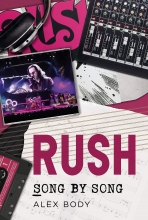 A new Rush book titled Rush: Song by Song released via Fonthill Media today and is now available to order via Amazon at this location. From the book's description:
... Every [Rush] album (both live and studio) is explored in detail with rare insight into the circumstances in which the band wrote and recorded each song . The book also carefully tracks the band's rise from a small suburb of Toronto to the arena filling giants they would become. This book explores every studio album, every live release as well as the solo projects of Geddy Lee and Alex Lifeson. Each album is covered in unprecedented detail and the band's prolific output provides numerous milestones with which to chart the band's progress. From humble beginnings, near failure, critical disappointment, international success, and one of the most inspirational come-back stories in Rock; this is a must have book for any Rush fan.
CBC Music published a piece on the evolution of Canadian heavy metal this past week and cite Rush as Canada's first heavy metal superstars:
Heavy, loud rock music from Canada slowly built momentum in the 1970s with such bands as Steppenwolf, Warpig, Mahogany Rush, Moxy and Pat Travers achieving varying degrees of modest success. It was Toronto's Rush, ultimately, that became Canada's first heavy-metal superstars, thanks to the epochal 1976 album 2112, an ambitious record that boasted a 20-minute dystopian science fiction concept piece. Before the year was over, a generation of young listeners, some of whom would form influential bands of their own, were losing themselves in the gatefold of 2112, devouring those lyrics about the Temples of Syrinx and the Solar Federation. Like the classic Canadian metal albums that would follow for the next 20 years, nothing on the planet sounded anything like it.

Rush's music in 1976 was as indebted to the progressive rock of Yes and Jethro Tull as it was the heavy blues rock of Cream and Led Zeppelin - a hybrid that the trio of Alex Lifeson, Geddy Lee and Neil Peart had been tinkering with on their second and third albums, Fly By Night and Caress of Steel, respectively, both released in 1975. Compared to those records, however, the concoction Rush created - that authoritative and versatile guitar work of Lifeson; Lee's intricate bass lines and attention-grabbing shriek; the erudite yet approachable lyrics by drumming genius Peart - coalesced perfectly. Rush was an anomaly, the first time the nerds had taken over heavy metal, and certainly not the last. For kids at the time, 2112 was a brainy alternative to the cartoonish fun of Kiss, the theatrics of Alice Cooper, the more straightforward approach of Blue Öyster Cult and Montrose, and the comparatively older Black Sabbath and Deep Purple, both of whom were starting to show (albeit temporary) signs of slowing down.

Always ones to keep honing their craft, Rush's Lifeson, Peart and Lee would begin to shed the heavy metal side of their music in search of less bombastic, more nuanced sounds, starting with 1977's progressive, rock-influenced A Farewell to Kings and continuing in highly ambitious form two albums later with 1980's Permanent Waves. Although no Canadian metal band in the 1980s and early 1990s hit the kind of commercial heights as Rush did between 1976 and 1981, 2112 helped spawn a series of equally ambitious underground bands that would play a vital role in developing heavy metal during its boom years.
Back in 2014 a few diehard Rush fans who were inspired by Rush's many charitable donations over the years, put together the 501(c)3 charitable organization Overtime Angels with the goal of helping individuals in need that might not be able to receive help from large charitable organizations. The organization will be hosting their third annual RushCamp event/fundraiser over Labor Day weekend later this month. This year's event will take place from Friday, August 30 to Sunday, September 1st at Independent Lake Camp in North East Pennsylvania, and feature performances by David Barrett, Brandon Dyke, Solar Federation and Second Contact. Tickets are now available at overtimeangels.org/rushcamp2019, but will close next Friday, August 16th, so get yours now. They have also opened up an official merch store at Zazzle.com here. RushCamp co-founder Jim Brunke was a recent guest on the Permanent Waves Podcast to talk about Rush, RushCamp, Overtime Angels and more. For all the RushCamp details visit the Overtime Angels website and check them out on Facebook.
Dave Bookbinder wrote a piece for Thrive Global this past week titled 5 Simple Lessons From 40 Years At The Same Job where he uses Rush's long career as an example for what it takes for an organization to stay together and maintain creativity and productivity over an extended period of time.
UDiscoverMusic.com posted their list of the 100 best male rock vocalists this past week and Rush's Geddy Lee made the cut at #91:
Though few rock fans would argue Rush frontman Geddy Lee is one of rock's greatest - and most versatile - bassists, his vocal abilities tend to polarise opinion. He sang in a high pitch on the band's landmark 70s releases such as Caress Of Steel and A Farewell To Kings, but discovered a deeper register that he used to charismatic effect on Rush's string of early 80s classics such as Permanent Waves and Moving Pictures.
Former Skid Row frontman and huge Rush fan Sebastian Bach was recently interviewed by Rolling Stone to discuss the 30 year anniversary of Skid Row's first album (thanks Jeff D). He mentions Rush and Neil Peart at one point when discussing album reissues:
... I'm a huge Rush fan. When I get one of their reissues, it's complete with Neil Peart's itinerary of interviews that day. It comes with the left spoke of the tire from the tour bus. I hope someday we can do that for our fans. ...
Writer/producer Rick Beato posted a video to his YouTube channel yesterday where he counts down the Top 20 Keyboard Intros of All Time and the intro to Rush's Subdivision made the cut at #18 (at about the 2:15 mark of the video).
Open Culture published an article yesterday where they profile a number of legendary drum solo performances, including soles by John Bonham, Keith Moon, Terry Bozzio, Neil Peart and many others.
MetalInjection.net posted a throwback article earlier this week where they look back on Iron Maiden's answers to KERRANG! Magazine's Readers' Poll in 1986, and guitarist Dave Murray listed Geddy Lee as his favorite bassist.
Ultimate-Guitar.com posted an article this past week where they look at 12 Nightmare Scenarios That Can Happen to Guitarists on Stage and How to Deal With Them. One of the scenarios profiled is what do when a string breaks, and they use an Alex Lifeson incident (video here) as an example
In case you have someone who can bring a spare guitar, you can look up to Rush's Alex Lifeson and how he did this goofy dance at 4:30 in the player below. However, we're not sure whether this was due to a broken string or if he just went out of tune.
That's all for this week. Have a great weekend!