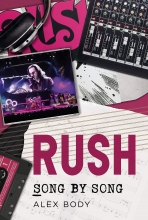 A new Rush book titled Rush: Song by Song officially releases via Fonthill Media tomorrow (US only) and is now available to order via Amazon at this location. From the book's description:
... Every [Rush] album (both live and studio) is explored in detail with rare insight into the circumstances in which the band wrote and recorded each song . The book also carefully tracks the band's rise from a small suburb of Toronto to the arena filling giants they would become. This book explores every studio album, every live release as well as the solo projects of Geddy Lee and Alex Lifeson. Each album is covered in unprecedented detail and the band's prolific output provides numerous milestones with which to chart the band's progress. From humble beginnings, near failure, critical disappointment, international success, and one of the most inspirational come-back stories in Rock; this is a must have book for any Rush fan.
It's currently slated to release in Canada on December 19th, and is already available in the UK.