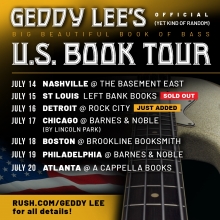 Earlier this week Rush and Geddy Lee announced several new US book signing events for Geddy's Big Beautiful Book of Bass. Geddy's mini-tour will kick off in Nashville this coming Sunday where he'll also be doing a Q&A with former Rush producers Peter Collins and Nick Raskulinecz, both Nashville residents. Geddy posted the following comment regarding the Q&A to his Instagram earlier this week:
Every once in a while during this BBBoB book signing tour we stop moving and indulge in a conversation about all things bassy including some talk about my time in Rush...We have had quite a variety of "guest hosts" for these, ranging from musicologists to Rock radio folks and even one well known raconteur and fellow Rush Idiot Alex Lifeson ..So, taking yet another approach for this Q and A in Nashville I find myself lucky enough to have as hosts, not 1 but 2 of Rush's past Record Producers...Nick Rasculinecz and Peter Collins.. both Nashville residents in fact! Now these chaps couldn't be more different...Nick is a Tennessee born "Badass" and Peter is a transplanted "London Gentleman"...and this combo should make for some lively and interesting musical chit chat..!
From Nashville he'll head to St. Louis (SOLD OUT), Detroit (JUST ADDED this morning), Chicago, Boston and Philadelphia over the upcoming week before wrapping things up in Atlanta next Saturday. Geddy is already hitting the interview circuit to promote the tour, and was a guest on the Preston and Steve Show on Philadelphia's WMMR yesterday which you can listen to below or online at this location, and there's also this short interview with The Tennessean previewing Sunday's event. For all the details and to purchase tickets, visit rush.com/geddylee.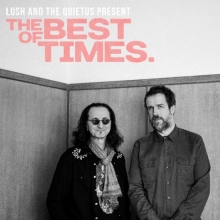 Speaking of Geddy, our favorite bassist was a recent guest on The Quietus Radio's The Best Of Times... podcast with John Doran, and the interview is now available online here. Doran speaks with Geddy for about thirty minutes about how his parents survived Nazi concentration camps and how it affected his entire life, his career with Rush, his Big Beautiful Book of Bass and more. You can listen to the entire interview below or at this location.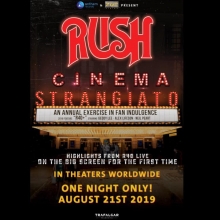 Last month Rush and Anthem/Trafalgar announced the first annual Cinema Strangiato - a theatrical film experience that will bring Rush fans together for a special look into Rush's R40 Live tour, with new backstage footage, special guests, and performances. Cinema Strangiato will hit theaters worldwide for one night only on August 21st and tickets are now available at this location. There's also an official, 1-minute trailer for the film which you can watch on YouTube at this location. For all the details and to sign up for email updates, visit www.cinemastrangiato.com. From the film's synopsis page:
The Holy Trinity of Rock returns to the big screen on Wednesday, August 21, when the first "Annual Exercise in Fan Indulgence" Cinema Strangiato brings Rush fans together in movie theatres worldwide. Featuring R40+, this global fan event will give audiences a special look into some of the best performances from R40 LIVE, including songs such as "Closer to the Heart", "Subdivisions", "Tom Sawyer" and more, as well as unreleased backstage moments and candid footage left on the cutting room floor. R40+ also includes unseen soundcheck performances of the fan-favorite "Jacob's Ladder", exclusive new interviews with Tom Morello, Billy Corgan, Taylor Hawkins, producer Nick Raskulinecz, violinist Jonathan Dinklage and more. As a special bonus, fans will get a glimpse into the madness and passion that went in to the making of Geddy Lee's new book, Geddy Lee's Big Beautiful Book of Bass - featuring a brand-new interview from the man himself.
Funk legend William "Bootsy" Collins recently posted a photo to his official Facebook page of himself with Alex Lifeson at Sweetwater Studios in Fort Wayne, IN with the following caption:
Happy Funkin' Funked Up Taco Tuesday Funkateers! Just left Sweetwater Studios along with Uché & Alex Lifeson. Now what the funk do they have in common? U will hear about it soon!
So it sounds like yet ANOTHER potential Alex Lifeson side project is in the works. More details as they become available.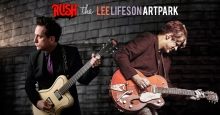 For the past two years, Jacob Moon and David Barrett have performed a free concert of Rush and Rush-inspired music at the Lee Lifeson Art Park in Toronto's Willowdale neighborhood. They plan to continue the FREE, crowdfunded event this year on Wednesday, July 24th, but they need your help to reach their goal of $3,113 to cover the costs associated with advertising, production, rehearsal, promotion, permit fees and personnel, so go help them out! Just like last year, the event will be livestreamed. To learn more about the event, its background/history and the crowdfunding campaign, go to this location.
Prog magazine's Jerry Ewing posted his list of Ten great Rush tracks from the 90s and beyond in no particular order this past week. You can check out the list online at this location (thanks RushFanForever).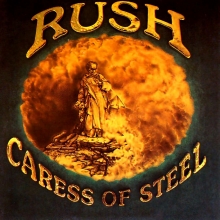 This coming Sunday, July 14th is Bastille Day! On that day 230 years ago back in 1789, Parisians stormed the Bastille, freeing its inmates and taking the prison's large quantities of arms and ammunition, thereby setting in motion the French Revolution. More importantly, back in 1975 Rush decided to write a song about it. There's no bread, let them eat cake!
There's no bread, let them eat cake
There's no end to what they'll take
Flaunt the fruits of noble birth
Wash the salt into the earth
But they're marching to Bastille Day
La guillotine will claim her bloody prize
Free the dungeons of the innocent
The king will kneel, and let his kingdom rise

Bloodstained velvet, dirty lace
Naked fear on every face
See them bow their heads to die
As we would bow as they rode by

And we're marching to Bastille Day
La guillotine will claim her bloody prize
Sing, o choirs of cacophony
The king has kneeled, to let his kingdom rise.

Lessons taught but never learned
All around us anger burns
Guide the future by the past
Long ago the mould was cast

For they marched up to Bastille Day
La guillotine - claimed her bloody prize
Hear the echoes of the centuries
Power isn't all that money buys

- Rush, Bastille Day from Caress of Steel
That's all for this week. Have a great weekend!!