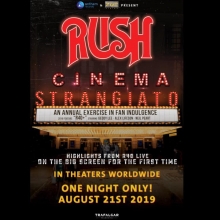 Earlier this month Rush and Anthem/Trafalgar announced the first annual Cinema Strangiato - a theatrical film experience that will bring Rush fans together for a special look into Rush's R40 Live tour, with new backstage footage, special guests, and performances. Cinema Strangiato will hit theaters worldwide for one night only on August 21st and tickets are now available at this location. There's also an official, 1-minute trailer for the film which you can watch below or on YouTube at this location. For all the details and to sign up for email updates, visit www.cinemastrangiato.com. From the film's synopsis page:
The Holy Trinity of Rock returns to the big screen on Wednesday, August 21, when the first "Annual Exercise in Fan Indulgence" Cinema Strangiato brings Rush fans together in movie theatres worldwide. Featuring R40+, this global fan event will give audiences a special look into some of the best performances from R40 LIVE, including songs such as "Closer to the Heart", "Subdivisions", "Tom Sawyer" and more, as well as unreleased backstage moments and candid footage left on the cutting room floor. R40+ also includes unseen soundcheck performances of the fan-favorite "Jacob's Ladder", exclusive new interviews with Tom Morello, Billy Corgan, Taylor Hawkins, producer Nick Raskulinecz, violinist Jonathan Dinklage and more. As a special bonus, fans will get a glimpse into the madness and passion that went in to the making of Geddy Lee's new book, Geddy Lee's Big Beautiful Book of Bass - featuring a brand-new interview from the man himself.
While over in Europe for his Big Beautiful Book of Bass signing tour earlier this month, Geddy Lee took some time out to record a short interview segment for BBC Radio 2's The Rock Show with Johnnie Walker. Geddy was asked to name his Rock God and he chose Jack Bruce, speaking for a minute or two about the iconic Cream bass player. You can listen to the interview snippet below or online at this location (thanks RushFanForever).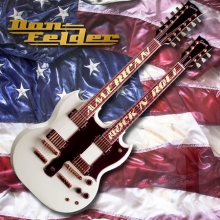 Former Eagles guitarist and songwriter Don Felder's new album American Rock 'N' Roll released back in April and is now available for purchase. The album features guest appearances from Sammy Hagar, Slash, Richie Sambora, Orianthi, Peter Frampton, Joe Satriani, Mick Fleetwood, Chad Smith, Bob Weir, David Paich, Steve Porcaro, and Rush's Alex Lifeson. Lifeson appears on the album's 2nd track - Charmed - playing acoustic rhythm guitar on the song's bridge and electric guitar on the song's ending solo. You can listen to Charmed on various streaming channels including YouTube at this location, or purchase the album via Amazon and other retailers. Felder was recently interviewed for Music Life Magazine and spoke a bit about Rush, his friendship with Neil Peart and Alex Lifeson, and how Lifeson's involvement came about (thanks RushFanForever):
... "I actually met [Rush drummer] Neil Peart before I met Alex. Neil's little girl and my little boy actually went to the same preschool together, so we became friends and went to dinner and he would come to birthday parties at my house and school events and just hang out. About two and a half years ago he came to a birthday party and I asked him to get up and play. I had my road band with me and Stephen Stills also came and did a set with me; it was just a fun jam at my house. But Neil said, 'I've quit playing.' I said, 'what?' He said, 'I quit playing. It's just too hard physically for me to do what I have to do to maintain the level of my performance at my age. I can't do that, and I can't go onstage and play at less than what I think is the best I can do.' I had the ultimate amount of respect for that, but it just broke my heart to hear him telling me that he was done playing music," said Felder.

"About a year or so later I was playing in this golf event for St. Jude's Children's Hospital and Alex was there and we ended up playing together. Afterwards, he jammed with me on some stuff and we played a soundcheck together and I think we played Pride and Joy as a matter of fact, where we traded off guitars. Backstage I took this goofy picture of the two of us playing my white double-neck with each of us playing one of the necks. He's such a nice guy and I realized as I was making this record that since Alex is not working regularly - he is probably just playing a lot of golf - he probably would be very interested in jumping on this record if I reached out to him.

"And indeed, he was very excited. He was up in Canada and I sent him some stuff for him to play to and he got back to me asking what I wanted him to do. He went in and in a very tasteful way played acoustic guitar on the bridge of Charmed and did some great guitar solos on the end and sent it back and we did a little digital editing where I overdubbed on top of it so it sounds like we're actually trading off lines at the very end of it. The very last line that he played was very cool, so I figured out the harmony for it and played harmony on top. It was a fun couple of days for him and a fun couple of days for me. I wish we could have been in the same room. And I loved the way he plays, I love his work, he is just a super sweet guy. I haven't met a Canadian that I don't like, basically." ...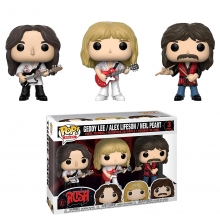 Funko first introduced their Rush Funko Pop! vinyl figurines as a pre-release during Fan Expo Canada last summer, and just recently made them available in wide release, although retailers have had trouble keeping them in stock. They are now also available via Amazon as a pre-order slated for release this weekend on June 30th. You can order your set online at this location. For those not familiar with Funko, their Pop! Vinyl line are figures modeled in a style similar to the Japanese Chibi style, typically depicting licensed characters from franchises and other pop culture entities. You can find out more about Funko and their Pop! vinyl figures at funko.com, and pre-order your set here.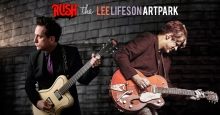 For the past two years, Jacob Moon and David Barrett have performed a free concert of Rush and Rush-inspired music at the Lee Lifeson Art Park in Toronto's Willowdale neighborhood. They plan to continue the FREE, crowdfunded event this year on Wednesday, July 24th, but they need your help to reach their goal of $3,113 to cover the costs associated with advertising, production, rehearsal, promotion, permit fees and personnel, so go help them out. Just like last year, the event will be livestreamed. To learn more about the event, its background/history and the crowdfunding campaign, go to this location.
Godsmack's Sully Erna was recently interviewed for Mulatschag TV and spoke a bit about how Neil Peart reviewed the band's drum battle featuring Erna and the group's regular drummer Shannon Larkin for Godsmack's upcoming documentary; this was first mentioned by the band in an interview back in 2016, although there's still no word on if/when the documentary is getting released:
... [Neil] did a review on me and Shannon's drum battle. And it might have been the last time he went on camera, because he'd been retired. He literally is done - he shut off that part of his life now. He feels he's done everything he can do. Literally, he told Shannon that right to his face. Shannon's, like, 'Aren't you gonna play a little?' And he's, like, 'Nah, I think I'm done.' Shannon's, like, 'Yeah, but you're not even gonna have a drum set in your basement?' He goes, 'Son, I think I've done everything I can do on the drums.' Shannon was, like, 'Yes, you have, sir.' [Laughs] And so he was done, man. ... We got to meet him a few times, and I'm very good friends with his personal assistant. He agreed to do an interview, and we have that on video, luckily. And we're very, very proud of that. That's an extremely important thing for me and Shannon, especially after all the work we've put into that drum battle, to hear the actual icon of drumming praise us for the work that we did is a real honor ... [He's] one of my biggest inspirations in the world. He changed my life, for sure. ...
Iconic Crowbar frontman Kelly Jay passed away last week at the age of 77 from a stroke. Crowbar was a Hamilton-based band known for their 1971 party anthem Oh What a Feeling, and Rush opened for them in the early '70s. Another interesting Rush connection - Jay was one of the movers on the Moving Pictures album cover as fellow mover Mike Dixon explains in this post. Thanks to RushFanForever for the heads up.
Click on Detroit is running a Classic Rock Bracket and Rush is in the running. One of the website's authors Dave Bartkowiak Jr. is unsure who he'd vote to win, but would pit Rush vs. Yes in a Prog Rock Bracket as he explains in this article.
Here's Geddy talking about Rock God Jack Bruce, along with the Cinema Strangiato trailer.
Tomorrow marks the 15th anniversary of the release of Rush's one and only covers album - Feedback. That's all for this week. Happy Canada Day this coming Monday to all of my Canadian readers, and Happy 4th of July this coming Thursday to my fellow US readers. Have a great weekend!