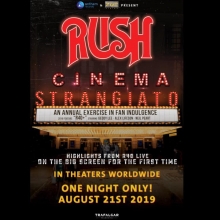 Earlier this week, Rush and Anthem/Trafalgar announced the first annual Cinema Strangiato - a theatrical film experience that will bring Rush fans together for a special look into Rush's R40 Live tour, with new backstage footage, special guests, and performances. Cinema Strangiato will hit theaters worldwide for one night only on August 21st with tickets going on sale next Thursday, June 20th. A listing of all the venues and show times is now available at this location. For all the details and to sign up for email updates, visit www.cinemastrangiato.com. From the film's synopsis page:
The Holy Trinity of Rock returns to the big screen on Wednesday, August 21, when the first "Annual Exercise in Fan Indulgence" Cinema Strangiato brings Rush fans together in movie theatres worldwide. Featuring R40+, this global fan event will give audiences a special look into some of the best performances from R40 LIVE, including songs such as "Closer to the Heart", "Subdivisions", "Tom Sawyer" and more, as well as unreleased backstage moments and candid footage left on the cutting room floor. R40+ also includes unseen soundcheck performances of the fan-favorite "Jacob's Ladder", exclusive new interviews with Tom Morello, Billy Corgan, Taylor Hawkins, producer Nick Raskulinecz, violinist Jonathan Dinklage and more. As a special bonus, fans will get a glimpse into the madness and passion that went in to the making of Geddy Lee's new book, Geddy Lee's Big Beautiful Book of Bass - featuring a brand-new interview from the man himself.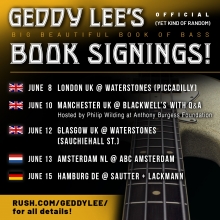 Geddy Lee kicked off his Big Beautiful Book of Bass European signing tour this past Saturday at Waterstones Piccadilly in London, UK. He then moved on to Manchester, UK for a signing and Q&A at the Dancehouse Theatre, where he was interviewed for about an hour by Philip Wilding as seen below or in this YouTube video. On Wednesday Geddy was in Glasgow before moving on to mainland Europe for a signing in Amsterdam yesterday, and he'll be finishing things off with an event in Hamburg tomorrow. Fans attending the events have been canvassing social media with photos, which I've been accumulating on the RIAB Twitter feed, so keep an eye out there and share your own photos as well - I'll retweet as I come across them. Geddy spoke with the UK's Classic Rock magazine last week to preview the event, and you can check out that interview here. He was also a guest on the Tuesday edition of Need To Know Bassist on BBC Radio 6, and you can listen to that interview here. Ged's Canadian signing tour must have helped boost sales - especially in Canada; last week (week ending June 5th) the book was propelled to #1 on the Toronto Star bestseller list in the Canadian Non-fiction category, and #6 in the Original Non-fiction category. It dropped this past week (week ending June 12th) out of the original Non-fiction category and to #8 on the Canadian Non-fiction list. Also from his Canadian signing tour, Geddy took some time out to guest on the Groove podcast while in Montreal which you can now listen to at this location. And there's also Geddy's complete interview from his signing appearance at the Oakville Center for Performing Arts on June 3rd. Geddy's expected to hold several more signing events over the coming months, so stay tuned to the site for details.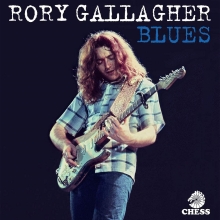 A collection of rare and unreleased recordings of Rory Gallagher playing strictly blues material titled Rory Gallagher Blues released back on May 31st. It contains previously unheard and unreleased tracks from Rory's archive, special guest sessions with legendary blues artists (Muddy Waters, Albert King), lost radio sessions and more. It's currently available for purchase as a deluxe 36-track 3CD version, 2LP version and standard CD version. Gallagher toured with Rush both as a headliner and opener back in 1974 and 1982 respectively, and Alex Lifeson was interviewed by MusicVaultz.com as part of the album's promotional campaign. Rush released a short, 15-second teaser video of that interview on Twitter a couple of weeks ago, but now the entire 10-minute interview is available for watching on YouTube. Lifeson discusses Rory's guitar playing, influence, personal nature, touring together and more.
The 2019 Big Slick Celebrity Weekend charity fundraiser for Children's Mercy took place at several locations across Kansas City this past weekend, and Alex Lifeson was one of the many celebrity participants. Alex took part in the Big Slick Celebrity Softball Game at Kaufman Stadium prior to Friday night's Royals' game as seen in this photo gallery. Lifeson also took part in the Big Slick Celebrity party and show Saturday night, playing guitar on an all-star rendition of Hey Jude as seen in this photo. The fundraiser started nine years ago as a poker tournament organized by actors Rob Riggle, Paul Rudd and Jason Sudeikis, and has since grown into a multi-day event that includes a live auction, celebrity softball game, bowling tournament, VIP party and live show. This year's event raised over $2.5 million, bringing the event's 10-year total to over $10 million.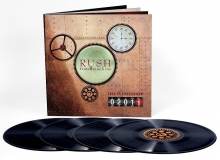 Rush's 4-LP vinyl edition of their 2011 live release Time Machine 2011: Live in Cleveland was released this past week and is now available to order here. The album was first released on CD in 2011, but this is the first time it has ever been made available on vinyl. Highlights include the band's performance of the entire Moving Pictures album and previews of Caravan and BU2B, two songs that would eventually appear on the band's 2012 album Clockwork Angels. The set also includes some new liner notes from Rush superfan Ray Wawrzyniak (whose extensive Rush collection was highlighted in the Time Stand Still documentary) which John at Cygnus-X1.net has transcribed and made available online here. Earlier this year, Rush released a vinyl box set edition of their 2003 live album Rush in Rio.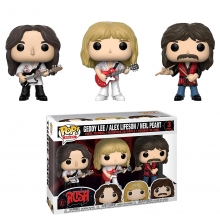 Funko first introduced their Rush Funko Pop! vinyl figurines as a pre-release during Fan Expo Canada last summer, and just recently made them available in wide release, although retailers have had trouble keeping them in stock. They are now also available via Amazon as a pre-order slated for release on June 30th. You can order your set online at this location. For those not familiar with Funko, their Pop! Vinyl line are figures modeled in a style similar to the Japanese Chibi style, typically depicting licensed characters from franchises and other pop culture entities. You can find out more about Funko and their Pop! vinyl figures at funko.com, and pre-order your set here.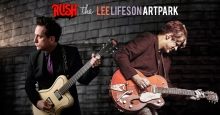 For the past two years, Jacob Moon and David Barrett have performed a free concert of Rush and Rush-inspired music at the Lee Lifeson Art Park in Toronto's Willowdale neighborhood. They plan to continue the FREE, crowdfunded event this year on Wednesday, July 24th, but they need your help to reach their goal of $3,113 to cover the costs associated with advertising, production, rehearsal, promotion, permit fees and personnel, so go help them out. Just like last year, the event will be livestreamed. To learn more about the event, its background/history and the crowdfunding campaign, go to this location.
Idolator.com compiled a list of the greatest bass players this past week, and Geddy Lee is one of the featured artists:
Geddy Lee Does It All: Geddy Lee is not only the bassist of the rock and roll group Rush but also sings and plays the keyboard as well. Very few musicians have been able to accomplish playing three instruments at once, but then again, there's only one Geddy Lee. He's been named as an inspiration to numerous other famous artists, and only has one solo album outside of his work in Rush. The band was inducted into the Rock and Roll Hall of Fame in 2013, and are the only group to be made Officers of the Order of Canada.
Yesterday's edition of The Mighty Decibel podcast focused on the best metal and hard rock releases of 1977, and one of the album's discussed is Rush's A Farewell to Kings. You can listen to the podcast at this location (thanks Chris T).
Here's Geddy Lee's interview/Q&A with Philip Wilding at his Manchester book signing event earlier this week:
That's all for this week. Have a great weekend!!