UPDATE - 6/13@2:33PM: The set includes some new liner notes from Rush fan Ray Wawrzyniak which John at Cygnus-X1.net has transcribed and made available online here.
UPDATE - 6/7@8:48AM: It looks like the release date has been pushed back one week to June 14th.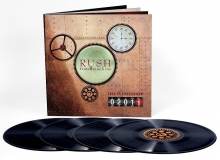 Rush's 4-LP vinyl edition of their 2011 live release Time Machine 2011: Live in Cleveland officially releases tomorrow, and is now available to order via Amazon, the Rush Backstage Club and other online retailers. The album was first released on CD in 2011, but this is the first time it has ever been made available on vinyl. Highlights include the band's performance of the entire Moving Pictures album and previews of Caravan and BU2B, two songs that would eventually appear on the band's 2012 album Clockwork Angels. Earlier this year, Rush released their 2003 live album Rush in Rio on vinyl.