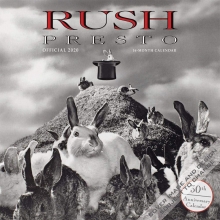 BrownTrout Publishers will be releasing their official 2020 Rush wall calendar this coming July. The calendar will celebrate the 30th anniversary of the November, 1989 release of Rush's Presto album (a year late?). From the Amazon description:
This official, 16-month calendar features images highlighting the complete Presto album and tour cycles, as well as complete 1990 tour dates, among other notable events from that year! This calendar also includes a four-month (SeptemberDecember) 2019 planner page, so get yours early! Calendar includes holidays, moon phases, image captions with locations and other information, the highest quality photography, and more!
The calendar is slated to release on July 1st and can be pre-ordered via Amazon and other online retailers. Thanks to Daniel B for the heads up.