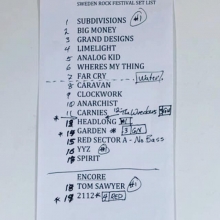 Earlier this week 100-plus setlists from dozens of renowned musicians including Rush went on auction online to benefit international youth writing and activism centers and organizations on behalf of Setlists For Young Voices, a new initiative developed and launched by Nick Hornby, with the help of Dave Eggers and Michael Chabon. The auction's proceeds will benefit both Ministry of Stories and The International Congress of Youth Voices, which will bring international teen writers and activists together in San Juan, Puerto Rico this Summer. The auction began this past Monday and will run through this coming Thursday, May 2nd. Three Rush setlists from the Clockwork Angels Tour are available for bidding, including one from the 2013 Sweden Rock Festival. Note that the setlists aren't signed currently, but will be signed (and even personalized) by Alex and Geddy once the auction is over. For all the details and to place your bid visit www.youthwriting.org/bid.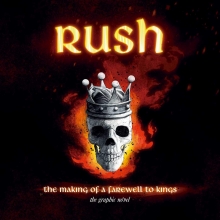 A couple of weeks ago Rush and FANTOONS announced a new, officially-licensed graphic novel chronicling the making of Rush's A Farewell to Kings album. Rush: The Making of A Farewell to Kings is slated for release this coming September and is now available for pre-order From the announcement:
Fantoons announces the official RUSH graphic novel chronicling the making of the band's classic album A Farewell to Kings; the first in their ongoing relationship with RUSH.

"We worked incredibly hard to create a graphic novel that celebrates the music of RUSH, and the creation of the album of 'A Farewell to Kings' as a work of art" says Fantoons LA-based creative director, David Calcano. "We think this book will be something for comics and music fans alike to cherish."

This epic, fully authorized graphic novel chronicles the birth of RUSH's classic album A Farewell to Kings. Relive the production trials and triumphs alongside Alex Lifeson, Geddy Lee & Neil Peart as they create the masterpiece of progressive rock that gave birth to such tracks as "Closer to the Heart," and the majestic "Xanadu". The book is co-written by Fantoons' David Calcano and Lindsay Lee, and features artwork by Juan Riera and Ittai Manero. The story was written with input from RUSH guitarist Alex Lifeson and album producer Terry Brown, who also penned the foreword. ...
The 144-page, 12"x12" hardcover book is currently set to release on September 10th and can be pre-ordered at this location. To learn more about all of the other officially-licensed Rush merchandise available from FANTOONS, be sure to check out their Etsy Store, and follow them on Facebook and Twitter.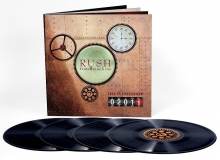 Fresh off their January release of Rush in Rio on vinyl, Rush is also set to release a 4-LP vinyl edition of their 2011 live release Time Machine 2011: Live in Cleveland in its entirety this coming June 7th. The set is now available for pre-order via Amazon and the Rush Backstage Club.
This past Friday's installment of Design Milk's Friday Five featured Paul Gardner - the VP of Engineering and Quality at Reynolds Polymer Technology. One of his five favorite things turns out to be our favorite band:
4. Rush - My wife, Meredith, has endured my long-term affinity for the Canada-based rock trio - Rush. Their musical talents over the decades has provided many memories mingled with their music. In 2014, they celebrated the 40th anniversary of their debut-album, Rush, with a concert tour R40 and we were lucky enough to experience what is most likely their last major tour and attended a show. A loud playing of "Red Barchetta" on a Friday afternoon is a must!
Earlier this week uDiscover Music posted their list of the 25 best concept albums and Rush's Clockwork Angels just made the cut at #25:
Ever since the half-conceptual 2112, many Rush fans spent two decades hoping they'd get back to grand concepts and sci-fi. They finally went there on their very last album, arguably the most musically adventurous thing they ever did.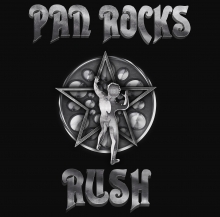 Last month the Pan Rocks steel drum orchestra released their video for YYZ - the first official video from their Pan Rocks Rush steel drum tribute project featuring Mike Portnoy. The video was recorded from the Pan Rocks Rush sessions at Eldorado Recording Studios in Los Angeles, and you can watch it on YouTube at this location. Pan Rocks is a 50 piece steel drum orchestra founded by drummer Tracy Thornton. The Rush project is a follow-up to 2017's Pan Rocks Project LA which featured the music of Led Zeppelin, KISS and Jane's Addiction performed by 30 steel pan drummers and a band consisting of Billy Sheehan (Mr. Big, Sons Of Apollo), Stephen Perkins (Jane's Addiction, Porno For Pyros), Tracii Guns (LA Guns) and Bruce Kulick (KISS, Grand Funk Railroad). In addition to Mike Portnoy, the Pan Rocks Rush project includes Philip Bynoe on bass and Pete Thorn on guitar. Thorn was recently interviewed for Cosmo Music's Rock Stars in Cars feature on their YouTube channel and spoke for a few minutes about recreating Alex Lifeson's tone for the project. You can watch the video below or online here (thanks Andrew W). The Pan Rocks Rush EP is now available for digital purchase via Amazon and other streaming services, and can also be purchased at panrocks.com.
That's all for this week. Have a great weekend!