UPDATE - 4/25@5:19PM: You can access auction directly on eBay at this location. Some folks have noted that the setlists aren't signed. However, they will be signed (and even personalized) for the winning bidder as stated in the eBay listings for each item (at the bottom of the page):
Please Note: This setlist will be signed (and personalized, if you want!) by Geddy Lee and Alex Lifeson once this auction is closed.
----- snip -----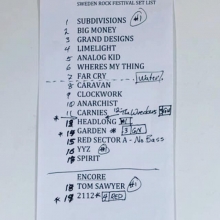 Starting tonight at 10PM EST, 100-plus setlists from dozens of renowned musicians including Rush will go to auction online to benefit international youth writing and activism centers and organizations on behalf of Setlists For Young Voices, a new initiative developed and launched by Nick Hornby, with the help of Dave Eggers and Michael Chabon. The auction's proceeds will benefit both Ministry of Stories and The International Congress of Youth Voices, which will bring international teen writers and activists together in San Juan, Puerto Rico this Summer. The auction begins tonight at 10PM EST, and will end in ten days on May 2nd. Three signed Rush setlists from the Clockwork Angels Tour will be available for bidding, including one from the 2013 Sweden Rock Festival. For all the details and to place your bid visit www.youthwriting.org/bid.