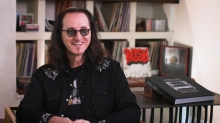 Geddy Lee recently sat down with UDiscover Music for a new interview where he talks about his Big Beautiful Book of Bass, among other things, including the possibility of a theatrical production based on the music of Rush:
"I've always thought that Rush's music lent itself to theatrical reproduction, especially the concept albums such as 2112, or Clockwork Angels," Lee points out. "The stories have a lot of potential, in terms of staging and imaginative scenery, and they're really tailor-made for that, so I'd love to see that happen sometime."
You can read excerpts from the interview online at this location and watch the entire 9-minute interview below or on YouTube.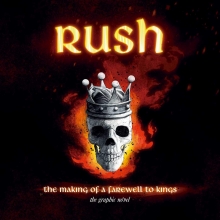 Earlier this week Rush and FANTOONS announced a new, officially-licensed graphic novel chronicling the making of Rush's A Farewell to Kings album. Rush: The Making of A Farewell to Kings is slated for release this coming September and is now available for pre-order From the announcement:
Fantoons announces the official RUSH graphic novel chronicling the making of the band's classic album A Farewell to Kings; the first in their ongoing relationship with RUSH.

"We worked incredibly hard to create a graphic novel that celebrates the music of RUSH, and the creation of the album of 'A Farewell to Kings' as a work of art" says Fantoons LA-based creative director, David Calcano. "We think this book will be something for comics and music fans alike to cherish."

This epic, fully authorized graphic novel chronicles the birth of RUSH's classic album A Farewell to Kings. Relive the production trials and triumphs alongside Alex Lifeson, Geddy Lee & Neil Peart as they create the masterpiece of progressive rock that gave birth to such tracks as "Closer to the Heart," and the majestic "Xanadu". The book is co-written by Fantoons' David Calcano and Lindsay Lee, and features artwork by Juan Riera and Ittai Manero. The story was written with input from RUSH guitarist Alex Lifeson and album producer Terry Brown, who also penned the foreword. ...
The 144-page, 12"x12" hardcover book is currently set to release on September 10th and can be pre-ordered at this location. To learn more about all of the other officially-licensed Rush merchandise available from FANTOONS, be sure to check out their Etsy Store, and follow them on Facebook and Twitter.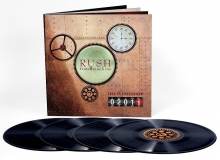 Fresh off their January release of Rush in Rio on vinyl, Rush is also set to release a 4-LP vinyl edition of their 2011 live release Time Machine 2011: Live in Cleveland in its entirety this coming June 7th. The set is now available for pre-order via Amazon and the Rush Backstage Club.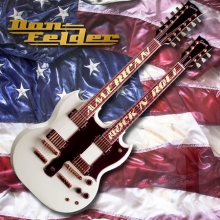 Former Eagles guitarist and songwriter Don Felder's highly anticipated all-new album American Rock 'N' Roll released a couple of weeks ago and is now available for purchase. The album features guest appearances from Sammy Hagar, Slash, Richie Sambora, Orianthi, Peter Frampton, Joe Satriani, Mick Fleetwood, Chad Smith, Bob Weir, David Paich, Steve Porcaro, and Rush's Alex Lifeson. Lifeson appears on the album's 2nd track - Charmed - playing acoustic rhythm guitar on the song's bridge and electric guitar on the song's ending solo. You can listen to Charmed on various streaming channels including YouTube at this location, or purchase the album via Amazon and other retailers. Felder was recently interviewed for KSHE 95 and spoke a bit about Lifeson's contribution to the album and how it came about (thanks Eric at Power Windows):
... "Alex and I play golf every year at the same children's hospital out in Palm Springs, and as a matter of fact, we have a picture of him and me backstage where he used to play of double neck a song or two from Rush. I had my own double neck and was about to play and said, 'Alex, come over here. You play one neck and I'll play the other.' After I had heard from Neil Peart that Rush was pretty much done, I figured, 'God, Alex has got to be sitting around doing nothing, bored to death. I'd love him to play on this record. So I contacted him. We wound up playing on a really fantastic song called 'Charmed.'" ...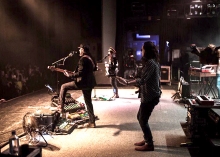 The Claypool Lennon Delirium kicked off their 2019 Spring Tour at the Danforth Music Hall in Toronto earlier this month, and Geddy Lee sat in with the band for their cover of the Beatles classic Tomorrow Never Knows as seen in this video. The Claypool Lennon Delirium is a collaboration between Primus frontman Les Claypool and Sean Lennon, and the duo released their second studio album South of Reality back in February. The pair were recently guests on New York's Q104.3 and spoke a bit about prog rock, Rush and Geddy Lee. You can watch the interview on YouTube at this location with the Rush/Geddy part coming in at about the 7:55 mark (thanks RushFanForever).
Ultimate-Guitar.com posted an article this past week where they profiled 10 Musicians You Probably Never Knew Were Members of Famous Rock Bands, one of which was Jeff Jones; Jones had a brief stint in Rush in the band's formative days back in 1968:
Although one of the most legendary musicians in rock music and one of the guys that changed the landscape of prog rock, Geddy Lee was technically not the original member of Rush. Alex Lifeson actually had another guy at the very beginning of the band, named Jeff Jones. But things just didn't work out, and after only a few weeks he was replaced by Lee. Jones went on to become a member of Ocean, a Canadian gospel rock band that had some pretty decent success in the 1970s. He was later a member of Red Rider and a few other bands, and he still has an active career in music.
A new documentary on legendary Canadian singer-songwriter Gordon Lightfoot will make its world premiere at this year's Hot Docs Canadian International Documentary Festival later this month, and will also be shown at the DOXA Documentary Film Festival next month. According to the film's description, Rush's Alex Lifeson and Geddy Lee will appear in the documentary (thanks RushFanForever). Gordon Lightfoot: If You Could Read My Mind will be released theatrically in Canada this summer and will air on CBC and the documentary Channel in late 2019.
This past Friday, April 12th marked the 35th anniversary of Rush's Grace Under Pressure album, and in celebration of the occasion UDiscover Music's Oregano Rathbone posted a posthumous review of the album titled Grace Under Pressure: Why Rush's Cold War Paranoia Still Resonates.
... The existential sorrow and contrastingly flinty resolve in Peart's lyrics throughout the album are reflected in minor-key melodies which are nevertheless delivered by the trio with a lean, fleet-footed muscularity. (The choppy, offbeat guitar chording in 'The Enemy Within' is a spit away from XTC, The Beat or The Police.) On Grace Under Pressure Rush sound, if anything, unencumbered by any compulsion to go "heavy": the heaviness is all in the lyrics, delivered by Geddy Lee with a new-found maturity, spending less time at the edge of his range and more time inhabiting the body of the songs. Peart's drumming is snappy, authoritative and vigorous, and Lifeson's characteristically ringing, open chords achieve a widescreen effect. ...
Rush also posted a short, 15-second video to Facebook/Twitter of Geddy Lee saying a few words about the album on its anniversary.
Here's Geddy Lee's entire 9-minute interview with UDiscover Music:
That's all for this week. Have a great weekend and Happy Easter everyone!