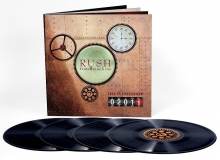 Fresh off their January release of Rush in Rio on vinyl, Rush is also set to release a 4-LP vinyl edition of their 2011 live release Time Machine 2011: Live in Cleveland in its entirety this coming June 7th. The set is now available for pre-order via Amazon and the Rush Backstage Club. From the item description:
The Rock and Roll Hall of Famer's live album Time Machine 2011: Live In Cleveland is now on vinyl for the first time in it's entirety.

In 2010, Rush took a break from recording what would become the band's final studio album - Clockwork Angels - to launch its Time Machine Tour. During that tour, the Rock and Roll Hall of Famer's recorded their April 15, 2011 performance in Cleveland. It was a fitting tribute to the city, which was the first to play Rush's music on the radio.

That epic concert was released on CD in 2011, but the full show has never come out on vinyl, until now. TIME MACHINE 2011: LIVE IN CLEVELAND will be available on June 7 as a four-LP set.