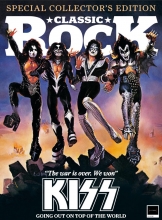 The latest issue of Classic Rock magazine (#261) hit newsstands today and Rush's Geddy Lee is the subject of the issue's 1-page Soundtrack of my Life feature, where he dishes on the records, artists and gigs that are of lasting significance to him. Geddy reveals the best and worst records he made, his favorite albums and musicians, and more. Here's how he describes the best live band he's ever seen:
Jethro Tull at Maple Leaf Gardens in Toronto. I think it was on the Thick As A Brick tour. The show began with the house lights on and a bunch of people in overalls sweeping the stage. Gradually there were less people sweeping, and then, all of a sudden, one of them would pick up an instrument, and next thing you know it's the guys from Tull launching into the show. For me that was the first band that combined incredible musicianship with complex songwriting, and they were funny. That influe me a lot in the later years of Rush - that attitude of taking your music seriously but not taking yourself seriously.
You can read a scan of the issue here and a 12-page sampler of the issue here. To subscribe or purchase back issues of Classic Rock, go here. Thanks to RushFanForever for the heads up.