UPDATE - 3/26@11:59AM: John at Cygnus-X1.net has scanned/transcribe the entire Planet Rock magazine article and made it available online here. In addition to the Alex Lifeson interview, there is also an article titled Natural Science which profiles the band's early 1980s era, focusing on the making of the Permanent Waves and Moving Pictures albums. There's also a short sidebar article titled Mystic Rhythms which highlights 8 Rush deep tracks.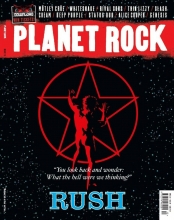 The March 2019 issue (issue #13) of the UK's Planet Rock magazine includes a Rush cover feature and new interview with Alex Lifeson. Planet Rock released a few excerpts from the interview last Friday, including this one which received a lot of attention in the online music press over the past week:
Asked if he has since come to terms with Rush being over, Alex said: "Yes, I think so. I don't want to be in a band and tour any more. I don't feel the need to carry on with what I did for almost half a century. I'm fine with it now. And I'm as busy as I would ever want to be."
You can get more details and order a copy of the magazine at this location.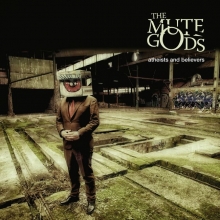 British prog-rock supergroup The Mute Gods release their third studio album Atheists And Believers today via Inside Out Music. In addition to the core lineup of Nick Beggs, Roger King and Marco Minnemann, the album features guest appearances from Alex Lifeson, Craig Blundell, Rob Townsend and Beggs' daughter Lula on vocals. Lifeson appears on the the track One Day, and you can watch the official video for the song below or on YouTube. Frontman Nick Beggs was interviewed in the latest Prog magazine about the album and Alex Lifeson's contribution and had the following to say:
... "I was a huge fan of Rush and would listen to their music ad nauseam as a teenager," says Beggs. "And the strange world we both inhabit, our paths crossed on a number of occasions, professionally and socially. When this came around I had the opportunity to ask him if he wanted to do something together and he said, 'Send me some stuff'. So I did and he went, 'I really like this.'

Lifeson sent in a 12-string acoustic part, originally composed for the song's outro section. But it prompted Beggs to overhaul the whole track.

"I liked what he did so much that I re-edited the whole track and put the outro as the intro, just broke everything down. So now the whole thing starts with me singing with his acoustic guitar. It was just a gift." ...
You can learn more about the album and The Mute Gods via their website or on Facebook and Twitter, and pre-order the album via Amazon at this location.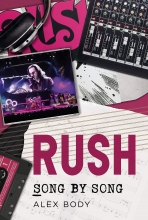 A new Rush book titled Rush: Song by Song is slated for released via Fonthill Media on January 2, 2020 and is now available for pre-order via Amazon at this location. From the book's description:
... Every [Rush] album (both live and studio) is explored in detail with rare insight into the circumstances in which the band wrote and recorded each song . The book also carefully tracks the band's rise from a small suburb of Toronto to the arena filling giants they would become. This book explores every studio album, every live release as well as the solo projects of Geddy Lee and Alex Lifeson. Each album is covered in unprecedented detail and the band's prolific output provides numerous milestones with which to chart the band's progress. From humble beginnings, near failure, critical disappointment, international success, and one of the most inspirational come-back stories in Rock; this is a must have book for any Rush fan.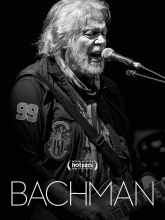 Bachman - the 2018 documentary on Canadian singer-songwriter and founding member of Bachman-Turner Overdrive, Randy Bachman, is slated for release on video and streaming services this coming Tuesday, March 26th and can be pre-ordered at this location. The film showcases Bachman's life as an iconic Canadian musician from his early days, to his time with The Guess Who and Bachman-Turner Overdrive up to the present day. It features archival footage and new interviews with friends, family and fans including Rush's Alex Lifeson, along with Neil Young, Chris Jericho, Peter Frampton, Buffy Saint-Marie, Tal Bachman, Fred Turner, Paul Shaffer and others. The official trailer for the documentary can be seen at this location and features Alex Lifeson at about the 1-minute mark. The documentary initially premiered at the Hot Docs Film Festival in Toronto last year. For more information visit the Farpoint Films website here, and the film's Facebook page here.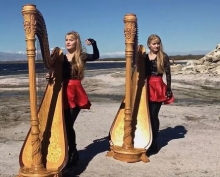 Twin harpist duo Camille and Kennerly are known for their harp covers of popular rock songs which they post to the 500K+ subscribers to their YouTube channel. Their latest project is a cover of Rush's Closer to the Heart which they posted to their channel earlier this week with the following description:
... "Closer to the Heart" is our very first Rush cover! We wanted to do justice to this iconic classic, so we arranged the whole song (including the solo) and we absolutely love how it turned out! We think the harps give the song a beautiful and ethereal quality, and we think that our new polyphonic guitar effects pedal adds to the celestial resonance. We also wanted to keep the driving beat of the song, which created some fun syncopation between the 2 harps. We recorded this track on our electro-acoustic Concert Grand harps, but filmed on our acoustic Concert Grands since they were what we had with us on this particular performance trip. We love the timeless and important message of this song and we hope that our interpretation will encourage others to "mold a new reality, closer to the heart". Oh, and that cool sound that you hear at the opening screen is the wind playing the harps on location! Pretty magical, we think! ;) ;) This video was filmed by our mom on our phone. Everything you hear in our arrangement is exactly how we perform it live with our 2 harps: no backing tracks, loops, or harp overlays. Please let us know if you enjoyed "Closer to the Heart" by liking the video, favoriting, leaving a comment, and sharing it with your friends. We will continue to go where no harps have gone before! Please subscribe and stay tuned for more of our radical Duet Harp Revolution! This track will also soon be available on iTunes, Amazon, Google Play, CDBaby and Spotify. Check back soon! ...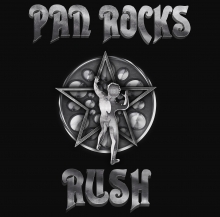 Earlier this month the Pan Rocks steel drum orchestra released their video for YYZ - the first official video from their Pan Rocks Rush steel drum tribute project featuring Mike Portnoy. The video was recorded from the Pan Rocks Rush sessions at Eldorado Recording Studios in Los Angeles, and you can watch it on YouTube at this location. Pan Rocks is a 50 piece steel drum orchestra founded by drummer Tracy Thornton. The Rush project is a follow-up to 2017's Pan Rocks Project LA which featured the music of Led Zeppelin, KISS and Jane's Addiction performed by 30 steel pan drummers and a band consisting of Billy Sheehan (Mr. Big, Sons Of Apollo), Stephen Perkins (Jane's Addiction, Porno For Pyros), Tracii Guns (LA Guns) and Bruce Kulick (KISS, Grand Funk Railroad). In addition to Mike Portnoy, the Pan Rocks Rush project includes Pete Thorn on guitar, Philip Bynoe on bass and producer Matt Starr. The Pan Rocks Rush EP is now available for digital purchase via Amazon and other streaming services, and can also be purchased at panrocks.com.
Performance painter David Garibaldi is currently on tour with KISS for their End of the Road tour, which made a stop at Scotiabank Arena last night. During his performance Garibaldi turned a blank canvas into a stunning painting of Geddy Lee while Rush music played in the background, as seen in this video (thanks Noelle N).
Ultimate-guitar.com posted their list of the Top 10 Sci-Fi Themed Albums in Rock Music this past week and Rush's 2112 made the cut:
Rush's "2112" is one of the best examples of how artists should always try and do their own thing, instead of completely submitting to the demands of a record label. After the release of their third album "Caress of Steel," the guys over at Mercury Records weren't really happy about how things were going with Rush's record sales. After the management persuaded the label to give Rush one more chance, they complied but demanded that the band should go into more of a commercial direction. Of course, Alex Lifeson, Geddy Lee, and Neil Pert didn't really care about any of it. So instead of bending down and creating a fun little record full of bland and peachy radio-friendly songs, they opened it up with an epic 20-minute-long sci-fi themed title track. Although the band has thought they would just go down in flames with this move, 1976's "2112" turned out to be pretty successful, making it their first record to break onto the top 100 in the US, even staying 37 weeks on the chart.
Ultimate Classic Rock posted an article this past week titled 109 Magical Nights: The Most Awesome Live Album From Every Rock Legend, where they list off every major rock band's best live album (thanks Jacob A). For Rush they chose the band's debut live album, 1976's All the World's a Stage:
Recorded over a three-night stay at Massey Hall in Toronto, 'All the World's a Stage' launches into a bombastic opening behind the first song, "Bastille Day." From there, it's a roller coaster ride of arena rock as Rush twists and turns through tracks like "Anthem," "Fly By Night," and the opus "2112." The liner notes claimed that this album signaled the end of the "first chapter of Rush." After this, they began releasing a live album after every four studio albums, a trend they continued until 2003.
A group of 10 publishers who represent songwriters, including Rush's rights management company Ole, sued Peloton Interactive Inc. this past Tuesday for copyright infringement. The group is seeking more than $150 million in damages, accusing Peloton of exploiting their songs by using more than 1,000 in its videos without permission. One of the songs in question is Rush's Tom Sawyer.
This past Friday at least 50 people were killed and 50 wounded, in a hate-filled terror attack targeting two mosques in the New Zealand city of Christchurch. Geddy Lee is a frequent visitor to New Zealand and posted the following message to his Instagram over the weekend in response to the attack:
Here's the video for The Mute Gods' new track One Day featuring Alex Lifeson, and Camille and Kennerly's harp cover of Rush's Closer to the Heart:
That's all for this week. Have a great weekend everyone!