UPDATE - 3/26@11:58AM: John at Cygnus-X1.net has scanned/transcribed the entire article and made it available online here. In addition to the Alex Lifeson interview, there is also an article titled Natural Science which profiles the band's early 1980s era, focusing on the making of the Permanent Waves and Moving Pictures albums. There's also a short sidebar article titled Mystic Rhythms which highlights 8 Rush deep tracks.
UPDATE - 3/15@1:28PM: Note: a few excerpts from the Alex Lifeson interview in this issue are now online, including this one:
Asked if he has since come to terms with Rush being over, Alex said: "Yes, I think so. I don't want to be in a band and tour any more. I don't feel the need to carry on with what I did for almost half a century. I'm fine with it now. And I'm as busy as I would ever want to be."
----- snip -----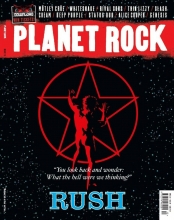 The April 2019 issue (issue #13) of the UK's Planet Rock magazine includes a Rush cover feature and new interview with Alex Lifeson (thanks Joe P):
We welcome the world's biggest cult band, prog rock royalty RUSH to the cover of issue 13 of Planet Rock Magazine, with a rare and exclusive interview with guitarist Alex Lifeson, and an in-depth look at the making of the band's biggest album, Moving Pictures.
You can get more details and order a copy at this link.