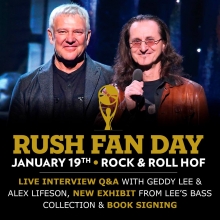 The Rock and Roll Hall of Fame in Cleveland will be hosting a Rush Fan Day at the Rock Hall tomorrow, January 19th, which will include a new exhibit of Geddy Lee's basses, a Hall of Fame Series interview with Lee hosted by bandmate Alex Lifeson, a book signing with Lee where he'll sign copies of his Big Beautiful Book of Bass, and a rebroadcast of Rush's 2013 Hall of Fame Induction. Tickets for the event went on sale earlier this week and quickly SOLD OUT. For those who weren't able to get a ticket, the Rock Hall will be live-streaming the event via their Facebook page. Each ticket includes a copy of Geddy's new book, access to the Hall of Fame interview and book signing, a commemorative credential, and access to the Rock Hall's exhibits, including the new Geddy Lee bass guitar exhibit. The festivities will kick off at 12PM with an interview of Geddy hosted by bandmate Alex Lifeson on the Klipsch Audio main stage, followed by a Q&A session (fans not in attendance can submit questions directly during the Q&A via the Facebook live-stream). Fans will also be able to hear the complete interview on several SiriusXM channels throughout January including Classic Rewind, Rock and Roll Hall of Fame Radio and Volume, and anytime on SiriusXM On Demand. After the interview, ticket holders will have the opportunity to get their book (included with ticket price) signed by Geddy Lee himself. Part of Geddy's bass collection will also be on display in the Rock Hall's Shine a Light exhibit, and footage from Rush's 2013 induction will be shown throughout the day in the Museum's Forest City Theater. Here's the full schedule of events with all the details. Last Wednesday Geddy took some time out to chat with Eddie Trunk about the event and what fans can expect from it. You can listen to that interview below or on YouTube. A casual, pre-event fan gathering/meet-up will take place this evening at Flannery's Irish Pub in downtown Cleveland. The event is open to everyone and you can get all the details via the Facebook event page. RushCon will be hosting a Saturday night after-party at the Hilton downtown, with all the details and ticket information available here. There's a winter storm watch in effect for Cleveland throughout the weekend but - as of right now - it looks like the worst of the snow is tracking more toward the south and won't hit until Saturday afternoon. So hopefully it won't adversely impact those traveling to the event too much. Stay tuned to the US National Weather Service out of Cleveland for up-to-date weather info.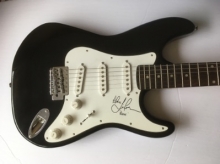 Artists Against Racism have launched an online auction to support their Eagles Rising Indigenous Billboard and Bus Shelter Campaign, which kicks off in March. The auction features unique items from a host of artists including Rush's Alex Lifeson and Neil Peart. The Eagles Rising Campaign honors the memory of the late Tragically Hip frontman Gordon Downie and his advocacy for Canada's first nation, who called on Canadians to take action to address past injustices against the country's indigenous population. The items available include a guitar signed by Alex Lifeson, a wine bottle hand-painted by Alex Lifeson, and an Artists Against Racism t-shirt signed by Neil Peart and others. You can learn more about the Eagles Rising Campaign here, and bid on the items via the online auction site at this location.
Now that 2018 is history, and 2019 well underway, the folks at Ultimate Classic Rock decided to put together a list of 30 Burning Classic Rock Questions for 2019, one of which involves Rush. They ask the question, What Will Rush Exes Geddy Lee and Alex Lifeson Get Up to Next?:
With Neil Peart having retired, Geddy Lee and Alex Lifeson have ruled out the idea of continuing Rush without him - and that's reasonable, given how the characters of the trio have always been essential to their musical output. Despite the remaining pair discussing the possibility of working together again, it doesn't seem to have materialized. However, Lee has published a book about the bass guitar, and Lifeson has made a number of studio and live guest appearances, most recently on John Mayall's upcoming album. Will the Canadian pair work together again? We can only hope.
Kerrang! magazine posted an article this past week titled 20 Things You Probably Didn't Know About Dave Grohl including the fact that Rush is what inspired him to pick up the drumsticks:
Asked to pinpoint one album that inspired him to begin playing drums, Grohl selected Rush's classic 2112 set, an album he was introduced to at age nine by his cousin Trip, while on a family visit to Chicago. Grohl took the record back home to Virginia with him and fell in love with Neil Peart's "innovative" drumming. "It was really the first time I ever heard a drummer in the forefront of the band," he recalled. In a nice life-turning-full-circle moment, in 2013 Grohl and Foo Fighters drummer Taylor Hawkins inducted the Canadian rock legends into the Rock And Roll Hall Of Fame, and also performed a section of 2112 with the band.
Speaking of Peart, the Cleveland Plain Dealer featured an article this past week where they list off the 50 greatest drummers in the Rock and Roll Hall of Fame, and Neil Peart made the cut at #2:
Arguably, the most technical drummer in rock music history who seemingly could play for days on end. In the minds of Rush fans and progressive rock enthusiasts, Neil Peart is a god. He probably has at least a dozen of the greatest drumming performances in music history. What Peart accomplished in the studio on Rush tracks like "La Villa Strangiato," "2112" and "By-Tor and the Snow Dog" is utterly mind blowing. And he did all of it while serving as Rush's chief lyricist.
Geddy Lee recently recorded a 2-minute video segment for CBC Music's YouTube channel for their Jam or Not a Jam series. Geddy is presented with a few snippets of songs, and gives his critique of each one, ultimately deciding whether it's "a jam" or not:
That's all for this week. Have a great weekend!